Top Connective Tissue Grafting Package in San Jose, Costa Rica
Package price starting from:
$970
Treatment:
Dentistry, Connective Tissue Grafting
Focus Area:
Connective Tissue Grafting in San Jose | Top package in Costa Rica
---
Connective Tissue Grafting Service in Costa Rica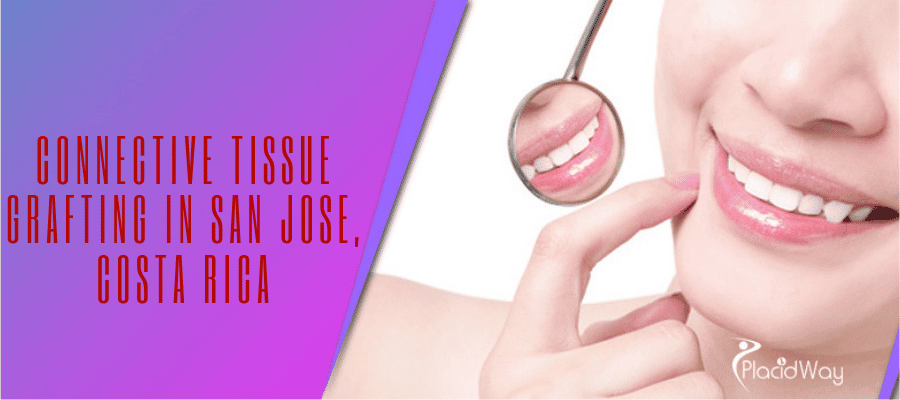 Those who have been advised by the dentist for gum tissue grafting surgery, there is no need to panic. It is not as worse as it sounds. You may need to go for the procedure to protect teeth from gum recession or just to improve your smile. Fortunately, one can now opt for Connective Tissue Grafting, which is a minor surgical procedure to fix this problem. San Jose, Costa Rica is home to many high-end dentistry clinics. So, you will have plenty of choices to find the best centers for Connective Tissue Graftings in San Jose. Costa Rica is emerging as a leading giant in the medical tourism industry. Thus, you can find many clinics and qualified doctors providing the best of Connective Tissue Graftings.
Factors that Affect Package Price 
You may find that the same provider is offering different Connective Tissue Grafting packages. This happens due to relative factors such as:
Position of jaw

Orthodontic set up of the teeth

Infection in the teeth, if any

Quality of materials used in preparing the Connective Tissue Grafting
The doctor at the clinic would ask to go for imaging tests to ascertain the position of your teeth. The x-rays help to analyze your teeth set up. Based on that, the doctor may consult over the phone and explain about the Connective Tissue Grafting surgery.
Benefits of Connective Tissue Grafting in San Jose, Costa Rica
Increases bone support to keep teeth in place

Treats gum recession

Provides beautiful smile

Lasting improvement

Trained and certified dentists

Affordable cost
Complexity Level: Low
Cost: The price of Connective Tissue Grafting packages in San Jose, Costa Rica starts from $970 approximately.
Note: Final prices are determined after physical evaluation and laboratory reports analysis.
Inclusions:
Pre and post-operative consultation

Clinic fees

All medical fees and doctor fees
Exclusions:
Hotel or recovery house.

Preoperative lab work.

Airfare
List of required pre-op tests:
Dental imaging like x-ray

Teeth scaling or cleaning

Dental set up model testing

Implant testing, etc
Note: The laboratory tests are done at least 7-10 days prior to the procedure. The particular tests are prescribed after a complete physical evaluation of the patient.
Payment Options: Cash, credit card, wire transfer
Note: The center may require a money deposit once a patient decides to book the surgery.
How to Get There
It is easy for visitors to reach San Jose, as the city is connected with all the major highways. Juan Santamaría International Airport is the nearest airbase of San Jose, which is connected to most of the major cities across the world.
For more information about Connective Tissue Grafting in San Jose, Costa Rica, click the button below:


Related Experiences:
All on 8 dental implant in San Jose Costa Rica
Dentures in San Jose Costa Rica
Full Mouth Reconstruction in San Jose, Costa Rica
Dental Implants in San Jose, Costa Rica
All-on-6 Dental Implants in San Jose Costa Rica
Dental Veneers in San Jose Costa Rica
---