Affordable Package for Vasectomy in Cancun, Mexico - $1140
Treatment:
Urology, Vasectomy
Focus Area:
Vasectomy Surgery | Urology Treatment | Birth Control | Cancun, Mexico
---
Low Cost Package for Urology Treatment in Cancun, Mexico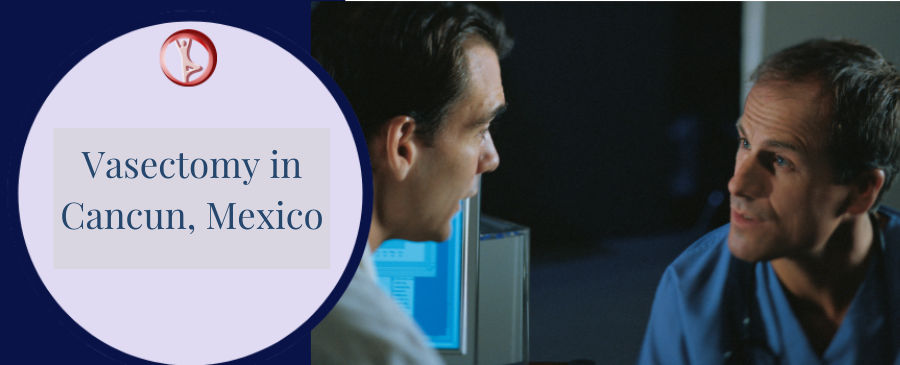 Vasectomy Package in Cancun, Mexico
A vasectomy is a surgical procedure for male sterilization or permanent contraception. Get an affordable package for vasectomy in Cancun, Mexico for just $1140.
Vasectomy is the most popular means of birth control for men when their goal is to achieve permanent sterility. It is an affordable procedure that causes fewer complications than tubal litigation in women. Vasectomy is a good option especially if you do not want to pass on a hereditary illness or disability or your partner's health may be threatened by future pregnancy or you may have concerns about the side-effects of other methods.
This minimally invasive surgery severes the small tube that carries sperm from the testes to the urethra. It is a complete misconception that vasectomy increases the chances of prostate cancer or affects sex life. In fact, this is the best birth control method that has a staggering success rate of 99%. 
Benefits of Vasectomy Surgery in Cancun, Mexico
Safe and effective procedure for birth control

Quick recovery

Less expensive than female sterilization

No effect on sexual activity

Affordable

Experienced doctors

Better equipment and facilities

Healing atmosphere
Cost of Vasectomy in Cancun, Mexico
The cost of vasectomy in Cancun, Mexico starts from $1,140 approximately.
| | | |
| --- | --- | --- |
| Country | Procedure | Price |
| Cancun, Mexico | Vasectomy, Urology | $1,140 |
| United States | Vasectomy, Urology | $1,650 |
| United Kingdom | Vasectomy, Urology | $3,822 |
Note: Final prices are determined after physical evaluation and laboratory reports analysis.
Length of Stay: Outpatient procedure. The patient can be released after a short recovery period or might be advised to stay in the hospital depending on the doctor's advice. 
Vasectomy in Cancun, Mexico Package Inclusions
​Medical fees

Basic blood tests

Transportation from San Diego Airport to Clinic and vice-versa

Medicines for 7 days after the procedure
Vasectomy in Cancun, Mexico Package Exclusions
Personal expenses

Preoperative lab work

Airfare
Factors that Affect Package Price
Age of the patient

Complexities related to the procedure

Specialized medical equipment

Qualification and experience of the Surgeon

Facilities at the clinic
List of Required Pre-op Tests for Vasectomy
Blood tests

Semen test

Tests for sexually transmitted infections, etc.
Note: The laboratory tests are done at least 7-10 days prior to the procedure. The particular tests are prescribed after a complete physical evaluation of the patient.
Payment Options: Cash, credit card, wire transfer
Note: The center may require a money deposit once a patient decides to book the surgery.
Why Choose Cancun, Mexico for Vasectomy?
Cancun-based medical centers are comprised of well educated bilingual staff that are up to date with advanced technologies and provide exceptional treatment services to its patients. The medical centers are accredited offering a wide range of vasectomy services and fully equipped facilities.
How to Reach Cancun, Mexico?
You can fly down to Cancun International Airport. There are multiple flights available that connect Cancun with major cities of the world.
For more details on vasectomy surgery in Cancun, Mexico, click the button below!


Related Experiences:
Prevent Pregnancy with Vasectomy in Mexico
Kidney Stone Removal in Mexico - Effective Surgery for Your Kidneys
Kidney Transplant in Turkey - Improve Your Kidney Function
Kidney Transplant in India - Improve Your Kidney Function
---
---
---