Package Details

Chronic Obstructive Pulmonary Disease (COPD) is the medical term for lung diseases like:
Emphysema

Refractory (non-reversible) asthma, and

Chronic bronchitis
This chronic inflammatory lung disease causes obstructed airflow from the lungs. COPD is characterized by increasing breathlessness in the patient and was considered to be an incurable disease until the introduction of stem cell therapy for this ailment. Common symptoms include cough, mucus (sputum) production, breathing difficulty and wheezing. People exposed to irritating gases or the ones who smoke cigarettes are more likely to get affected by COPD. People suffering from COPD are at a greater risk of developing lung cancer, heart disease, and many other conditions.
With the right diagnosis, stem cell therapy manages COPD and helps the patient to breathe better. Stem cell therapy can prevent more damage to the patients and they live for many years with COPD and enjoy life. It is a proven successful strategy that introduces new adult stem cells into damaged tissue to treat COPD.
The Czech Republic has become a popular medical tourism destination in recent times owing to its stem cell treatment centers. The country has a long history and is known for its ornate castles and native beers that attract tourists around the world.
Stem Cell Treatment for COPD:
Stem cells have been proven to be effective in treating several diseases. Research works and studies show that stem cell treatments can be invaluable in the treatment of several degenerative conditions.
As per new studies on stem cell therapy, it has been proven to be effective in reducing lung inflammation in chronic obstructive pulmonary disease (COPD) and cystic fibrosis. It effectively manages Emphysema caused to the patients due to COPD along with restoring damages caused to the lungs. It repairs the alveoli (tiny air sacs of the lungs) and prevents them from growing too large. Stem cell therapy also regenerates the broken tissue that causes severe shortness of breath.
Stem cells create new alveolar cells to treat COPD. Exogenous mesenchymal stem cells (MSCs) repair the structure of the injured respiratory system in COPD and improve its function.
Factors Affecting COPD Stem Cell Package Price 
In many cases, the same clinic charges different amounts to the patients due to the relative factors like:
Patient's age

Patient's health condition

Clinic's location

Stem cell extraction procedure

Doctor's experience

Medical center's facilities
Cost of COPD treatment with Stem Cell

Cost: Stem cell treatments for COPD in the Czech Republic costs around 12,000EUR/$13,620 approximately. Complex 3-day Stem Cell Therapy Program - contains Vitamin and Detoxification Intravenous Therapy, Intravenous Stem Cell Therapy and Magnetotherapy for further stem cell activation. 
Note: This is an estimated price and the exact cost of the treatment will be decided after the physical check-up.
Inclusions
Medical fees comprising doctor fees and nursing staff

All hospital fees with night stay

Stem cell injections
Exclusions
Hotel or recovery house

Airfare

Preoperative lab work
List of Required Pre-op Tests
CT Scans

MRI

X-rays

EMG, etc.
Note: The laboratory tests are done at least 7-10 days prior to the procedure. The particular tests are prescribed after a complete physical evaluation of the patient.
Payment Options: Cash, credit card, wire transfer
Note: The center may require a money deposit once a patient decides to book the surgery.
Benefits of Stem Cell Treatment for COPD
Controls chronic inflammatory lung disease

Manages increasing breathlessness

Regenerates damaged lung tissues

Controls growth of alveoli (air sacs of the lungs)

Non-invasive procedure

Promising results

Reverses some of the symptoms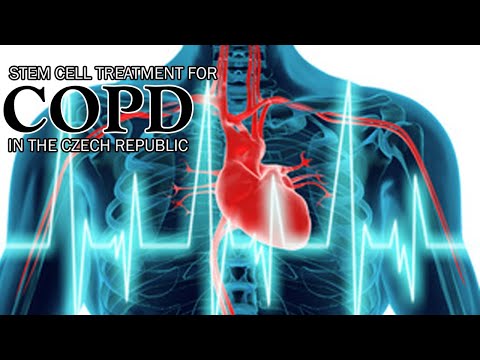 For more details on Stem Cell Treatment for COPD in the Czech Republic, click the button below!
Related Experiences:
Stem Cell Therapy for COPD in Mexico - Cope with Disease