Package Details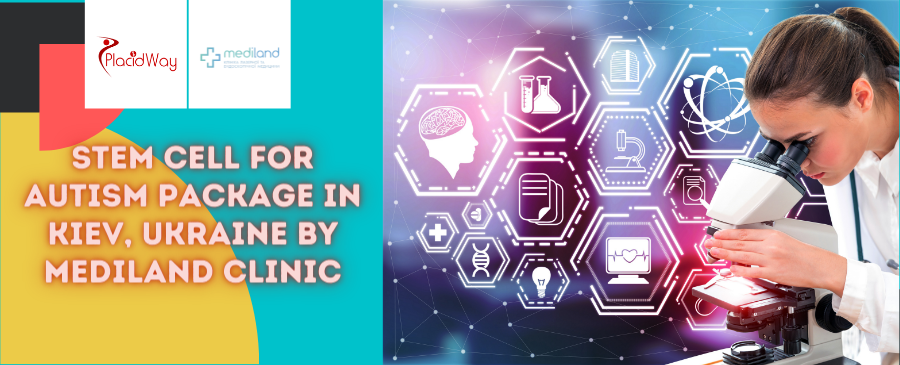 Top Quality Stem Cell for Autism Package in Kiev, Ukraine
Mediland Clinic provides a cheap package for Stem Cell for Autism in Kiev, Ukraine. Get top treatment free quotes for top centers. Mediland Clinic is a cutting-edge medical facility that offers regenerative treatment for all types of ailments and injuries. From the common ailments to serious trauma, they have you covered with their state-of care regenerative treatment! Mediland has everything you need for stem cell therapy.
Definition of Stem Cell for Autism Treatment in Kiev, Ukraine
Our treatment will require one visit (2 days) to our treatment center in Ukraine (Kiev) with each treatment stage normally lasting 3- 4 hours each. In total, you will need to spend about 3 days total in Kiev. (+- 1 day depends on the flight). Our clinic is more than 8000 m2 and works with stem cells treatment for about 12 years; we have our own Cryo bank, laboratory and research center. If you want, we can arrange a little excursion.
Get Stem Cell for Autism Package in Kiev, Ukraine by Mediland Clinic with the price starts from $8,500. The treatment program is 2 days (including treatment, transfer and hotel, personal medical assistant).
Note: Price can different or change depends on complexity of the procedure. Please follow Price Policy in Mediland Clinic or contact Customer Representative.
For autism disease, we use umbilical cord + blood stem cells, because from our working experience this kind of stem cells has the highest efficiency. MSCs of umbilical cord has mature cell, differentiated, which affect the solution of a specific problem: the elimination of muscle atrophy, restoring the normal conduction of various nerve impulses by neurons, which is a prerequisite for a person to exercise a variety of visual, mental, motor, and speech functions.
HGSCs stem cells – are hematopoietic cells, which can modulate immune response and stop for some period autoimmune attack to your own stem cells. We make IVF injection and vertebral, transporting stem cells directly into the cerebrospinal fluid, which transports them to all areas of the cerebral cortex, cerebellum and limbic system. Stem cells are delivered to the lesion and provide a pronounced paracrine effect. In addition, we used intravenous injection for general recovering.
The treating autism with mesenchymal stem cells derived from umbilical cord tissue mean that autism and its severity correlate with significantly with inflammatory and neuroinflammatory cytokines, including chemokine derived from macrophages (MDC) and thymus and activation- regulated chemokine (TARC). Numerous clinical trials have shown that intravenous and lumbar administration of umbilical cord MSCs reduces inflammation. Reducing inflammation in an autistic patient can relieve autism symptoms.
Practice shows that at an early age for children, the effect of cell therapy is much better and the results are remarkable. The sooner you go for treatment, the better your chances of recovery. Since mild forms of the disease can be completely healed and return your child to a full and normal life.
You can expect expanding vocabulary, improving behavior, reducing aggression and unreasonable emotionality, improving adaptation in society.
One study enrolled 32 preschool and school age participants with an average age of to 10.5 years. The group underwent transplantation of umbilical cord mesenchymal stem cells. The protocol included intravenous and lumbar cell therapy.
Improvements in social relationships and reciprocity, such as smiling and eye contact, were noted in the group; thinking, attention and cognition; and speech and language models and their use. There was also a decrease in inappropriate emotional responses, self-stimulating behavior, arousal or arousal without a clear cause, and exaggerated emotional responses.
In another clinical study studied a group of children diagnosed with autism aged 2 to 7 years to find out if cord blood and umbilical cord transplantation can improve some of the symptoms of autism.
At a subsequent six-month follow-up, the group that received the infusion had better socialization, communication and adaptive behavior compared to other children with similar problems. The improvement persisted at follow-up one year later.
Therapy Quotation Remarks:
Please note that our clinic does not need any deposit in advance. You can pay in clinic the full cost before starting therapy. You can pay by cash or credit card. The treatment cost for 3 days program is from 8000 USD by cash or (+ 7% of taxes) by card. The treatment cost for 5 days is from 15000 USD by cash or (

+7% of taxes) by card. The correct price depends from the age of patient, weight and stem cells choice. The price included treatment (above mentioned) + hotel room for 3-5 night for 2 members with breakfast, transfer, testing, medical insurance.

Before the treatment, you will sing all medical documents (agreement, payment documents).

The price is also included accommodation services: meeting at the airport, hotel accommodation with breakfast, transfer hotel-clinic-hotel, personal medical assistant. All medications, blood testing, supporting manipulations also including in treatment program.

After treatment your will receive stem cells passport of injected biomaterials.

The above quotation is a closest estimation based on medical information provided by the patient only. It does not apply if the patient has other co-morbidity or underlying health issues, which have not been informed/provided to us with medical documents.

All documents for visa request and crossing the border of Ukraine, the clinic is ready to prepare for the patient: invitation letter, hotel reservation, medical insurance.

In order to reserve treatment availability for specific dates as per patient's preference and to have patient's medical supplies ready prior to patient's arrival, to cultivated the necessary dosage of stem cells we need confirmation from the patient in 7-10 days before treatment.
Below are some advantages of selecting Stem Cell Clinics for Autism Package in Kiev, Ukraine by Mediland Clinic:
No of side effects

No chemicals involved

Minimally invasive procedure (intravenous, parabulbar, lumbar injections)

No rejection risk

No cancer risk

Lifetime follow-up
Here you can find inclusions for Stem Cell for Autism Package in Kiev, Ukraine by Mediland Clinic:
Check below information of exclusions for Stem Cell for Autism Package in Kiev, Ukraine by Mediland Clinic:
Below are some pre op tests in Stem Cell for Autism Package in Kiev, Ukraine by Mediland Clinic below:
Note: The pre-op tests will be suggested after an essential physical check up. The tests are required to be done before 7-10 days of the treatment.
Payment Options: Cash, Credit Card, Wire Transfer
Note: The clinic may ask you for money deposit once you decide to receive the surgery.
Here you can find information about Stem Cell for Autism Doctor in Kiev, Ukraine by Mediland Clinic:
Kharkov Andrey (License CE 8734065)

Brodskaya Anna (License CE 11200343)

Shishkina Olga (License CE 4390101)

Mischenko Mihail (License CE2306734)
You can get the best stem cell therapy abroad in Kiev, Ukraine with save your money up to 70% off. In Ukraine, you'll find modern clinics that have state-of care facilities and advanced technologies while staying at affordable prices; all this without sacrificing quality!
Modern and well-equipped clinics in Ukraine offer the latest technologies to ensure high quality care. Doctors there are highly trained with years of experience, constantly upgrading their skills through education or outside training programs like those taken overseas where they can be exposed more freely than here at home.
Here you will find information about FAQ (Frequently Asked Questions) for Stem Cell for Autism in Kiev, Ukraine by Mediland Clinic:
It's no wonder that many patients from around the world choose to have their stem cells treated in Ukraine. The country offers an excellent price-quality ratio for any service you might need, and with prices much lower than those found on other continents it is easy see why people would look here first when they need medical care!
Stem cell therapy is a safe and effective way to promote repair in organs that are diseased or injured by using the patient's own bone marrow cells. This new approach has revolutionized transplantation medicine, as it allows doctors greater access than ever before thanks its unlimited supply at both quality levels - human embryos aren't needed anymore!
There are many reasons to seek stem cell therapy in Ukraine, but one big reason that stands out is how affordable it can be. You may even find yourself paying 40-70% less for your treatment after accounting for travel and accommodation expenses have been taken care of!
People with disabilities or chronic health conditions might find relief through stem cell therapies. These include those who have suffered for Autism, Type-1 Diabetes, Spinal Cord Injuries, Parkinson's Disease, Amyotrophic Lateral Sclerosis, Heart Disease, Alzheimer's Disease, Stroke, Osteoarthritis, Burns, and Cancer.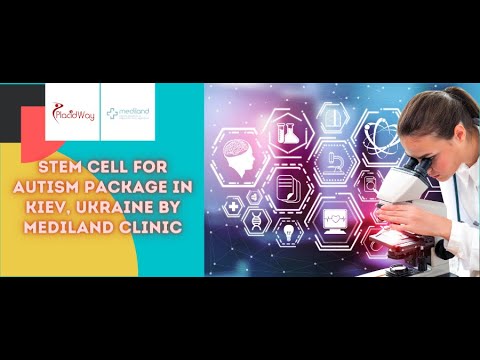 Stem Cell for Autism Package from #1 best clinic in Kiev, Ukraine at Mediland Clinic is now available. You will acquire top quality stem cells to treat autism condition with competitive prices! Make sure you tap contact us button below or call now:
Related Experiences:
Explore Effective Stem Cell Therapy for Autism in Austria
Stem Cell Therapy for Autism in Mexico - Cope with Autism
Multiple Sclerosis Stem Cells Treatment in Europe
Cerebral Palsy Stem Cell Therapy in Austria
Stem Cell Treatment for Cerebral Palsy in Germany, Europe
Stem Cell Therapy for Knee in Mexico - Choose Knee Treatment Mexico