Package Details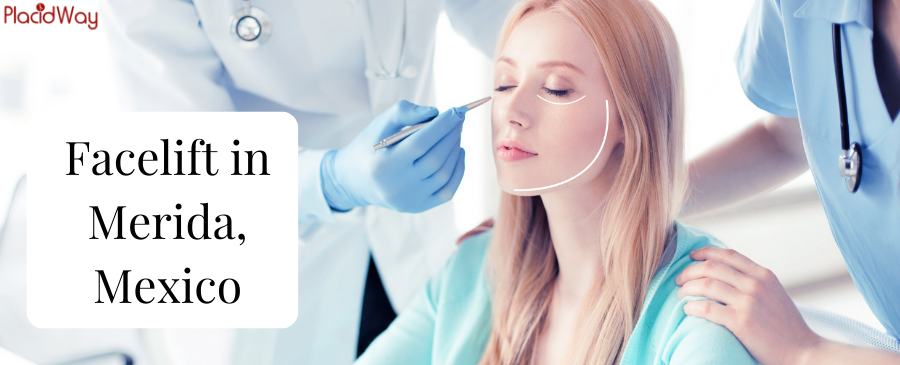 All-Inclusive Facelift Package in Merida, Mexico
Help your face look younger again with an affordable package for facelift in Merida by Dr. Ernesto Abeyta. Dr. Ernesto Javier Acosta Abeyta is a world-class plastic surgeon in Merida. Hundreds of international patients come here to get affordable and effective plastic surgery.
Benefits of Dr. Acosta Abeyta Clinic:
Safe and effective plastic surgery

English-speaking medical team

Board-certified plastic surgeon

Affordable facelift surgery

The latest technology in performing surgery

Modern facilities for patient comfort.
Facelift is a cosmetic procedure that improves your physical appearance and your self-esteem. This procedure tightens your muscles, improves the contours of your face, improves your jawline aesthetically, and repairs loose skin.
It is a minimally invasive intervention that handles facial wrinkles and sagging which is a consequence of aging. Thanks to facial lift surgery excessive skin is eliminated, muscles and tissues are strengthened and as a result, you get a younger appearance.
The

Cost of

Facelift Package in Merida by Dr. Abeyta
The package for Facelift by Dr. Acosta costs $7,000. Check the prices in the following table.
Note: For more information about the final price, make sure to contact the clinic directly. The price may vary depending on your condition and the complexity of the surgery.
Advantages of Facelift procedure:
Rejuvenation of face

Younger appearance

Improved face contours

Delays aging of the skin

Strengthening facial muscles

Better self-confidence
Face Rejuvenation Package in Merida Inclusion
Airport-hotel transportation,

Preop and postop consults,

Clinic's fees, 

Medical staff's fees.
Face Rejuvenation Package in Merida Exclusion
Payment Options:  Cash, Credit and Debit Cards.
Dr. Ernesto Acosta is a Board Certified plastic surgeon and among the best doctors in Merida, Mexico. He has over 15 years of experience working with international and local patients.
Why Choose Rhytidectomy in Merida, Mexico?
Merida is known as the Cultural Capital of the Yucatan Peninsula. It is one of the most beautiful colonial cities in Mexico. You will fall in love with its historic buildings, colorful streets, and charming cafes.
Here are several things you can do in beautiful Merida:
Walk Paseo Montejo street

Eat in a local restaurant 

Visit The San Ildefonso Cathedral
FAQs about Rhytidectomy Surgery in Merida, Mexico
What is the recovery time after a facelift in Merida?
Recovery time after a facelift in Merida is usually around two weeks. However, it is important to follow your doctor's instructions to ensure proper healing.
Is it safe to have a facelift in Merida?
Facelifts are considered safe when performed by experienced and qualified surgeons. Merida has a number of experienced surgeons who offer high-quality care.
Book All-Inclusive Package for Facelift in Merida, Mexico Today!
Book today an all-inclusive package for Facelift in Merida Mexico at the top clinic! Experienced plastic surgeon Dr. Ernesto Abeyta will help you look younger again. Contact us for more details!
Important information: We usually suggest starting the evaluation via WhatsApp or Zoom video call (free of charge) so that we can answer all of your questions. You can see some of our work on Facebook or Instagram as Dr. Ernesto Acosta Cirujano plastico.
Related Experiences:
Facelift in Cancun Mexico
Facelift in Tijuana Mexico - Improve Your Face Appearance
Facelift in Mexico - Restore Your Youthful Look
Facelift in Colombia
Facelift in Costa Rica
Tummy Tuck in Merida Mexico – Get Flat and Firm Belly Now!