Vaginoplasty in Tijuana by CIPLASTIC
Package price starting from:
$4450
Treatment:
Cosmetic/Plastic Surgery, Vaginoplasty
Location:
Calle 5ta. Emiliano Zapata #7867 Zona Centro, C.P. 2200 Tijuana B.C. Tijuana Baja California, Mexico
Focus Area:
Vaginoplasty | Vaginoplasty Package | Tijuana | Mexico | CIPLASTIC | Plastic Surgery | Cosmetic Surgery | Laser Vaginal Rejuvenation
---
Package for Vaginal Rejuvenation in Tijuana, Mexico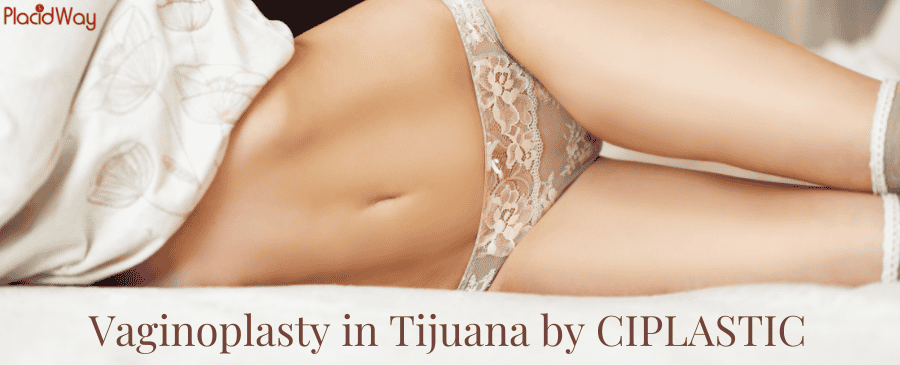 Cost-Effective Vaginoplasty Package in Tijuana Mexico
Vaginoplasty is a procedure that helps patients construct or repair a vagina that's become loose from vaginal childbirth or aging. It treats various medical issues, including vaginal injury due to childbirth and pelvic floor disease complications.
CIPLASTIC is the best cosmetic surgery clinic in Tijuana providing effective plastic surgery to international patients. It has modern facilities and comfortable rooms for your pleasant stay.
What is Vaginoplasty Procedure?
Vaginoplasty is a plastic surgery procedure performed by experienced specialists to restore the strength of a woman's external genitals and vaginal canal. This procedure aims to "tighten up" a vagina. 
Vaginoplasty is a gynecological procedure that is sometimes referred to as vaginal rejuvenation surgery. It is performed with either local or general anesthesia.
Vaginoplasty Cost in Tijuana by CIPLASTIC
The cost of Vaginoplasty in Tijuana is only $4,450. While in the US and Canada you would have to pay over $12,000.
Take a look at our cost comparison table below to check the prices.
Note: For more information about the final price, make sure to contact the clinic directly. The price may vary depending on your condition and the complexity of the surgery.

Advantages of Vaginal Rejuvenation in Tijuana, Mexico by Ciplastic
Adapt to your individual needs.

Restore firmness to the vaginal area.

See the improvement in the overall appearance of the treated area.

Increase your sexual pleasure.

Enhance your partner's sexual experience.

Improve existing medical conditions, such as urinary incontinence.
Vaginal Rejuvenation Package Inclusion
Time of use of the medical facilities.

Supplies needed for your surgery.

IV medications that are needed for your surgery.

Medical and nursing fees.

Anesthetic procedure.

Complete and personalized post-surgical follow-up from a health professional.

Transportation from CIPLASTIC to the Recovery house and back to CIPLASTIC.

Food adequate to your needs. Snacks and healthy drinks

Smart TV with all the facilities related. Wi-Fi, Telephone, Air conditioning/heating
Vaginal Rejuvenation 

Package 

Exclusion
Payment Options: Cash and Credit Cards.
Here you'll find the best plastic surgeon in Tijuana at CIPLASTIC clinic.
Dr. Hermes Pelayo Certified Plastic Surgeon
Certifications and Accreditations:
AMCPER: Asociacion de Cirugia Plastica, Estetica y Reconstructiva,

ASPS: American Society of Plastic Surgeons.

ISAPS: International Society of Aesthetic and Plastic Surgeons

CMCOEM: Colegio Mexicano de Cirugia para la Obesidad y Enfermedades Metabolicas AC
Why Choose Vaginal Rejuvenation in Tijuana, Mexico?
Tijuana is conveniently located on the US-Mexico border. This innovative town has American influence and offers many advantages to international patients.
Here are some things you can do in Tijuana:
Tijuana Cultural Center – Explore Culture and Arts of Mexico.
Avenida Revolucion – Spend your time in one of the numerous cafes, and restaurants, or enjoy outdoor performances.
Mercado El Popo – Buy some fresh products from locals such as cheese, sweets, cosmetics, fruits, and herbs.
FAQs about Vaginoplasty Surgery in Tijuana
Who would benefit from Vaginoplasty?
Most women who go for Vaginoplasty are looking to improve the outer appearance of their vagina. Also, the quality of their sex life can be improved by tightening the vagina. The procedure is also beneficial for women with pelvic floor issues.
How to prepare for Vaginoplasty?
Before your vaginoplasty surgery, it is important to follow your surgeon's instructions about diet and stopping any medications. You should also stop smoking and the use of medication and substances. And do not worry because your doctor will give you the proper direction before vaginoplasty.
How long does recovery take?
The recovery period takes approximately 6 weeks. For a 72-hour period after surgery, it is common for patients to experience a level of discomfort, but pain medication is used to minimize it. During the 6 week recovery period, patients should not partake in exercise and sexual intercourse.
Can I expect improved sexual health after Vaginoplasty?
The majority of patients who undergo Vaginoplasty report an improved sexual life after surgery. Vaginoplasty may improve sexual pleasure and resolve any discomfort that a patient previously experienced. However, vaginoplasty has no impact on fertility.
Get Your Vaginoplasty Package in Tijuana, Mexico Today!
CIPLASTIC provides an effective and affordable vaginoplasty package for international patients. Contact our PlacidWay team for more information and get this package today!

Related Experiences:
Vaginoplasty in Mexico
Rhinoplasty in Tijuana
Facelift in Tijuana, Mexico
Breast Reduction in Tijuana, Mexico - Reduce Your Breast Size
Tummy Tuck in Tijuana Mexico – Improve Your Body Shape!
Brazilian Butt Lift in Tijuana, Mexico - Your Butt Lift Solution
---