Rhinoplasty in Guadalajara, Mexico at Marroquin & Sandoval
Package price starting from:
$2800
Treatment:
Cosmetic/Plastic Surgery, Nose Surgery Rhinoplasty
Location:
boulevard puerta de hierro 5150 tower C office 201, Mexico
Focus Area:
Rhinoplasty | Nose Job | Plastic Surgery | Guadalajara | Mexico | Marroquin & Sandoval Plastic Surgery
---
Cheap Package for Nose Job in Guadalajara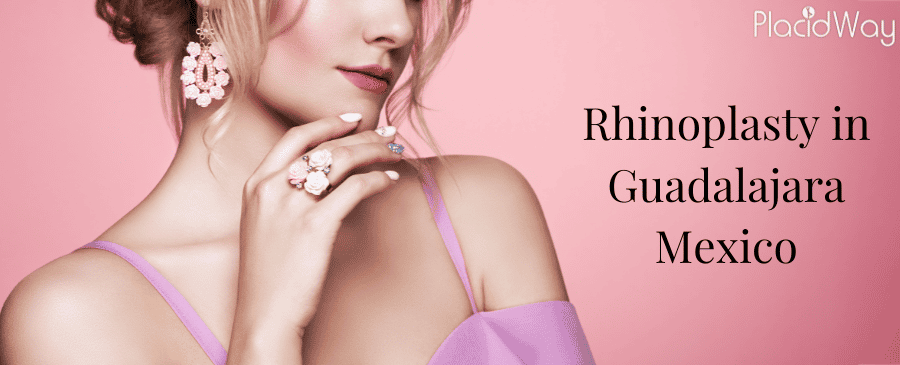 Affordable Rhinoplasty Package in Guadalajara
Looking for affordable rhinoplasty surgery? You're lucky because today you can get an all-inclusive package for Nose Job in Guadalajara Mexico at the top clinic!
Marroquin & Sandoval Plastic Surgery is a world-class clinic providing top-quality cosmetic solutions to its patients. It is located in Guadalajara where you can have a wonderful vacation along with the surgery.
Advantages of Choosing Marroquin & Sandoval Plastic Surgery clinic:
Safe and effective plastic surgery 

Experienced medical team 

Certified plastic surgeons 
Affordable cosmetic procedures 

Modern technology and facilities
What is Rhinoplasty Procedure?
Rhinoplasty, commonly known as a "nose job" is a cosmetic procedure that solves the problem of patients who are not happy with their nose sizes or shapes. It also helps patients who have breathing problems which can have negative impacts on sleep and overall daily life.
Cost of Rhinoplasty in Guadalajara, Mexico at Marroquin & Sandoval Plastic Surgery clinic
Rhinoplasty in Guadalajara, Mexico cost only $2,800. The same quality of procedure costs over $10,000 in North America.
| | | |
| --- | --- | --- |
| Country | Procedure | Cost |
| Guadalajara, Mexico | Rhinoplasty | $2.800 |
| United States | Rhinoplasty | $15,000 |
| Canada | Rhinoplasty | $10,000 |
Note: Price may change and differ depending on the patient current condition and the complexity of the surgery. Please follow the Price Policy of this facility or contact the Customer Representative for more information
​

Advantages

of Choosing Rhinoplasty in Guadalajara
Have better-shaped nose

Enhance the balance and harmony of your face

Improved breathing

Reduced sinus pressure
Pre-op and post-op consultations

Medical expenses

The price is only if you don't have breathing problems
Hotel or recovery house

Preoperative lab work

Airfare
Payment Options: Cash, credit card, wire transfer
Note: The center may require a money deposit once a patient decides to book the surgery.
Why Choose Guadalajara, Mexico for Rhinoplasty?
Guadalajara is also known as the "City of Roses" due to the abundance of beautiful rose gardens in the surrounding area. This culturally diverse city is the second-largest city in Mexico.
Guadalajara is known for its incredible cuisine, especially its mouthwatering street food - tacos. Here are the top places you can visit in Guadalajara before the surgery:
Acuario Michin Guadalajara

Zoológico Guadalajara

Instituto Cultural Cabanas

Templo Expiatorio del Santísimo Sacramento

Bosque Los Colomos
Best Plastic 

Surgeons

 in Guadalajara, Mexico at Marroquin & Sandoval Plastic Surgery
As medical experts, plastic surgeons in Guadalajara strive to help you make your dreams real by delivering top-notch treatments for you to look and feel great.
Speaks English and Spanish 
Consejo Mexicano de Cirugía Plástica, Estética y Reconstructiva 

AMCPER 

ISAPS 
Speaks English and Spanish 
Asociación Mexicana de Cirugía Plastica, Estética y Reconstructiva (AMCPER) 
Mexican Council of Plastic, Aesthetic and Reconstructive Surgery 
Years of practice: 12+
What to expect after a nose job in Guadalajara?
The nose job is done under local anesthesia with sedation or general anesthesia, depending on how complex your surgery is. After the surgery, you'll be in a recovery room and may have to stay overnight (this will a doctor decide).
Your doctor will let you know about your recovery process afterward.
What are the Risks of Rhinoplasty Surgery?
The most common risks of nose job procedure include:
Bleeding

Infection

An adverse reaction to the anesthesia
Talk to your doctor about how these risks apply to you.
Getting a nose job in Guadalajara, Mexico is as safe as in the USA or Canada. Clinics use modern equipment to provide quality plastic surgery. Every year. thousands of women and men from North America visit Guadalajara for affordable procedures with great results. 
At Marroquin & Sandoval, doctors are committed to giving you the best service possible. They offer a rhinoplasty package to improve your aesthetics and breathing. If you want to get further information, please click the below button:

Related Experiences:
Rhinoplasty in Guadalajara, Mexico
Rhinoplasty in Tijuana
Nose Job in Mexicali
Rhinoplasty in Mexico – Compare Clinics, Costs and Reviews
Rhinoplasty in Merida, Mexico
Rhinoplasty in Cancun, Mexico
---