Facelift in Tijuana by Lifot
Treatment:
Cosmetic/Plastic Surgery, Face Lift
Location:
Paseo de los Heroes 9211 Zona Urbana Rio 22010 Rio Tijuana, Baja California, Mexico, Mexico
Focus Area:
Facelift | Ryhtidectomy | Tijuana | Mexico | Cosmetic Surgery | Plastic Surgery | Lifot
---
Cheap Facelift Surgery in Tijuana, Mexico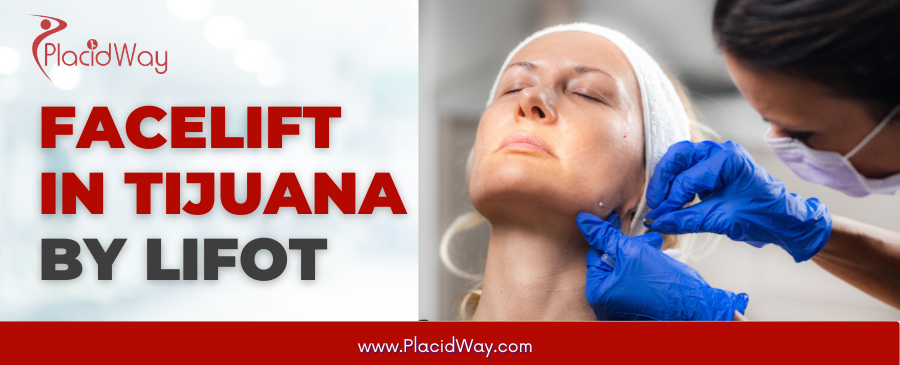 All-Inclusive Facelift Package in Tijuana, Mexico
Lifot clinic provides a low-cost package for facelift procedure in Tijuana, Mexico. Facelift is a popular Plastic Surgery that helps patients to reduce aging signs and gain the desired face look. Lifot clinic in Mexico works with international patients and has an experienced medical team.
Package Price: $5,000
Advantages of Choosing Lifot clinic:
Affordable cosmetic procedures 

The highly skilled plastic surgeons 

All-inclusive packages 

Services for international patients 

Uses top-notch technology in plastic surgery
Facelift also called rhytidectomy, is considered part of cosmetic procedures. It improves the evident aging signs in the areas related to the face and neck. A facelift will help you improve aging signs such as the loss of muscle tone and reduce the physical appearance of fat deposits in the jaw or neck region. While a facelift offers many years of benefits, it can not stop the aging process.
A facelift is an alternative that incorporates the most practical benefits for physically healthy people and individuals with realistic objectives about the outcomes.
The 

Cost of

 Facelift Package in Tijuana by Lifot
The package for Facelift in Tijuana costs $5,000. Check the prices in the following table.
Note: For more information about the final price, make sure to contact the clinic directly. The price may vary depending on your condition and the complexity of the surgery.

Advantages of Facelift procedure:
Face Rejuvenation

Younger Appearance

Improved face contours

Delays aging of the skin

Strengthening facial muscles

Better self-confidence
Face Rejuvenation Package in Tijuana Inclusions
All Related surgical cost: Surgeons' fee, Anesthesiologist, Equipment, Hospital Stay

Surgery at Hospital Medac Tijuana

Post- surgical consultation

1 night stay in hospital with meals
Face Rejuvenation Package in Tijuana Exclusions
Payment Options:  Cash, Credit and Debit Cards.
Best Plastic 

Surgeons

 in Tijuana at Lifot
Best plastic surgeons in Tijuana at Lifot clinic are certified to perform effective plastic surgery such as liposuction. They speak English well and have over 5 years of experience.
Adriana Elizabeth Rayas Gallardo 

Linda Campos 

Luis Armendariz  
Tijuana is an innovative border town with numerous attractions tourists love exploring. You can spend a wonderful time relaxing and enjoying the city's vibrant atmosphere during your stay here for facelifting
Here are some places worth seeing in Tijuana: 
Tijuana Cultural Center ? Art museum and Mexican cultural center 

Avenida Revolucion ? Main street in Tijuana with vibrant nightlife 

Parque Morelos ? Park with a Zoo and walking trails.
FAQs about Rhytidectomy Surgery in Tijuana, Mexico
What is the recovery time after a facelift in Tijuana?
Recovery time after a facelift in Tijuana is usually around two weeks. However, following your doctor's instructions is essential to ensure proper healing.
Is it safe to have a facelift in Tijuana?
Facelifts are considered safe when performed by experienced and qualified surgeons. Tijuana has several experienced surgeons who offer high-quality care.
Book All-Inclusive Package for Facelift in Tijuana, Mexico Today!
Book an all-inclusive package for Facelift in Tijuana, Mexico at the top clinic today! Experienced plastic surgeons in Lifot clinic will help you look younger again. Contact us for more details!

Related Experiences:
Facelift in Tijuana Mexico - Improve Your Face Appearance
Facelift in Guadalajara, Mexico
Facelift in Mexico City, Mexico
Facelift Surgery in Mexicali, Mexico
Facelift in Cancun Mexico
Facelift in Mexico - Restore Your Youthful Look
---
---
---
---