Brazilian Butt Lift Package in Santo Domingo, Dominican Republic by Jose Leon M.D. Plastic Surgery
Package price starting from:
$5200
Treatment:
Cosmetic/Plastic Surgery, Brazilian Butt Lift, Buttock Enlargement
Location:
Calle Socrates Nolasco No. 4 Ensanche Naco. Santo Domingo, Dominican Republic. Clinica Plastimedic Suite 403 Santo Domingo, Dominican Republic
Focus Area:
Jose Leon MD Plastic Surgery | Santo Domingo | Dominican Republic | Brazilian Butt Lift | BBL
---
Transform Your Silhouette with BBL in Santo Domingo, Dominican Republic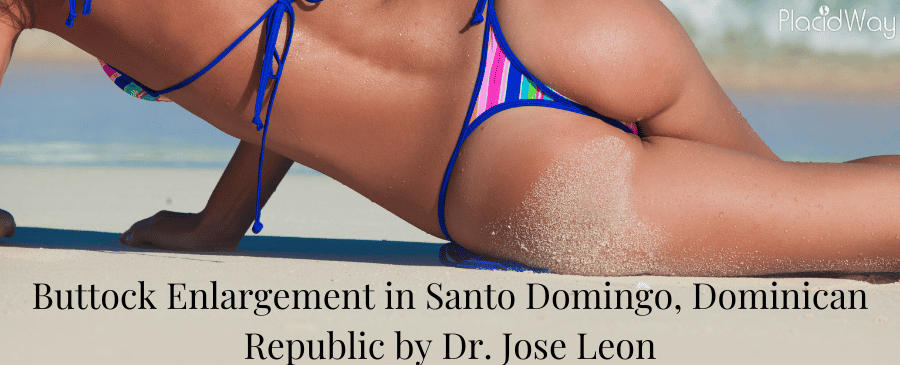 Transform your silhouette with the Brazilian Butt Lift package in Santo Domingo, Dominican Republic, meticulously designed by the esteemed Jose Leon M.D. Plastic Surgery. This transformative procedure aims to sculpt your dream silhouette and enhance your curves, giving you the confidence you deserve.
Dr. Jose Leon, a skilled plastic surgeon with years of experience, leads a dedicated team that focuses on delivering exceptional results and personalized care. Whether you seek to achieve a more shapely figure or regain lost volume, this detail below will explore the advantages, procedures, inclusions, exclusions, pre-op tests, and everything else you need to know to make an informed decision about this life-changing procedure.
You can get brazilian butt lift package in Santo Domingo, Dominican Republic by Jose Leon M.D. Plastic Surgery with the price starts at $5,200. Please refer to our price list table below:
| | |
| --- | --- |
| Location | Cost in USD |
| Santo Domingo, Dominican Republic | $5,200 |
| United States | $10,000 |
| Canada | $12,500 |
Note: price may change and vary depends on complexity of procedures and patient condition. Click free quote button below to get started:

Expertise and Experience: Santo Domingo boasts a renowned medical tourism hub, offering access to highly skilled plastic surgeons like Dr. Jose Leon. With years of experience and an impressive track record, you can trust in their expertise.
Affordable Packages: Compared to many other countries, the Dominican Republic provides cost-effective Brazilian Butt Lift packages without compromising on quality, making it an attractive choice for international patients.
Picturesque Recovery: The serene and tropical environment of Santo Domingo provides an idyllic backdrop for a peaceful recovery. Relax and rejuvenate while you heal, enhancing your overall experience.
State-of-the-Art Facilities: The medical facilities in Santo Domingo are well-equipped with modern technology and adhere to international standards, ensuring optimal safety and comfort during your treatment.
Cultural Exploration: Combine your medical journey with an enriching cultural experience. Explore the vibrant Dominican culture, savor delicious cuisine, and unwind on pristine beaches.
Brazilian Butt Lift in Santo Domingo, Dominican Republic Before and After Images
Before the surgery, patients' buttocks may lack volume or appear asymmetrical. After the Brazilian Butt Lift, the results include improved contours, rounder and shapelier buttocks, and enhanced body proportions. Dr. Jose Leon's skilled hands aim to achieve natural-looking results tailored to each patient's unique anatomy.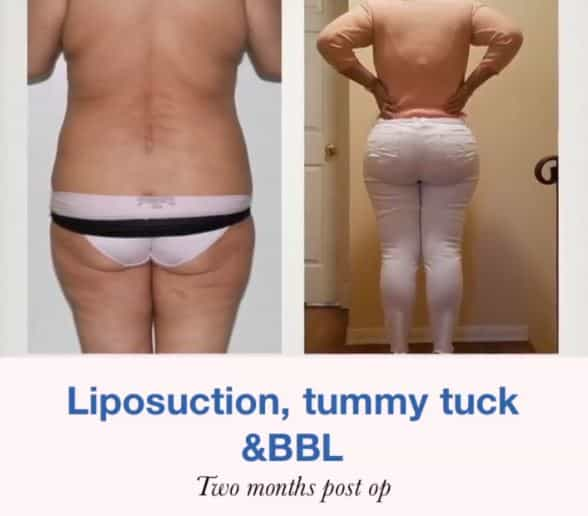 The Brazilian Butt Lift is a two-step procedure comprising liposuction and fat transfer. First, unwanted fat is removed from areas like the abdomen, thighs, or flanks through liposuction. The collected fat undergoes purification, after which it is skillfully injected into the buttocks, sculpting the desired shape and adding volume.
Initial Consultation: Meet with Dr. Jose Leon to discuss your goals, expectations, and medical history. A personalized treatment plan will be crafted to ensure the best results.
Surgery and Anesthesia: The Brazilian Butt Lift surgery, performed under general anesthesia, is included in the package, ensuring your comfort and safety during the procedure.
Post-Operative Care: Comprehensive post-operative care, including medications and follow-up appointments, is provided to monitor your progress and address any concerns.
Accommodation: Enjoy a comfortable stay in a well-appointed hotel, ensuring a relaxed and supportive environment throughout your recovery.
Transportation: We provide hassle-free airport transfers and transportation to medical appointments, making your journey stress-free.
Travel Expenses: The package does not cover travel expenses to and from Santo Domingo. Patients are responsible for arranging their flights.
Additional Treatments: Any supplementary treatments or procedures not related to the Brazilian Butt Lift will be billed separately.
Personal Expenses: Meals, shopping, and other personal expenses are not included in the package.
Complications or Extended Stay: In the rare event of complications or if you choose to extend your stay, additional costs may apply.
Insurance Coverage: Check with your insurance provider, as elective cosmetic procedures are typically not covered.
Brazilian Butt Lift Surgery Pre-Op Tests
Blood Work: Complete blood count and coagulation tests ensure your overall health and ability to undergo surgery.
Cardiac Evaluation: An ECG or other cardiac tests may be conducted to assess your heart's condition.
Medical History Review: Detailed review of your medical history helps identify any potential risks or contraindications.
Physical Examination: Dr. Jose Leon will conduct a thorough physical examination to understand your body's unique characteristics.
Imaging Studies: Imaging, such as MRI or ultrasound, may be performed to evaluate the areas targeted for liposuction and fat transfer.
Dr. Jose Leon is a board-certified plastic surgeon, celebrated for his artistic approach to body contouring and the Brazilian Butt Lift procedure. His expertise, combined with a commitment to patient satisfaction, has earned him a stellar reputation in the field of plastic surgery.
BBL Surgeon in Santo Domingo, Dominican Republic

• 2003 - The Ibero-American University (Unibe) - Doctor of Medicine

• 2012 - University of Guadarajara - Reconstructive and Aesthetic Plastic Surgery.

• 2006 - Hospital Central de las FF.AA. Santo Domingo.
Is BBL Right for You?
Ideal Candidates: Those seeking enhanced curves, natural-looking results, and adequate fat deposits for transfer.
Health Considerations: Candidates should be in good general health, free from serious medical conditions that could hinder recovery.
Realistic Expectations: Understand that the Brazilian Butt Lift can improve your figure, but it is essential to have realistic expectations.
Non-Smokers: Smoking can impair healing, so candidates are advised to quit before and after the surgery.
Recovery Time: Patients should have sufficient time for post-operative recovery and follow-up visits.
What to Expect During the Buttock Enlargement
Consultation: Discuss your goals, expectations, and medical history with Dr. Jose Leon.
Surgery Day: Undergo liposuction and fat transfer under general anesthesia, typically lasting a few hours.
Recovery: Expect swelling and discomfort initially, but these will subside gradually. Avoid sitting or lying directly on your buttocks for a few weeks.
Follow-Up: Regular post-operative visits will monitor your progress and ensure optimal results.
1. Is the Brazilian Butt Lift a safe procedure?
Yes, when performed by a qualified and experienced plastic surgeon like Dr. Jose Leon, the Brazilian Butt Lift is generally safe. Dr. Leon prioritizes patient safety and adheres to strict medical standards.
2. How long does the recovery process take?
Recovery varies among individuals, but most patients can resume light activities after a week and return to regular activities within 2-4 weeks. Avoid sitting directly on your buttocks during this time.
3. Will the results of the Brazilian Butt Lift look natural?
Absolutely. Dr. Jose Leon's artistic approach ensures that the results appear natural and complement your body's proportions, giving you the desired enhanced curves.
4. Are there any age restrictions for the procedure?
While there is no strict age limit, candidates should be in good health and have sufficient fat deposits for transfer. Dr. Leon will assess each individual's eligibility during the consultation.
5. What sets Santo Domingo apart as a medical tourism destination?
Santo Domingo offers a perfect combination of expertise, affordability, and a picturesque recovery environment. The city's medical facilities and talented surgeons like Dr. Leon make it a sought-after destination for the Brazilian Butt Lift procedure.
Contact PlacidWay Medical Tourism today to schedule your consultation with Dr. Jose Leon in Santo Domingo, Dominican Republic. Unlock the path to the curves you've always desired with this life-changing Brazilian Butt Lift package. Embrace your beauty journey with confidence and let the skilled hands of Dr. Jose Leon and his team transform your life. Click contact us button below to get started:

Related Experiences:
Buttock Enlargement in Dominican Republic
Brazilian Butt Lift - BBL in Dominican Republic
Brazilian Butt Lift in South Korea
Brazilian Butt Lift in India
Brazilian Butt Lift in Bangkok, Thailand
Brazilian Butt Lift in Izmir, Turkey
---