Brazilian Butt Lift in Thailand
Why Consider Having BBL in Thailand?
If you're considering enhancing your buttocks, Brazilian Butt Lift in Thailand can be an attractive option. Thousands of international patients come here every year for high-quality and affordable plastic surgery such as BBL.
Besides its low cost and quality, having BBL in Thailand also provides an opportunity to travel to an exotic destination where you can forget about your busy life and enjoy a relaxing holiday! With cost-effective packages and top-notch services in Thai clinics, you'll feel comfortable and have a pleasant trip.
So, before deciding on Brazilian Buttock Lift in Thailand, here is brief information you'll find in more detail in our guide.
Clinic: DGB Plastic Surgery Clinic
Procedure: Brazilian Butt Lift
Cost in Thailand: $4,000
Cost in Other Countries: From $9,000
Savings: Up to 70%
Top Tourist Attractions: Ayutthaya Historical Park, Bangkok, Phi Phi and Phuket Island, etc.
---
Affordable Brazilian Butt Lift in Thailand Packages
Some Thailand clinics offer affordable BBL packages for your most pleasant trip. You can find services like bilingual assistance, transport from the airport to the clinic, medical and doctor fees, anesthesiology, and many others included in the price you can afford.
If you are curious to know more, contact us and we will be happy to create a BBL package that will suit you best.
---
How much is a BBL in Thailand?
Brazilian Butt Lift in Thailand cost $4,000 on average at top-rated medical centers. This very popular plastic surgery procedure cost over $9,000 in Australia and $10,500 in North America.
Thai clinics offer quality standards as you can find in western clinics but at a more reasonable price. Therefore, you can save between 50% and 70% by choosing BBL in Thailand.
Plus you'll have the privilege of a relaxing and exotic vacation before the surgery in this mesmerizing country that is among the top 10 most popular tourist countries in the world.
Now let's see the cost comparison table below to know the prices.
Brazilian Butt Lift Cost Comparison in Thailand

| Country | Procedure | Price |
| --- | --- | --- |
| Canada | Brazilian Butt Lift, Cosmetic/Plastic Surgery | $10500 |
| United States | Brazilian Butt Lift, Cosmetic/Plastic Surgery | $12000 |
| Thailand | Brazilian Butt Lift, Cosmetic/Plastic Surgery | $4000 |
| Australia | Brazilian Butt Lift, Cosmetic/Plastic Surgery | $9000 |
---
Top Plastic Surgery Clinics in Thailand for BBL
You will be impressed by the quality of Thailand's plastic surgery clinics which are internationally accredited. Here you'll have convenience in luxurious rooms and facilities adhering to the international standards of care.
The medical staff is well trained and has the qualifications, skills and experience to offer safe and effective treatment. Many doctors are members of world-renewed organizations and are fluent in English.
Below you can see the top 6 Thai clinics profiles where you'll find past patient reviews, clinics images, and more.
---
Thailand Plastic Surgery Reviews
---
Best 6 Brazilian Butt Lift Doctors in Thailand
Thailand plastic surgeons are board-certified by prestigious institutions thanks to their dedicated work and extensive practice abroad. They are trained to utilize the most advanced technology and techniques to provide effective and safe Brazilian butt lift and other cosmetic procedures.
With years of experience working with international patients, you can be sure you'll be in good hands. Before choosing your plastic surgeon in Thailand, here are the top 6 BBL doctor profiles where you'll see some former patient reviews, images, and more.
---
Why is Thailand so Popular for Brazilian Buttock Lift?
Thanks to qualified surgeons, luxury facilities, advanced technology, and affordable prices, Thailand has been recognized for superior plastic surgery. Thousands of Western patients come here to have safe BBL and a convenient stay in a warm climate. Another factor in choosing a Thai buttock lift is the professionalism of the medical team at reputable clinics. English is widely spoken here, and the clinic staff is dedicated to your needs 24/7.
When foreign patients visit Thailand for their cosmetic surgery, they also take advantage of the trip to explore its hotspots, such as Phuket, Pattaya, and the lively capital of Bangkok. Thailand's diverse attractions provide tourists with many destinations to enjoy before or after surgery.
Exotic islands, stunning resorts, pristine beaches and bustling cities offer something for everyone. Not to forget Thai delicious cuisine, friendly locals, and world-class facilities. Here you will have the ultimate holiday adventure you were dreaming about.
Popular attractions you must visit in Thailand before BBL surgery are:
Krabi province

The Phi Phi Islands and Phuket

The Grand Palace, Bangkok

Khao Yai National Park and watch wild Elephants

Buddha in the ruins of the temple Wat Chana Songkram, Sukhothai Old City

The Historic City of Ayutthaya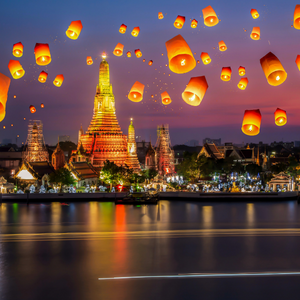 Sky lanterns in the evening sky in Bangkok
---
Book Your Brazilian Butt Lift in Thailand Today!
Brazilian Butt Lift in Thailand allows you to save significantly while enjoying an exotic holiday in the tropical climate. This unique opportunity can be yours if you book your trip to Thailand for BBL with PlacidWay.
We will guide you to choose renewed plastic surgeon and clinic where you'll have an effective and safe Thailand buttock lift. Contact us for more information!
---