Eyelid Surgery in Tijuana by Gilenis Surgical Center
Package price starting from:
$1800
Treatment:
Cosmetic/Plastic Surgery, Eyelid Surgery
Location:
East Expressway 4222 Zona Rio, Chamizal, 22415 Tijuana, Baja California, Mexico, Mexico
Focus Area:
Blepharoplasty | Eyelid surgery | Cosmetic Surgery | Plastic Surgery | Tijuana | Mexico | Gilenis Surgical Center
---
Affordable Blepharoplasty Package in Tijuana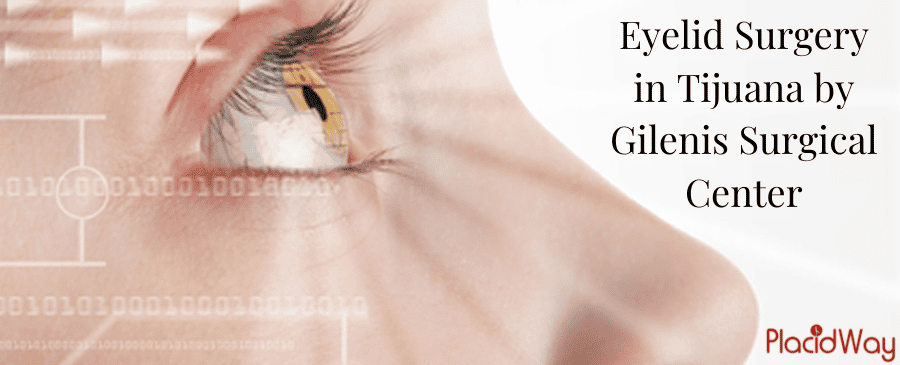 Affordable Eyelid Surgery Package in Tijuana, Mexico
Considering enhancing your appearance with eyelid surgery? Look no further than Tijuana, Mexico, where an affordable and comprehensive eyelid surgery package awaits. Tijuana's renowned medical expertise, modern facilities, and cost-effective solutions make it a prime destination for achieving your desired aesthetic results. Discover how you can rejuvenate your eyes while enjoying the charm of this vibrant city.
Eliminate those baggy or droopy upper eyelids, get rid of the excess skin from the upper eyelids to correct your vision with blepharoplasty surgery. Our cost-effective package for eyelid surgery in Tijuana can help you save over 40% and get a more youthful look.
Gilenis Surgical Center is among the best hospitals in Tijuana Mexico, providing dental, regenerative therapy, and plastic surgery for international patients. Experienced doctors are dedicated to providing you with the best care possible. The medical team is committed to making your experience at the center as comfortable and safe as possible.
Package Detail of Affordable Eyelid Surgery Package
Get top-quality Eyelid Surgery in an affordable $2200 package. Achieve youthful, rejuvenated eyes without breaking the bank!

Advantages of Gilenis Surgical Center:
Renowned clinic for General, Bariatric, Plastic, Urology, and Dental

Highly experienced doctors

Operating theaters equipped with high technology

Payment plans for your convenience

Offer reliable, comfortable and effective services


 
Eyelid surgery, or blepharoplasty, is a type of cosmetic surgery that removes excess skin from the eyelids. The aging process can make your eyelids stretch and the muscles supporting them weaken. Then excess skin and fat can collect above and below your eyelids. This can cause sagging eyebrows, droopy upper lids, and bags under the eyes.
Severely sagging skin around the eyes can reduce side vision. Blepharoplasty can help eliminate these vision problems and make your eyes look younger.
Blepharoplasty cost in Tijuana is only $2,200 approximately. See prices in the USA and Canada below and compare them to Tijuana.
Note: For more information about the final price, make sure to contact the clinic directly. The price may vary depending on your condition and the complexity of the surgery.

Blepharoplasty Package in Tijuana Inclusions
Surgeon's Fees

Clinic Fees

One day of hospitalization

Preparatory tests
Blepharoplasty Package in Tijuana Exclusions
Payment Options:  Cash, Credit and Debit Cards.
Best Plastic 

Surgeon

 in Tijuana, Mexico at Gilenis Surgical Center
Here are the highly qualified cosmetic surgeons in Tijuana and their credentials:
1. Dr. Luis Armendariz 
Cosmetic Surgeon
Experiences and Certifications:
Over 20 years of practical experience

He is a specialist in Rhinoplasty, Blepharoplasty, Mammoplasty, and Liposuction

President of the Federal College of Masters in Aesthetic Surgery.

2. Dra. Yuliya Nikonova 
Cosmetic Surgeon and Specialist in Hair Transplantation
Experiences and Certifications:
Best Rhinoplasty surgeons in Tijuana

Specializes in Blepharoplasty, Otoplasty, Liposuction, and Mammoplasty

Professor of Chelation at the University of CONDE

International Congressman on select topics of Aesthetic Surgery.
Opting for cosmetic procedures in Tijuana, Mexico, presents a myriad of compelling reasons. Renowned for its world-class medical facilities, skilled professionals, and budget-friendly options, Tijuana stands as a premier choice for enhancing your appearance. Experience the perfect blend of quality care and cost savings while enjoying the cultural richness of this bustling city. Whether it's a transformative surgery or a subtle enhancement, Tijuana offers a haven for those seeking cosmetic perfection.
Get a high-quality cosmetic procedure and enjoy a wonderful vacation in Tijuana border town before the procedure. The city has a lot to offer tourists. 
Here are top places worth exploring in Tijuana:
Playas de Tijuana

El Centro

Museo de Cera de Tijuana

Parque Morelos

Galería Comercial Pacifico

Centro Cultural Tijuana

Zona Río
FAQs about Plastic Surgery in Tijuana Mexico
Here are some FAQs about Plastic Surgery in Tijuana Mexico
What are the risks of blepharoplasty?
All plastic surgery has risks, and so does blepharoplasty. Here are some of the rare risks of eyelid surgery:
Infection and bleeding

Dry, irritated eyes

Noticeable scarring

Injury to eye muscles

Reaction to anesthesia

Blood clots
Am I a good candidate for blepharoplasty surgery?
You can be a candidate for blepharoplasty if you have:
Baggy or droopy upper eyelids

Excess skin of the upper eyelids that partially blocks peripheral vision

Excess skin on the lower eyelids

Bags under the eyes
Eyelid surgery can be done simultaneously with another procedure, such as a brow lift, facelift, or skin resurfacing.
How experienced are the surgeons in Tijuana?
Surgeons in Tijuana are highly experienced and often trained internationally. They are well-versed in performing blepharoplasty surgeries and adhere to strict medical standards.
What can I expect during recovery?
Recovery from blepharoplasty typically involves some swelling and bruising, which subsides over a few weeks. Your surgeon will provide post-operative instructions to ensure a smooth healing process.
Is blepharoplasty painful?
Discomfort after blepharoplasty is manageable with pain medication. Surgeons take measures to minimize pain during and after the procedure.
When will I see the final results?
While initial results are visible within a few weeks, final results may take a few months as swelling continues to subside and the tissues settle.
Are there any risks associated with blepharoplasty?
Like any surgery, blepharoplasty carries some risks, including infection, scarring, and asymmetry. However, choosing a skilled surgeon reduces these risks significantly.
Can I combine blepharoplasty with other procedures?
Yes, blepharoplasty can be combined with other facial procedures for a more comprehensive rejuvenation, often referred to as a "facelift."
Is Tijuana a safe destination for medical procedures?
Tijuana has a well-established medical tourism industry and adheres to international healthcare standards, ensuring safety for patients.
How can I prepare for eyelid surgery?
You'll meet your surgeon before blepharoplasty to discuss your preparation for the surgery. He will check your medical history and goals. Also, you'll have a physical exam before your eyelid surgery.
Book Affordable Package for Eyelid Surgery in Tijuana Mexico Today!
Choose today an all-inclusive package for Blepharoplasty in Tijuana at the top clinic! Specialists at Gilenis Surgery Center are dedicated to helping their patients look younger and feel self-confident. Contact us for more details!

Related Experiences:
Eyelid Surgery in Mexicali
Eyelid Surgery in Mexico
Eyelid Surgery in Istanbul, Turkey
Eyelid Surgery in Turkey
Eyelid Surgery in Thailand
Rhinoplasty in Tijuana
---