Eyelid Surgery in Mexico
Get Affordable Eyelid Surgery By Choosing Blepharoplasty in Mexico
Sagging skin in the eyelids creates a sad and droopy appearance. Some people even have vision problems due to excess skin on the eyelids. Thanks to advanced Eyelid Surgery in Mexico you can have youthful look and improved vision.
This surgery is performed on the upper, lower, or both eyelids using local anesthesia. A surgeon makes minor cuts along the natural lines of the eyelids and removes the excess fat, skin, or muscle if necessary.
Our guide will help you find the best plastic surgeon, clinic, and package for your needs. Continue reading to know more.
Clinic: Baja Surgery Center
Doctor: Dr Ernesto Javier Acosta Abeyta
Procedure: Eyelid Surgery
Package Price: Between $1,500 and $5,600
Cost in Mexico: $2,500 approx.
Cost in North America: From $3,250
Top Tourist Attractions: Cancun beaches, Chichen Itza, IkKil Cenote, and more.
---
Best Package Deals for Eyelid Surgery in Mexico
Eyelid surgery prices in Mexico are lower than in the United States and Canada. This is why patients from North America visit Mexican clinics to get professional treatment at a low cost. One way to stay within your budget and save over 50% on eyelid surgery in Mexico is to choose one of our package deals at the price between $1,500 and $5,600.
For this price, you also receive airport pickup, hospital stay, and interpreting services. However, not all packages offer the same inclusions so you should better see in the following links what exactly they provide to you as a patient.
---
Cost of Eyelid Surgery in Mexico
Eyelid surgery cost in Mexico is $2,500 on average. The final blepharoplasty cost Mexico is determined based on factors like medical examinations, surgeon's fee, hospital charges, and anesthesia. The price will also impact the technology, materials used, and the total time needed to perform the surgery.
However, Mexico is up to 50% cheaper for eyelid procedure than America and Canada. And the quality of care is the same or even better in some Mexican clinics.
Here are the blepharoplasty prices between Mexico and North America:
Eyelid Surgery Centers Cost Comparison in Mexico
| Provider | Procedure | Price |
| --- | --- | --- |
| Family Hospital | Hospital de la Familia | Eyelid Surgery, Cosmetic/Plastic Surgery | $2700 |
| Dr. Alejandro Paredes Plastic Surgeon | Eyelid Surgery, Cosmetic/Plastic Surgery | $2000 |
| Sani Medical Center | Eyelid Surgery, Cosmetic/Plastic Surgery | $2500 |
Eyelid Surgery Cost Comparison in Mexico

| Country | Procedure | Price |
| --- | --- | --- |
| Canada | Eyelid Surgery, Cosmetic/Plastic Surgery | $4700 |
| Mexico | Eyelid Surgery, Cosmetic/Plastic Surgery | $2500 |
---
Top-Rated Clinics for Eyelid Surgery in Mexico
You are looking for the right clinic to reduce aging signs by removing excess skin from the eyelids. At the same time, you look for a cost-effective option in order to stay within your budget. We can help you find the perfect clinic for eyelid surgery in Mexico.
Below you'll see some of the best clinic's profiles and their advantages. They provide you with safe and quality surgery and modern facilities where you'll have fast recovery and long-lasting results.
Also, check out the reviews from former patients in the links given below.
---
Video About Quality Plastic Surgery in Tijuana Mexico
In the following video, you'll find out about the quality of cosmetic procedures provided by our partner clinic in Mexico.
---
Real Patient Cosmetic Surgery in Mexico Reviews
---
Most Asked Questions About Blepharoplasty prices in Mexico
Want to know more about Blepharoplasty cost Mexico? Our answers might be helpful if you consider going to a specific city in Mexico for eyelid surgery. Keep reading to know the prices.
---
Best Eyelid Doctors in Mexico
Blepharoplasty doctors in Mexico have the credentials and experience to perform the surgery at a high level of success. These specialists develop their skills and get new knowledge and techniques overseas. Besides, they are members of prestigious plastic surgery societies and associations.
Before you undergo eyelid surgery in Mexico, your doctor will examine you and discuss your options. He will tell you whether you are a candidate for blepharoplasty or not.
If you have sight-related conditions due to problems with eyelids, or you just wish for a youthful appearance, let your doctor know why you need the procedure. Here are the top eyelid surgeons in Mexico:
---
Visit Mexico for Blepharoplasty - Top Health Tourism Destination
Mexico is among the ten most visited countries for medical tourism. And there's no doubt why. Millions of patients from America and Canada go to Mexico for quality and affordable surgery.
In addition, they recuperate after the surgery in hot tourist spots like Cancun, Puerto Vallarta, Tijuana, or Mexicali. You can also come here a few days before the surgery to explore the country and relax.
These are the places worth visiting in Mexico: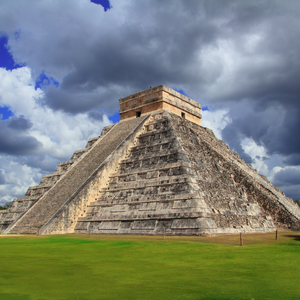 Chichen Itza - A World Heritage Site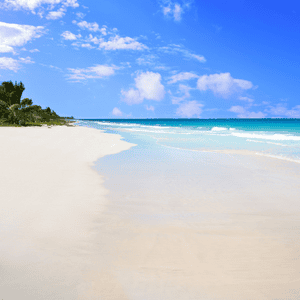 White-sand beach in Cancun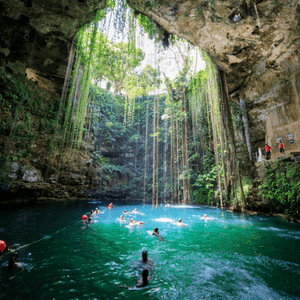 IkKil Cenote
---
Rejuvenate Your Face with Eyelid Surgery in Mexico!
Blepharoplasty in Mexico is your solution to look younger and get rid of saggy upper eyelids or puffy lower eyelids.
Our PlacidWay team is here for all your questions. So, don't hesitate to contact us and get your free quote today!
---