Eyelid Surgery in Los Algodones by Baja Surgery Center
Treatment:
Cosmetic/Plastic Surgery, Eyelid Surgery
Location:
Calle Alamo 289, Los Algodones Baja California, Mexico 21970, Mexico
Focus Area:
Eyelid Surgery | Blepharoplasty | Plastic Surgery | Baja Surgery Center | Los Algodones | Mexico
---
Best Package for Blepharoplasty in Los Algodones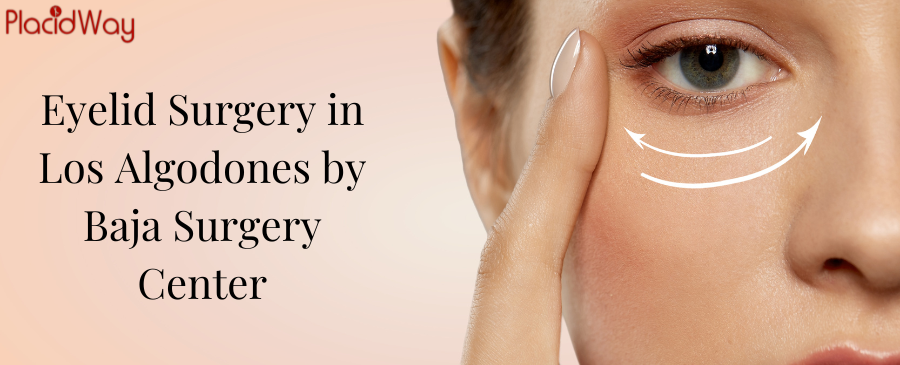 Affordable Eyelid Surgery Package in Los Algodones, Mexico
If you have baggy or droopy upper eyelids, excess skin of the upper eyelids that partially blocks your vision or bags under the eyes, you should consider having blepharoplasty. Our cost-effective package for eyelid surgery in Los Algodones can help you save over 40% and get a more youthful appearance.
Package Price: $2,500
Package Inclusions: 
Ambulatory procedure

Medical expenses and fees

Shuttle service (From-to the Yuma International Airport and from-to the Yuma Border)

Support from our Patient Coordinator
Baja Surgery Center is conveniently located on the US-Mexico border and offers the same high-quality treatments but at more affordable prices. It is a modern facility with the latest technology and equipment to help you achieve the desired look and quality of life you deserve.
Baja Surgery Center Highlights:
Experienced specialists

State-of-the-art equipment

Provide a wide variety of surgical treatments

Follow safety and sanitary standards set by COFEPRIS
Affordable cosmetic procedures 

Modern facilities
Eyelid surgery, or blepharoplasty, is a type of cosmetic surgery that removes excess skin from the eyelids. The aging process can make your eyelids stretch and the muscles supporting them weaken. Then excess skin and fat can collect above and below your eyelids. This can cause sagging eyebrows, droopy upper lids, and bags under the eyes.
Severely sagging skin around the eyes can reduce side vision. Blepharoplasty can help you get rid of these vision problems. The surgery can also make eyes look younger.
Eyelid surgery cost in Los Algodones is only $2,500 approximately. See prices in the USA and Canada below and compare to Algodones prices.
Note: For more information about the final price, make sure to contact the clinic directly. The price may vary depending on your condition and the complexity of the surgery.

Benefits of Blepharoplasty in

Los Algodones

 by Baja Surgery Center
Safe surgery

Improves your face aesthetic 

Boosts your self-esteem

Restoring a younger shape above the eyes

Looking more rested and alert

Brighter vision

The overall facial aspect will be more youthful
Blepharoplasty Package Inclusions
Ambulatory procedure

Medical expenses and fees

Shuttle service (From-to the Yuma International Airport and from-to the Yuma Border)

Support from our Patient Coordinator
Blepharoplasty Package Exclusions
Hotel or recovery house

Preoperative lab work

Airfare
Payment Options: Cash, credit cards, and personal and travelers' checks.
Note: The center may require a money deposit once a patient decides to book the surgery.
Why Choose Los Algodones for Eyelid surgery?
Algodones is a small border town that has plenty of exciting places you can visit and where you can enjoy with your family or friends. Aside from top-quality plastic surgery clinics, the city is famous for its top attractions such as:
Mediplaza,
Yuma Valley Park,
Yuma Art Center,
and more.
Best Plastic 

Surgeons

 in

Algodones

 Mexico at Baja Surgery Center
As medical experts, plastic surgeons in Los Algodones strive to help you make your dreams real by delivering top-notch treatments for you to look and feel great. Baja Surgery Center has highly experienced surgeons and a medical team dedicated to their patients well-being.
They are fluent in English, have international diplomas and certificates, and are among the best in Mexico. Contact our team for more information about cosmetic surgeons in Algodones.​
FAQs about P

lastic Surgery in Los Algodones Mexico
What are the risks of blepharoplasty?
All plastic surgery has risks, and so does blepharoplasty. Here are some of the rare risks of eyelid surgery:
Infection and bleeding

Dry, irritated eyes

Noticeable scarring

Injury to eye muscles

Reaction to anesthesia

Blood clots
Am I a good candidate for blepharoplasty surgery?
You can be a candidate for blepharoplasty if you have:
Baggy or droopy upper eyelids

Excess skin of the upper eyelids that partially blocks peripheral vision

Excess skin on the lower eyelids

Bags under the eyes
Eyelid surgery can be done simultaneously with another procedure, such as a brow lift, facelift, or skin resurfacing.
How can I prepare for eyelid surgery?
You'll meet your surgeon before blepharoplasty to discuss your preparation for the surgery. He will check your medical history and goals. Also, you'll have a physical exam before your eyelid surgery.
Book Affordable Package for Eyelids in Algodones Mexico Today!
Get your all-inclusive package for Blepharoplasty in Los Algodones at the top clinic! Baja Surgery Center surgeons will help you look younger again. Contact us for more details!

Related Experiences:
Eyelid Surgery in Mexicali
Eyelid Surgery in Mexico
Eyelid Surgery in Thailand
Breast Augmentation in Monterrey Mexico
Tummy Tuck in Mexico City
Rhinoplasty in Merida, Mexico
---
---
---
---