Facial Feminization Package in Cancun, Mexico by Dr. Victor Samano
Package price starting from:
$7300
Treatment:
Cosmetic/Plastic Surgery, Chin Implant, Facial Feminization, Nose Surgery Rhinoplasty
Location:
Pabellon Caribe, Av Nichupte #22 1st floor suite 110, Mexico
Focus Area:
Dr Victor Samano | Cancun | Mexico | Facial Feminization | Rhinoplasty | Chin Augmentation | Bichectomia | Cantopexy
---
Unleash Your True Beauty with Facial Feminization in Cancun, Mexico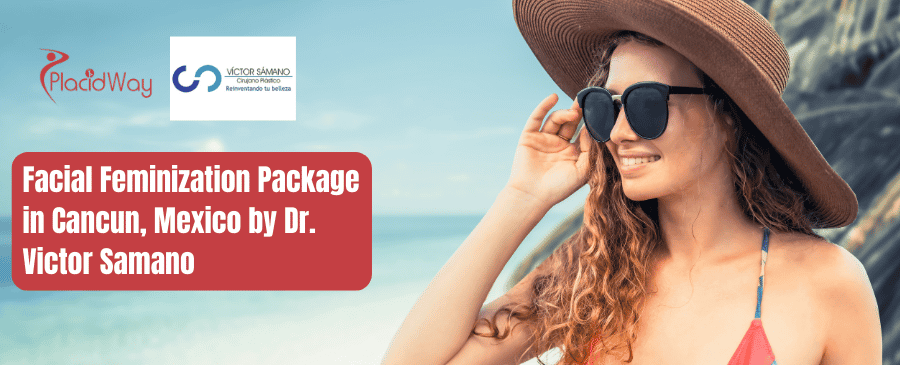 Facial feminization procedures have gained immense popularity in recent years, empowering individuals to align their physical appearance with their true gender identity. For those seeking a transformative experience, Dr. Victor Samano offers a comprehensive Facial Feminization Package in the breathtaking city of Cancun, Mexico. Combining cutting-edge techniques with a serene tropical backdrop, this package promises remarkable results. Let's delve into the advantages of choosing this treatment in Cancun, explore the procedures involved, and understand the inclusions, exclusions, pre-op tests, suitability, and overall experience. Check our package details below to learn more.
You can get Facial Feminization Package in Cancun, Mexico by Dr. Victor Samano with the price starts at $7,300. Check our price list table below to learn more:
| | |
| --- | --- |
| City, Country | Cost in USD |
| Cancun, Mexico | $7,300 |
| United States | $35,355 |
| Canada | $30,000 |
Note: price may change and vary depends on complexity of procedures and patient condition. Click free quote button below to learn more:

Affordable Excellence: Dr. Victor Samano's Facial Feminization Package offers world-class results at a fraction of the cost compared to many other destinations.
Expertise and Experience: Dr. Victor Samano is a highly skilled and experienced professional, renowned for his expertise in facial feminization procedures.
Destination Paradise: Cancun provides a captivating blend of stunning natural beauty and luxurious amenities, creating a serene environment for your transformation journey.
Medical Tourism Hub: Cancun has emerged as a leading destination for medical tourism, boasting state-of-the-art facilities and renowned healthcare professionals.
Seamless Recovery and Post-Procedure Support: After your treatment, you can enjoy a peaceful recovery period in Cancun, with access to comprehensive post-procedure care.
Facial feminization procedures are tailored to address individual needs and desired outcomes. Dr. Victor Samano offers a range of procedures to feminize facial features, including but not limited to:
Forehead and brow contouring

Rhinoplasty (nose reshaping)

Lip and cheek augmentation

Chin and jawline feminization

Tracheal shave (Adam's apple reduction)

Hairline restoration
These procedures are meticulously designed to create a more feminine facial structure and enhance overall appearance.
The final cost is $7,300 USD and includes:
Certified Hospital

Use of Operation Room

Use of post-anesthesia room

Surgeon Fees

Anesthesiologist Fees

Surgical Helper Fees

Compression garment (1)

Nurse visit to your hotel/acommodations for follow up (4 visits)

Airport pick up

Airport drop off

Round transportation for surgery & appointments

1 Box of antibiotics

1 Box of pain killers

1 Box of antinflamatory

Covid test (required by hospital for surgery)

Blood work

All follow up appointments with surgeon at office and virtual
Based on the characteristics you present we can offer you the above surgical plan, the rhinoplasty will be with a feminine touch and in combination with the augmentation of the chin we will give more projection to your face, bichgectomy help to make the cheeks more feminine as well and the cantopexy can change the shape of the eyes to complete the feminization.
Please note that the Facial Feminization Package in Cancun does not include:
Travel expenses, including airfare and accommodation

Additional medical tests or procedures deemed necessary

Medications, both during the hospital stay and post-discharge

Personal expenses and meals during your stay in Cancun

Any complications or additional treatments required beyond the agreed-upon package
It is important to consider these exclusions and plan accordingly.
Facial Feminization Pre-Op Tests
Before undergoing the Facial Feminization Package, you will undergo essential pre-operative tests, including:
Blood tests to assess overall health and identify potential risks

Imaging studies, such as X-rays or CT scans, to evaluate facial structure

Psychological evaluation to ensure readiness for the transformative journey

Hormone level analysis to guide treatment decisions

Medical history review to understand any underlying conditions that may impact the procedure
These tests ensure that you are in optimal health and help customize the treatment plan for your specific needs.
Dr. Victor Samano is a highly regarded plastic surgeon specializing in facial feminization procedures. With a wealth of experience and expertise in this field, Dr. Samano is dedicated to helping individuals achieve their desired feminine facial features. His commitment to patient care and safety, combined with his artistic eye and surgical precision, make him a trusted choice for those seeking facial feminization. Dr. Victor Samano's skillful techniques and compassionate approach ensure that patients receive personalized care throughout their transformative journey.
Facial Feminization Surgeon in Cancun, Mexico

The Mexican Board of Plastic, Reconstructive and Aesthetic

The Ibero - Latin American Federation of Plastic Surgery

The International Society of Aesthetic Plastic Surgery
Is Facial Feminization Right for You?
Facial feminization treatments may be suitable if you:
Identify as transgender or non-binary and desire a more feminine facial appearance

Have realistic expectations about the outcomes and are mentally prepared for the transformation process

Are in overall good health and meet the necessary medical criteria for the procedures

Have obtained clearance from a mental health professional or therapist, as required

Are committed to following the pre and post-operative instructions provided by Dr. Victor Samano

Consultation with Dr. Victor Samano will help determine your suitability for the treatment.
What to Expect During the Facial Feminization in Cancun
During your treatment journey in Cancun, you can expect:
Warm and compassionate care from Dr. Victor Samano and his dedicated team

State-of-the-art facilities equipped with the latest technology and techniques

Clear communication and guidance at every step of the process

A comfortable and serene environment conducive to healing and recovery

Access to post-operative support and care, ensuring a smooth transition to your new appearance
Q: Is Facial Feminization a permanent solution?
A: Yes, facial feminization procedures provide permanent changes to your facial features, helping you achieve a more feminine appearance.
Q: How long is the recovery period after Facial Feminization surgery?
A: The recovery period varies depending on the procedures performed, but generally, it can range from a few weeks to a few months for complete healing and optimal results.
Q: Are the surgeons in Cancun experienced in Facial Feminization procedures?
A: Absolutely, Dr. Victor Samano is a highly skilled and experienced surgeon with expertise in facial feminization procedures, ensuring excellent outcomes.
Q: How safe is it to undergo Facial Feminization in Cancun, Mexico?
A: The facilities in Cancun adhere to stringent safety standards, and Dr. Victor Samano prioritizes patient safety. Rest assured, your procedure will be conducted in a safe and controlled environment.
Book your consultation at PlacidWay Medical Tourism now and embark on a transformative journey towards facial feminization in Cancun, Mexico. Let Dr. Victor Samano help you achieve the beauty that truly reflects your inner self. Click contact us button below to get started!

Related Experiences:
Rhinoplasty in Cancun, Mexico
Rhinoplasty in Guadalajara, Mexico
Rhinoplasty in Tijuana
Nose Job in Mexicali
Rhinoplasty in Mexico – Compare Clinics, Costs and Reviews
Facial Feminization in Mexico
---