Mommy Makeover Package by Medina Flores in Merida, Mexico
Package price starting from:
$9000
Treatment:
Cosmetic/Plastic Surgery, Mommy Makeover
Location:
Anexo CMA Consultorio 14. Calle 54 #365 Col. Centro. Merida Yucatan, Mexico, Mexico
Focus Area:
Medina Flores Plastic Surgery | Merida | Mexico | Mommy Makeover
---
Rediscover Your Confidence with a MMO in Merida, Mexico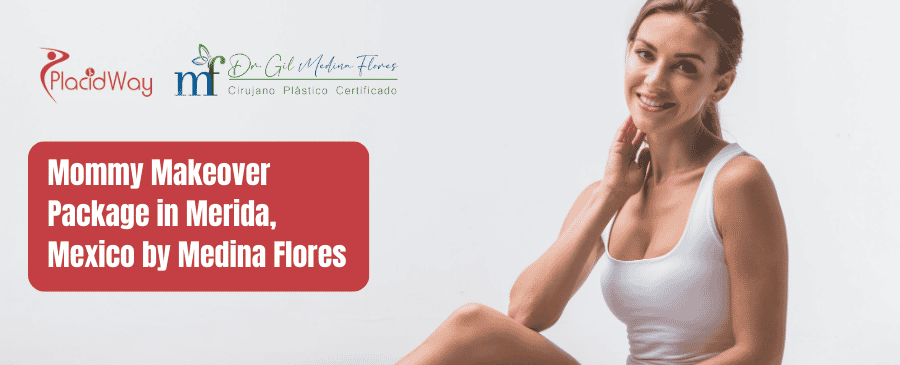 Medina Flores presents an exquisite Mommy Makeover Package in the enchanting city of Merida, Mexico. This life-transforming treatment offers a combination of procedures that can restore your youthful appearance and boost your self-confidence. With highly skilled professionals and state-of-the-art facilities, Medina Flores ensures a safe and rewarding experience for every patient. Check our package details below for more information.
You can get mommy makeover package in Merida, Mexico by Medina Flores with the price starts at $9,000. Check our price list table below to learn more:
| | |
| --- | --- |
| City, Country | Cost in USD |
| Merida, Mexico | $9,000 |
| United States | $20,000 |
| Canada | $28,000 |
Note: price may change and vary depends on complexity of procedures and patient conditions. Click free quote button below for more information:

Affordable Excellence: Merida offers world-class medical services at a fraction of the cost compared to other countries, making the Mommy Makeover Package an exceptional value.
Experienced Surgeons: Medina Flores boasts a team of board-certified surgeons with extensive expertise in mommy makeover procedures, providing optimal results.
Beautiful Destination: Embrace the charm of Merida's rich culture, breathtaking landscapes, and warm hospitality while rejuvenating your body.
Cutting-edge Facilities: Merida is home to modern medical facilities equipped with advanced technologies, ensuring top-notch treatments and patient care.
Fast Recovery in Serenity: The tranquil atmosphere of Merida allows for a serene post-operative recovery, promoting healing and relaxation.
Mommy Makeover in Merida, Mexico Before and After Images
The Mommy Makeover Package by Medina Flores has delivered astounding transformations, as evidenced by before and after photos of satisfied patients. These pictures showcase the impressive outcomes achievable through this comprehensive treatment.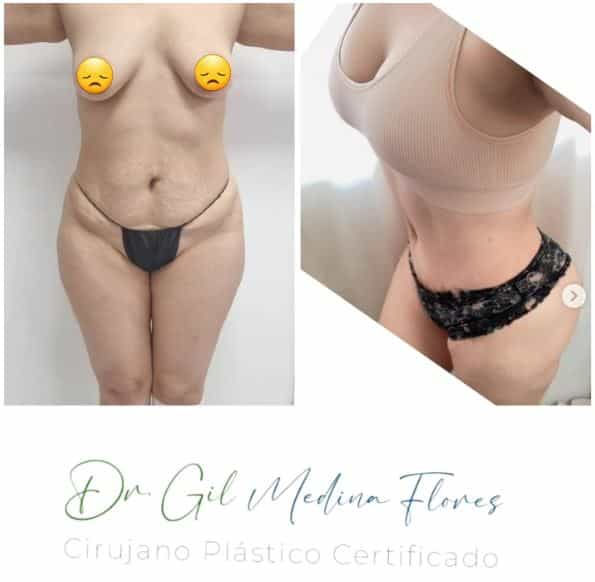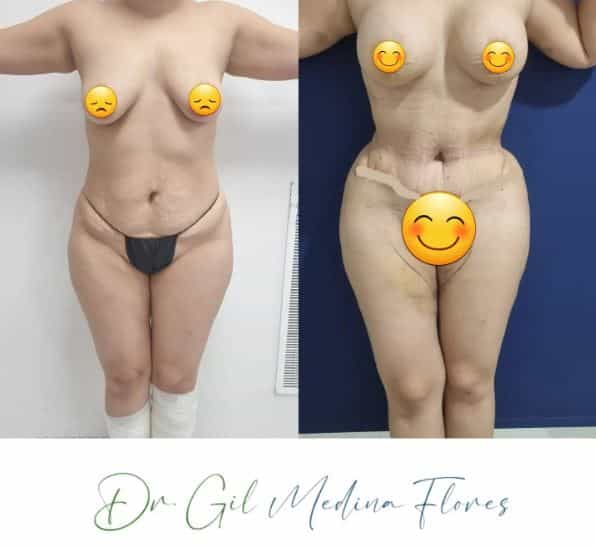 The Mommy Makeover Package combines several cosmetic procedures designed to address the effects of pregnancy and childbirth on a woman's body. The package typically includes a tummy tuck, breast lift or augmentation, liposuction, and sometimes, non-surgical facial rejuvenation.
Medical fees, hospital expenses, preop laboratories, preop assessment, girdles, 1 night in the hospital.

Tummy Tuck: This procedure removes excess skin and fat from the abdomen, tightening the abdominal muscles for a toned appearance.
Breast Lift or Augmentation: Whether you need a lift to restore breast shape or desire augmentation for increased volume, Medina Flores offers customizable solutions.
Liposuction: Target stubborn fat deposits in various areas of the body, sculpting a smoother and more contoured physique.
Non-Surgical Facial Rejuvenation: Complement your makeover with non-invasive treatments like Botox or dermal fillers, refreshing your facial features.
Professional Consultations: Throughout the journey, you'll receive expert guidance from consultations to aftercare, ensuring a satisfying experience.
Post-op medications, post-op massages.

Travel and Accommodation: While Medina Flores assists with arrangements, travel expenses and accommodation are not part of the package.
Additional Treatments: Any additional procedures beyond the package may incur extra costs.
Personal Expenses: Costs related to medications, garments, and miscellaneous items are not included.
Complications and Revision Surgery: In the rare case of complications or revision surgery, these will have separate charges.
Pre-existing Medical Conditions: Management of pre-existing medical conditions may entail extra expenses.
Mommy Makeover Surgery Pre-Op Tests
Blood Work: A comprehensive blood test ensures your readiness for surgery and identifies any potential risks.
Imaging Studies: X-rays and other imaging studies help evaluate the underlying structures and guide surgical planning.
ECG and Cardiac Evaluation: For patients with a history of heart issues, an electrocardiogram and cardiac evaluation are necessary.
Medical Assessment: A thorough medical evaluation determines your fitness for the chosen procedures.
Anesthesia Consultation: An anesthesiologist assesses your suitability for anesthesia during the surgery.
Introducing Dr. Gilberto Medina Flores, a highly qualified plastic surgeon in Merida, Mexico, specializing in Mommy Makeover procedures. With years of experience and a dedication to delivering outstanding results, Dr. Medina Flores is renowned for his surgical expertise and patient-centered approach. Patients seeking to rejuvenate their bodies after childbirth can trust in his skill and professionalism to provide transformative outcomes. Under the care of Dr. Medina Flores, you can embark on your Mommy Makeover journey with confidence, knowing you are in the hands of a true expert in the field.
Mommy Makeover Surgeon in Merida, Mexico

Dr. Gilberto Medina Flores

• Plastic surgeon, aesthetic and reconstructive

• Specialty in Craniofacial Surgery

• Certified Plastic Surgeon 1978

• Ced. Prof. 6240072 UNIMAYAB

• Ced. Specialty 10554897 UDG

• Advertising Notice: N 223301202A0119
Is Mommy Makeover Right for You?
Ideal Candidates: Women who have completed pregnancies, are in good health, and have realistic expectations.

Postponing Pregnancy: It is advisable to undergo the procedure after concluding all planned pregnancies.

Stable Weight: The best results are achieved when candidates maintain a stable weight before the surgery.

Emotional Preparedness: A mommy makeover is a significant decision, requiring emotional readiness for the transformation.

Consultation: A detailed consultation with Medina Flores will determine if you are a suitable candidate for the package.
What to Expect During the MMO in Merida, Mexico
Warm Welcome: Medina Flores welcomes you with open arms, making you feel comfortable and valued from the moment you arrive.
Thorough Evaluation: A detailed assessment is conducted to tailor the procedures according to your unique requirements.
Skilled Surgical Team: Experienced surgeons and medical staff carry out the treatments with precision and care.
Recovery Support: Post-surgery, you will receive attentive aftercare and support to ensure a smooth recovery.
Stunning Results: Witness the beautiful results unfold, as you unveil a renewed and rejuvenated version of yourself.
Q: What is a Mommy Makeover?
A: A Mommy Makeover is a combination of cosmetic procedures designed to rejuvenate and enhance a woman's body after childbirth, typically including a tummy tuck, breast lift or augmentation, and liposuction.
Q: Why should I consider having a Mommy Makeover in Merida, Mexico?
A: Merida offers top-notch medical facilities, experienced surgeons, and an affordable price tag, allowing you to enjoy a transformative experience in a beautiful destination.
Q: How long is the recovery period after a Mommy Makeover?
A: Recovery times vary depending on the procedures performed, but most patients can resume light activities within a week and return to regular activities within 4-6 weeks.
Q: Are Mommy Makeover procedures safe?
A: When performed by experienced and board-certified surgeons like those at Medina Flores, Mommy Makeover procedures are generally safe. However, every surgical procedure carries some risks, which will be discussed during your consultation.
Q: Can I combine a Mommy Makeover with other cosmetic treatments?
A: Yes, you can customize your Mommy Makeover package to include additional treatments like facial rejuvenation or non-surgical procedures. Discuss your preferences with the medical team during your consultation.
Don't miss the chance to embark on a life-changing journey with Medina Flores in Merida, Mexico by booking your consultation through PlacidWay Medical Tourism. Whether you desire a Mommy Makeover or any other cosmetic procedure, Dr. Medina Flores and his team will guide you through every step of the process. With state-of-the-art facilities, personalized care, and the expertise of a highly qualified plastic surgeon, this transformative experience awaits you. Take the first step towards achieving your aesthetic goals and regaining your confidence – schedule your consultation today!

Related Experiences:
Mommy Makeover in Merida, Mexico
Mommy Makeover in Nuevo Progreso Mexico
Mommy Makeover in Mexico City, Mexico
Mommy Makeover in Guadalajara, Mexico
Mommy Makeover in Tijuana, Mexico
Mommy Makeover in Mexico
---