Composite Veneers in Liberia, Costa Rica by Dental Clinic OCI
Package price starting from:
$1725
Treatment:
Dentistry, Dental Veneers
Location:
Liberia, Costa Rica - In front of Pizza Hut, Liberia, Local Number 3 next to exclusive footwear., Costa Rica
Focus Area:
Composite Dental Veneers in Liberia, Costa Rica | Dental Clinic OCI
---
Choose Low-Cost Dental Veneers Package in Liberia, C.R.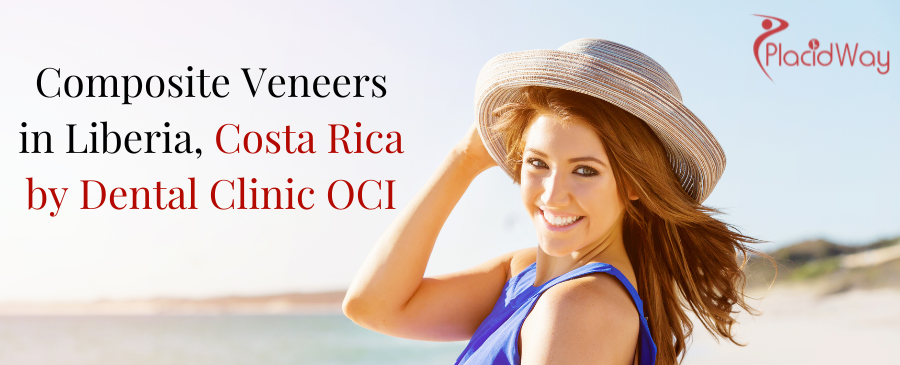 Affordable Package for Dental Veneers in Liberia, Costa Rica
Do you need a smile restoration procedure at an affordable price? Now you can improve your smile esthetics with our Dental Veneers in Liberia Costa Rica package while recovering from the treatment in the tropical Costa Rica environment!
Package Price: $1,725
Inclusions:
Consultation

Whitening

8 composite veneers in bleach

Cleaning
Clinic: Dental Clinic O.C.I.
Dentists: Edgar Pabon, Fabian Fernandez, Karina Malavassi, Luis Granera,  Wendy Villalta and Oscar Cisneros.
Location: Liberia, Costa Rica
Dental Clinic O.C.I. is strategically located in Liberia, Costa Rica surrounded by nature areas and beaches. Here you can gain an excellent dental vacation package, enjoy the beauties of Costa Rica and design your smile at an affordable price. The clinic offers high-quality dental treatments to local and international patients.
Dental Clinic O.C.I. Highlights:
Comply with the highest standards of biosafety and hygiene.

Extensive doctor's experience allows us to provide you with a professional service.

Affordable prices as well as aesthetic packages.

Completely personalized attention according to your needs.
What are Dental Veneers Procedure?
Teeth veneers are cosmetic dentistry that can fix gaps, stains, and chips in your teeth. A veneer is a thin shell attached to the front teeth.
Your dentist will take impressions of your teeth so he can make a model of your teeth and fabricate your veneers. The dentist will use a shade guide to determine the veneers' color to match your other teeth and give them a natural appearance. In the end, a dentist cements the completed veneers.
Dental Veneers in Liberia cost $1725 for 8 composite veneers. Below is a cost comparison table for more details.
Country

Procedure
Cost in USD (Per Tooth)

Canada

Dental Veneer

$1,700

United States

Dental Veneer

$1,750

Liberia, Costa Rica

Dental Veneer

(8 composite veneers)

$1,725
Note: Contact the clinic directly for more information about the final price. The price may vary depending on your condition and the complexity of the surgery.

Easy to maintain

Enhances Your Appearance

Improves Your Oral Health

Boosts Self-Confidence

Long-Lasting Effects

Short Recovery Time

Improves Your Bite

Provides brighter smile

Treats Stained & Chipped Teeth

Replaces Missing Teeth​
Consultation

Whitening

8 composite veneers in bleach

Cleaning
Hotel or recovery house

Preoperative lab work

Airfare
Payment Options: Cash, credit card, wire transfer
Note: The center may require a money deposit once a patient decides to book the surgery.
Best Dental Veneers 

Dentist

 in Liberia at Dental Clinic OCI
Dentists at Dental Clinic OCI in Liberia offer state-of-the-art dental procedures at competitive prices. They are specialists in smile restoration and dental surgery and members of prestigious dental associations. 
Oscar Cisneros

Wendy Villalta
Why Choose Composite Veneers in Liberia, Costa Rica?
If you choose to get composite veneers in Liberia, Costa Rica, you'll improve your oral health and smile at a reasonable price. Dental clinics in Liberia provide quality, effective, and low-cost dental treatments.
Liberia is a city in northern Costa Rica near the Nicoya Peninsula. In addition to world-class dental services, it provides numerous attractions to nature and beach lovers.
As a dental tourist, you'll find interesting things to do and explore in this beautiful historic city such as:
Volcano in Rincón de la Vieja National Park 

Palo Verde National Park 

Coffee Farm tours

Playa Hermosa

Witch's Rock
How long do veneers last?
With proper care and upkeep, porcelain veneers can last for 10 to 15 years.
How do I take care of my veneers?
There are no specific precautions for taking care of veneers. As usual, maintain regular oral hygiene by brushing your teeth and flossing once daily. You will have to visit your dentist twice yearly for regular check-ups and oral exams.
However, you should avoid chewing hard foods with your molars to prevent a veneer from chipping.
Would I be able to take veneers off?
The short answer is no. Porcelain veneers are not reversible. While preparing your teeth for dental veneers, the finish is taken out from your teeth so that the caps can appropriately fit over them. This material can't be restored whenever it is removed from your teeth.
Does it hurt to get veneers?
No! It doesn't hurt to get a veneer. Moreover, most patients report no pain at all during treatment. The procedure is minimally-invasive since it only requires removing a thin layer of enamel from your teeth.
This can be done under local anesthesia, about which you will consult your dentist.
Get a Cost-Effective Package for Composite 

Dental Veneers

 in Liberia Today!
Book an all-inclusive package for Dental Veneers in Liberia Costa Rica at the top clinic! Experienced dentists at Dental Clinic O.C.I. will help you achieve your natural-looking smile and oral health goal. Contact us for more details!
Related Experiences:
Dental Veneers in San Jose Costa Rica
The Ultimate Guide to Dental Veneers in Costa Rica
Dental Veneers in Cabo San Lucas
Dental Veneers in India
Dental Veneers in Hungary
Dental Veneers in Zagreb Croatia
---
Dentistry Related Packages
Dentistry Related Experiences