Obesity Surgical Center | Dr. Jorge Reyes Mendiola
Gastrointestinal Surgeon Dr. Jorge Reyes Mendiola Clinic in Tijuana, Mexico
Hospital Angeles TijuanaPaseo de los Heroes 10999


Focus Area:

Obesity Surgical Center | Dr. Jorge Reyes Mendiola | Obesity Surgery | Bariatric Surgery | Weight Loss Surgeon | Gastric Sleeve | Gastric Bypass | Tijuana | Mexico
Obesity Surgical Center | Dr. Jorge Reyes Mendiola Profile Overview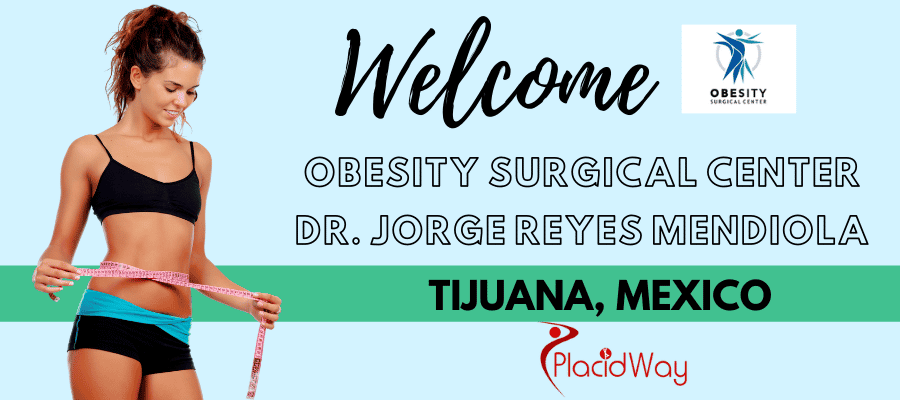 Bariatric Surgery Treatment at Obesity Surgical Center in Tijuana, Mexico
Obesity Surgical Center is a modern obesity surgery clinic located in Tijuana, Mexico. They are committed to offering patients safe and highly successful bariatric procedures, as well as an excellent environment for post-operatory recovery.
The medical team consists of top bariatric surgeons, with years of experience and training in this field, who provide an excellent environment for pre-and post-operatory recovery. The center offers a post-surgery follow-up system, as well as dietetic care to help patients achieve the desired results.
We are experts at providing our patients with a healthy and enjoyable life and pride ourselves in the fact that patients leave the premises with the perspective of a better life and lifestyle, not just with good surgery.
Cost of Weight Loss Surgery in Tijuana, Mexico by Obesity Surgical Center
We offer affordable prices for both the national patient and the foreign patient. In the United States, bariatric surgery cost is approximately up to $ 17,000; with us, this price is reduced to 75%!
We offer American quality standards, and our proximity to the border facilitates the transportation of our patients.
Treatments and

Procedures

Offered by

Dr. Jorge Reyes Mendiola
Gastric sleeve

Mini gastric bypass or gastric bypass of one single anastomosis

Roux-en-Y Gastric Bypass

Duodenal switch

Revision surgery

Lap Band Revision to Sleeve

Gastric Sleeve Revision: Sleeve To Gastric Bypass or Gastric Sleeve Plication

Revision of gastric bypass and reduction of the pouch

Laparoscopic Hiatal hernia repair

Antireflux surgery

Laparoscopic Cholecystectomy

I

nguinal Hernia Laparoscopic Repair

Umbilical Hernia Repair

Laparoscopic Splenectomy

Laparoscopic Colon Resection
Safe and successful bariatric surgery procedures

Highly qualified medical staff

Modern equipment and procedures

The clinic is conveniently located in the beautiful Tijuana

Highest industry standards of sterilization and cleanliness maintained
Dr. Jorge Reyes Mendiola
He is a renowned Gastrodigestive Surgeon specialized in gastrointestinal surgery, abdominal wall surgery, and multidisciplinary management of obesity. Dr. Jorge Reyes Mendiola is an active member of the Mexican Association of General Surgery, Mexican Association of Endoscopic Surgery, Mexican Association of Hernia, International Federation for the Surgery Obesity and Metabolic Disorders
The objective he has for each patient is to diagnose and treat diseases of the digestive tract, abdominal wall, overweight and morbid obesity, also explaining in a simple and individualized way everything related to the illness and the steps to follow to solve this problem.
2004 - Medical Surgeon at Médico Cirujano Universidad Panamericana

2008 - General Surgeon at UAEM

2008 - Colon and Stomach Formative Hospital Santa Creu I Sant Pau Hospital, Barcelona

2010 - General Surgeon Consejo Mexicano de Cirugía General

2014 - Active Member of the Mexican Association of General Surgery

2015 - Recertification General Surgery Mexican Council of General Surgery

2015 - Active Member of the Mexican Association of Hernia

2016 - Active Member Mexican Association of Endoscopic Surgery
It's time to get the best medical services for Weight Loss Surgery in Tijuana, Mexico by Obesity Surgical Center. You will get wholehearted medical services from experienced medical staff, competent surgeons, and the most complete facilities that exceed your expectations. For more information, please click the button below:
---
---
Reviews
Becky

I highly recommend Dr. Jorge Reyes and the Obesity Surgical Center for bariatric surgery. I learned of the center through a friend who raved about Dr. Reyes. I chose to work with them directly rather than going through a medical broker and they were great! Dr. Reyes is a fantastic, highly skilled surgeon who treats his patients with great compassion. His patient quality of life comes first. He has treated my friend, my daughter and myself and we are all grateful for the difference he has made in our lives! If you are considering bariatric surgery choose Dr. Jorge Reyes. He is truly the best!

Google

Sep 01 2021

Paulina

I am totally grateful to Dr. Reyes Mendiola for all his attention and professionalism and all his fully trained surgery room team that filled me with attention and good treatment almost two months after my gastric band surgery I feel very very good with more than 35 pounds of weight loss and in the hands of the Nutriologist Atenas of the team of Dr Reyes it was the best decision I could see made Thanks again for your attention and professionalism Dr. Jorge Reyes Mendiola

Google

Oct 10 2021

Evelyn

I cant thank Doctor Jorge Reyes Mendiola enough! He was GREAT to work with. I usually have a hard time finding a doctor that is truly cares for the wellbeing of his patients. His professionalism is AMAZING. He does not rush you through your visit and is very THOROUGH when explaining what he thinks could be your health issue. I LOVED that he took all the precautions to ensure he did diagnose me correctly. I have felt EXTREMELY safe during his care.

Google

Jan 06 2022
---
---