Smile Studio
Smile Studio, Dental Care Croatia, Top Dental Clinics, Best Dentists, Quality Dentistry, Teeth Care, Oral Health, Dental Implants, Veneers, Dentures, Dental Bridges, Teeth Whitening, Pediatric Dental Care, Restorative Dentistry
Bribirska 2 51000 Rijeka Croatia


Focus Area:

Smile Studio | Dental Implants | Veneers | Crowns | Dentures | Teeth Whitening | Braces | Gum Disease | Dentistry Treatments | Pediatric Oral Health | Root Canal | Dental Surgery | Restorative Dentistry | Rijeka, Croatia
Smile Studio Profile Overview

Welcome to Smile Studio
Get a New Smile and a Wonderful Holiday in Croatia

Smile Studio is a family-owned dental clinic located in Rijeka, Croatia. The clinic offers local and international patients cutting edge technology, highly professional team of experts and excellent dental treatments and procedures. Besides this, the affordable prices and the beautiful Adriatic coast region will certainly give you a reason to smile.
The clinic will impress at first sight with its luxurious and modern equipment, and highly sophisticated technology and materials. The dental experts working at Smile Studio are dedicated to their profession and really know how to make this experience a pleasant one.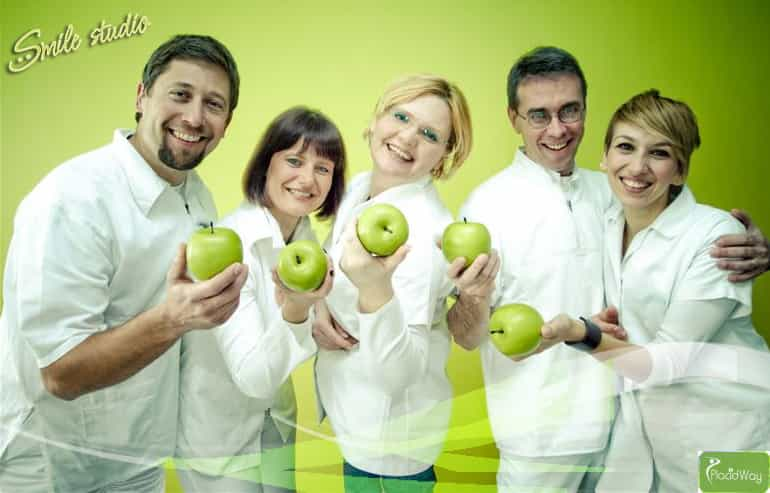 Smile Studio Mission
To design a perfect smile for each patient
To help patients smile and show their happiness without constraints and embarrassments
Create a relaxing and friendly atmosphere for the patients
Create the perfect dental treatment plan according to each patient's needs

What we offer
Smile Studio uses only the latest technological medical equipment such as the CAD-CAM technology (Computer-aided design and Computer-aided technology). This way they offer high quality, long lasting zirconium crowns and bridges, created by Swedish company Nobel Biocare-Nobel Procera.
The KODAK RVG 6100 digital radiovisiography has the highest resolution among all existing similar equipment and it sends an X-ray image on the computer within seconds. The machine also produces with 90% less radiation compared to traditional, old-fashioned X-ray machines!
The biomaterials, such as bones and membranes, used by the clinic are made by Swiss experts Geistlich. All the materials used for cosmetic dentistry, such as fillings, and for metal-free prosthesis are produced by the Japanese GC and IVOCLAR (Liechtenstein) companies known worldwide for the highest quality dental products.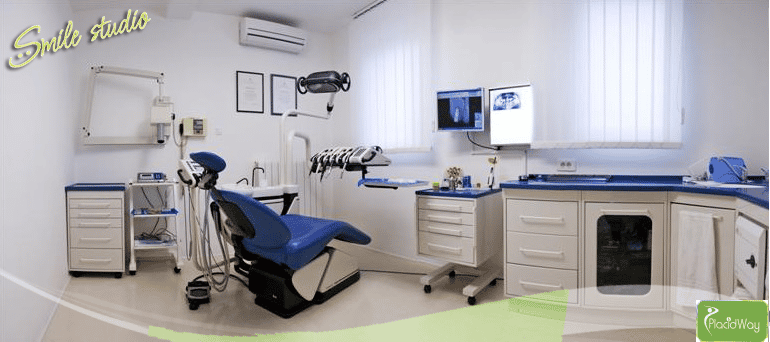 Treatments & Procedures Offered by Smile Studio
Implantology
Tooth in a day
All on 4
All on 6
Dental Veneers
Crowns
Procera all ceram non-metal ceramic crowns
Metal ceramics
Ceramic bridges
Teeth whitening
Dental bonding
Gum disease & degeneration
Dental plaque
Dental calculus
Gingivitis
Periodontitis
Orthodontics
Silensor device for snoring problems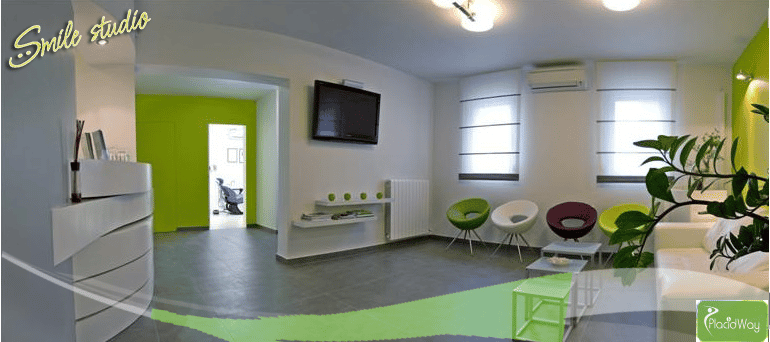 Prices for dental treatments and procedures
One surface composite filling - 45 euro - $60
Two surface composite filling - 55 euro - $73
Three surface composite filling - 65 euro - $87
Ceramic crown - 225 euro - $302
Gold ceramic crown - 280 euro - $376
Zirconium ceramics, Procera - 400 euro - $537
Ceramic crown on implant - 250 euro - $335
Temporary crown - 23 euro - $30
Removable metal plate prosthesis - 770 euro - $1,034
Precision retainer element (ceka anker, otcap) - 340 euro - $456
Implant - 800 euro - $1,075
Implant superstructure - 160 euro - $215
Full acrylic dentures - 550 euro - $739
Temporary dentures - 400 euro - $537
*The prices are estimative and they may vary depending on how extensive the dental is treatment is.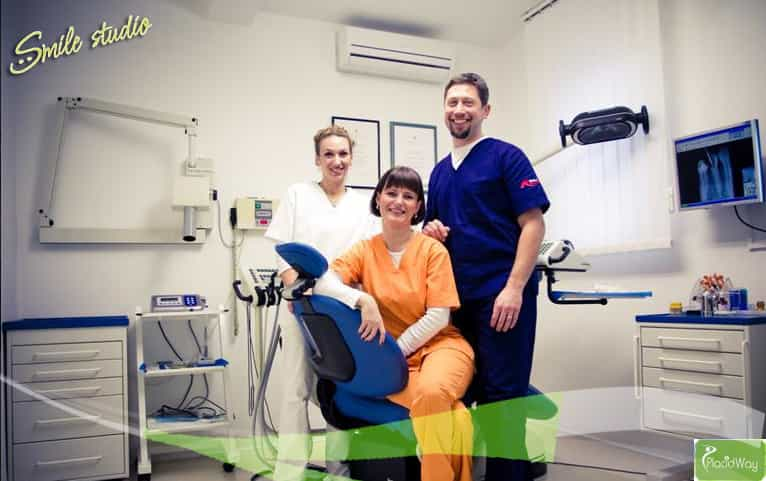 Smile Studio also offers warranty for various dental treatments and procedures
For fixed prostheses
Crown and bridge: 5 years
Fillings: 2 years
For removable prostheses:
Partial dentures: 3 years
Full dentures: 1 year
Implantation: Implant lifetime warranty, for the structural elements of the implant: 5 years

We offer you a perfect smile in only 3 steps!
Step 1
Send us the panoramic X-ray, along with your basic information, problems regarding your teeth and smile and the way we can reach you.
Step 2
According to your X-ray and information you gave us, Smile studio creates a plan of the therapy you need and the costs for it.
Step 3
You fly in for the free checkup and meet us. We agree on the dental work that needs to be done and then we start to design your perfect new smile!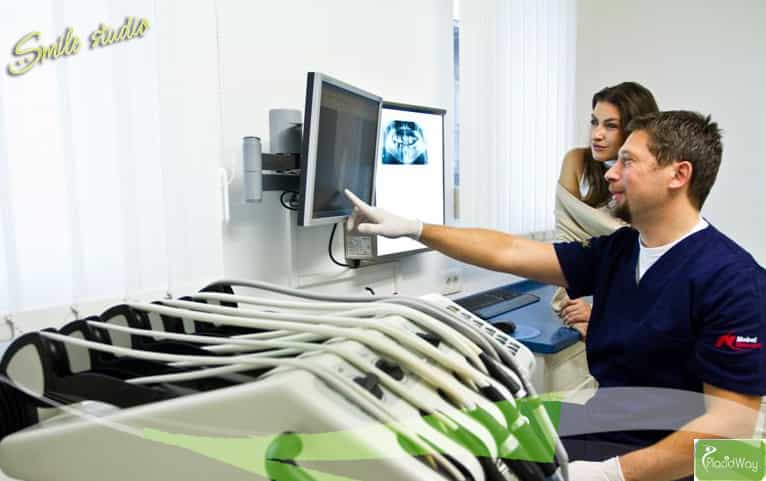 Smile Studio Medical Team
Dr. Tamara Kovacevic-Miksic - Esthetic dentistry, Prosthodontics

Founder of Smile Studio
Graduated in dentistry from the School of Medicine at the University of Rijeka in 1997
Post-graduate study at the School of Dental Medicine at the University of Zagreb
Member of Croatian Dental Chamber

Dr. Damir Miksic - Esthetic dentistry, Implantology

Founder of Smile Studio
Graduated in dentistry from the School of Medicine at the University of Rijeka in 1997
Acquired knowledge from world renowned professors in Rijeka, Zagreb, Milan, Vienna
Member of the Croatian Dental Chamber, Croatian Society for Dental Implantology and Croatian Nobel Biocare team
Licenses for implanting Astra and Nobel Biocare systems

Dr. Silvio Ferreri - Orthodontist

Graduated in dentistry in 1993
Assistant professor of Orthodontics and since 2005
Head of the Department of Clinical Paedodontics and Deputy chief of the Stomatology clinic at the School of Medicine, University of Rijeka
Orthodontic specialist since 2004
Member of different national and international dental associations

Dr. Miljena Mia Girotto - Periodontologist, Implantologist

Graduated in dentistry in 1996 from the School of Medicine at the University of Rijeka
Postgraduate study at the School of Dental Medicine at the University of Zagreb
Specialized in Periodontology in Rijeka and Zagreb
The only Croatian to reach the Top-level in the iTOP education system
Vice president of the association WomenDentistsWorldwide in Croatia
Editor of the patient-oriented stomatological magazine "Smile"
Accreditations & Certifications
SmileStudio is certified for using the products of the world renowned manufacturers specialized in the field of implantology systems: Nobel Biocare and Astra Tech.
The clinic has the international iTop certificate (individually Taught Oral Prophylaxis) for maintaining oral hygiene, issued by the Swiss company CURAPROX.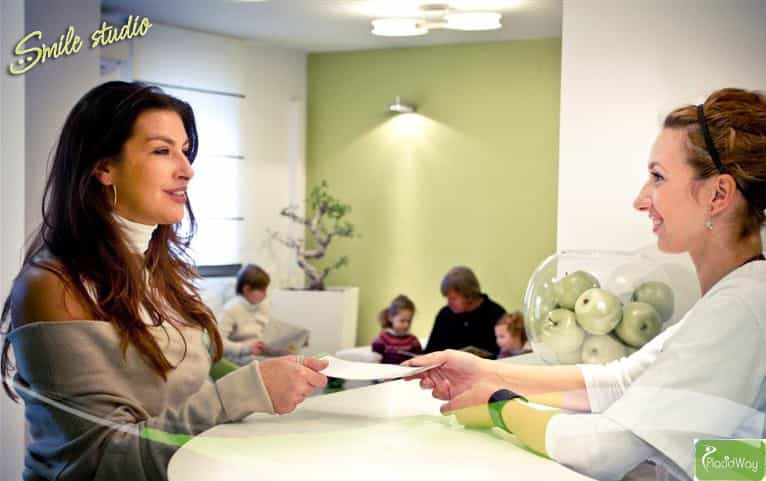 There is nothing more beautiful than to see someone smile, and there is no better feeling than laughing heartily.
Contact us for more details about the treatments we are offering and if you need more information about Smile Studio.
---
---
Reviews
Anonymous


Dental Veneers in Croatia are performed by using the best materials for a natural shine and look of the teeth where the veneers are applied. Smile Studio dentists are ensuring nothing is left to chance when it comes to your smile.

See how the highest standards and advanced technology put a sm

Dec 05 2021

Anonymous


Dental Bridges in Croatia are performed by using the latest in dental technology and by abiding to the highest standards in dentistry.

Smile Studio is among the top clinics in Croatia where dental bridge work experts make your smile the envy of everyone.

See these before and after dental

Dec 02 2021

Anonymous


Smile Studio is among the top dentistry clinics in Croatia where dental technicians and top stomatologists put the smile back on your face with dental crowns.

Dental Crowns at Smile Studio in Croatia are created and fitted by abiding to the highest standards and using advanced technology.



Dec 29 2021
---
---