Ilmaek Oriental Medical Network Hospital
Seoul, South Korea
5F Daeryeong Building, 1318-5 Seocho-Dong, Gangnam-Gu

Focus Area: Ilmaek Oriental Medical Network Hospital | Weight Loss | Obesity Control | Diet Programs | Weight Loss Solutions
Best Weight Loss Clinic, Affordable Weight Loss Hospitals, Diet Programs, Oriental Medicine, Obesity Treatment, Seoul, South Korea
Profile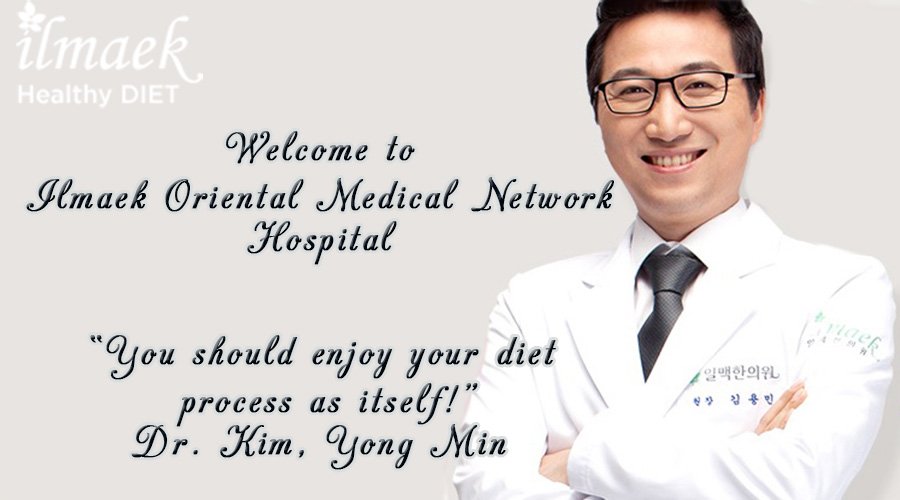 Welcome to Ilmaek Oriental Medical Network Hospital
"Only Diet! Enjoy Diet!"
Ilmaek Oriental Medical Network Hospital was established in 2003 at Apgujeong, Seoul as a specialty oriental medical clinic of diet and skin. Since then, we have been growing steadily.
Now, we are the diet specialty oriental medical clinic of the nation's largest scale, which is having and operating 26 branches in South Korea. About fifty people of medical professionals are in charge of treatment and cure, and we are pulling in excellent level of medical care and understanding ser vice for customers' needs & wants. We serve same medical service with same price in our 26 branches.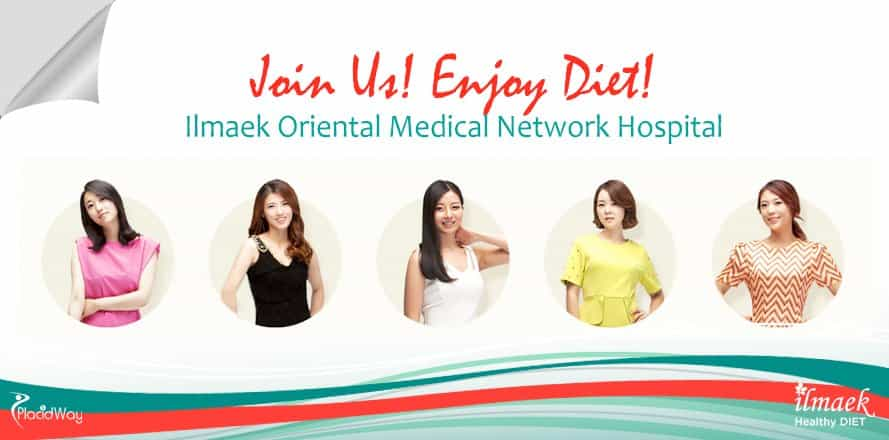 Concept of Ilmaek's Diet
"You should enjoy your diet process as itself!"
Suprisingly, there are still so many people who belive the best way of losing weight is just blindly going hungry. Of course, that way can show you the result shortly. However, that way also can show you yo-yo syndrome very quickly. Even worse, you may have anoreia and depression. Like this, using extreme way of losing way will be usually failure because the process was not enjoyable.
The best way that Ilmaek has proven for the last 12 years is 'Easy, Joyful, Enjoy the process as itself!' with reducing side effect and healthy losing weight to be beautiful. Join us and make your health beauty with us!

Our Medical Team

Dr. Kim, Yong Min
CJ E&M and 's representative and oriental doctor
The representative doctor of Ilmaek Oriental Medical clinic which is the diet specialty oriental medical clinic of the nation's largest scale and having 26 branches in the country. Already about 170,000 patients have experienced our diet program and have seen effects of losing weight a lot through our research and development of innovative diet program.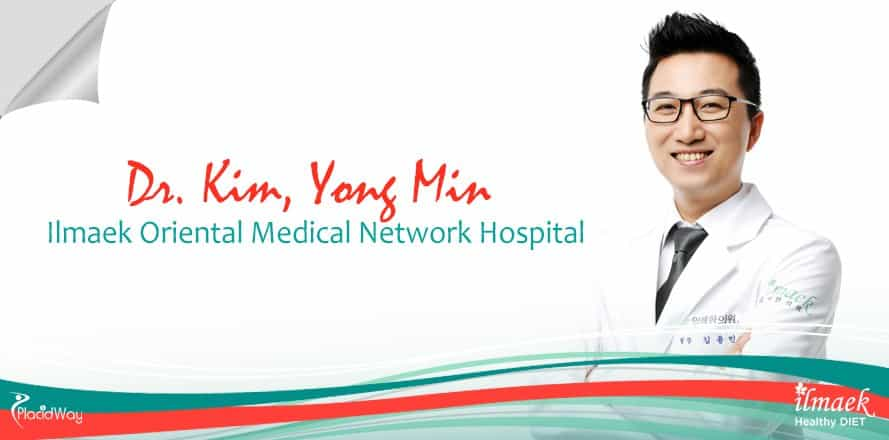 Academic Activity:
Foundation of Study of Testing Obesity and Beauty
Korean Medical Institute of Dermatology & Aesthetics
Member of Oriental Medical External Treatments
Member of Study of Oriental Medical Naturopathy
Member of Korean Medicine Service Team Abroa
His works (Books)
Have to change your constitution to never gain weight!
Detox Juice Diet
History of Ilmaek Hospital
2014
March Making 'Real Story Model of 10 people'

July Dr. Kim,yong Min appeared on Story on 'Let me in Season 4' TV show as a member of Doctors
2013
June Dr. Kim,yong Min appeared on Story on 'Diet Master' TV show Published book 'Detox Juice Diet'

October Opened in Chungju Branch of Ilmeak
2012
September Held 1st Diet Boot Camp
2011
April Published the best seller of beauty & health field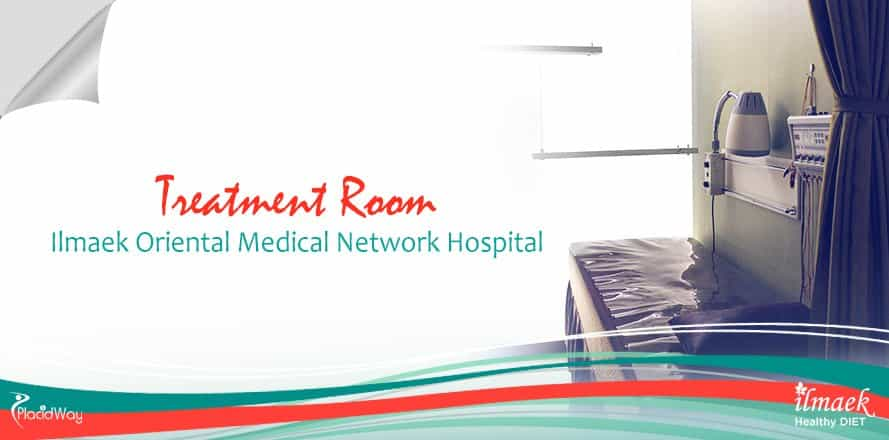 2010
January Released the first beauty & diet field application in Korea

June Oriental Plastic Beauty Embedding Therapy Regular Conference

November Partnership Agreement with KMA (Korea Model Association)
2009
September Set up Ilmaek Joint-Medicine manufacturing Room
2008
January The Introduction of monitoring for customer service

June A regular survey for Obesity study
2007
February Passed the Heavy metals test and Pesticide residues test for Chinese medicine treatment of obesity according to the FDA as a safety inspection

March Constructed 26 chain network branches in nation
2006
January Opened Nowon branch

February Opened Chunho, Esu, Suji branches

March Opened Busan, Ulsan, Bucheon, Suwon, Jukjun, Shinchon, Pyeongchon, Daejun, Chunahn, Jongro, Ilsan branches

February Opened Myungdong branch

April Opened Dangsan brance 'Ilmaek Chinese medicine', passed a test from the US Food and Drug Administration (FDA)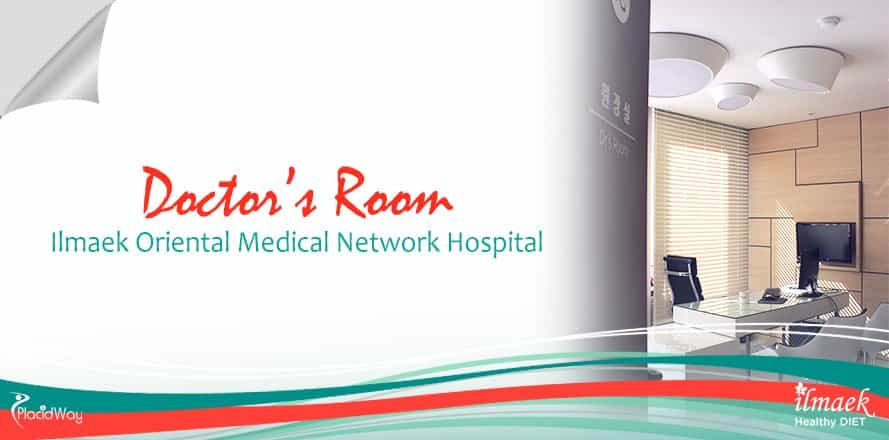 2005
June Opened Gangnam and Bupyeong branches Partnership in Oriental medical field with Naver, Korea's largest portal service site.

November Established corporation ILMAEK MEDI LIFE INC.

December Opened Yeongdungpo and Incheon branches
2003
March Opened Apgujung, Daegu, Kyodae branches
1998
March Established Research Society of Ilmaek Oriental medicine
Specialties of Ilmaek Hospital

Wide Area Network of 26 Branches
Ilmaek Oriental Network Hospital boasts Wide Area Network of 26 branches. All of our branches are located near the subway access area each region, so it is possible to convenient visit us. Also, we have thirty-four of medical professionals. They continuously study to find the effective way of losing weight through regular conferences, seminars, and studying, etc. Of course, we serve same price and medical service no matter where you visit in our 26 branches in the nation.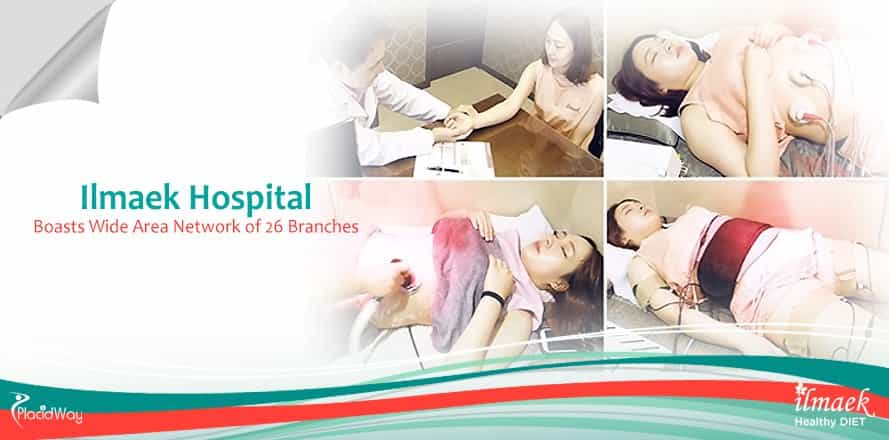 Six Special Clinics
Losing weight should be made by different treatment and care depending on purpose of it. In Ilmeak Oriental Network Hospital, we are operating Six Special Clinics as:
Oriental diet
Edema
Oriental Cosmetic
Afterbirth Care
Wedding Care
Psychical Cure
In the clinic, an expert of each part will effectively help customers to success to lose weight with systematic management.
Construct Integrative Medical System
Over the past 12 years, Ilmeak Hospital have been studying constantly in order to find the most effective way of losing weight through case study of our tens of thousands customers, periodical survey and self study, etc.
Consequently, we completed Constitution by Diet Classification based on 'water, fire, soil'. Also, based on this classification, constructed methodical integrative medical system of Ilmeak diet that suggest diet method for personal.
Research Activity
Ilmaek Oriental Medical Network Hospital has been consciously studying for only diet. For example, Ilmaek has published diet steady seller like 'Have to change your constitution to never gain weight!', 'Detox Juice Diet', etc. with five foreign languages.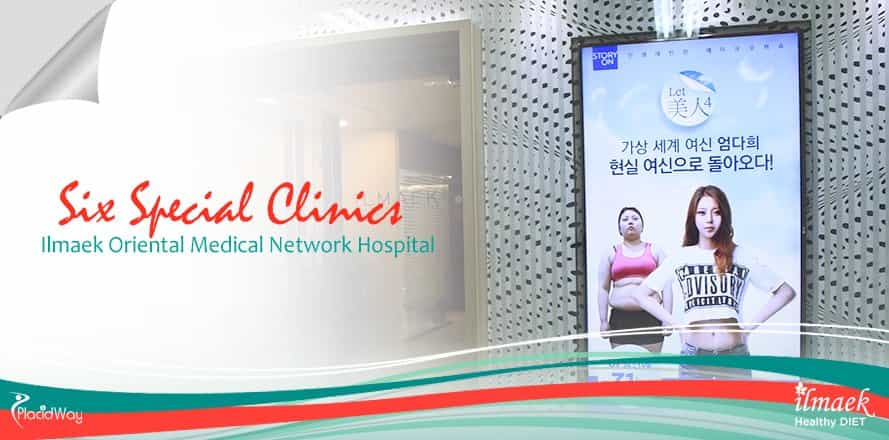 About Our Six Special Clinics

1. Oriental Diet
A. 'Healthy 1:1 custom-diet!' - Not only losing weight but also considering yo-yo syndrome
B. Healthy diet & Physical constitution Improvement & Personalized prescription
*Ilmaek's 3-steps Diet Project
(1) Only diet program just for you with exact physical constitution analysis and 1:1 personalized prescription
(2) Diet oriental medicine induce suppressant your appetite and disassemble your body fat
(3) Formarion perfect body line with getting rid of extra flab from arm, tight, hips, etc. where you want to.
*Ilmaek's 6 Key Point
(1) Formation of feeling full and satisfied and helping suppressant your appetite
(2) Possibly reducing amount of meal that takes the medicine before a meal
(3) Decrease yo-yo syndrome due to correcting a eating habits without starve or fasting
(4) Burn and disassemble your fat with having a efftect to make high basal metabolic rate (BMR)
(5) Discharge waste such as edema, extravasated blood, a stagnant water in the body from the body
(6) Improvement other uncomfortable symptom at the same time because of personalized prescription depending on personal physical condition

* Type of Ilmaek Diet Oriental Medicine
(1) Diet Oriental Medicine that do not have to starve : Helping suppressant your appetite with 1:1 custom-prescription
(2) Decoction to cleanse the body: Strenghten prescription to cleanse your body before start losing weight (Detox)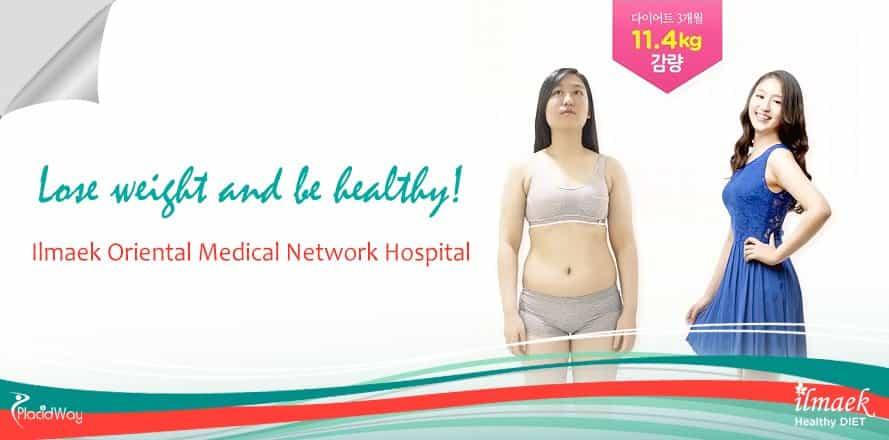 2. Edema
Administration program for circulation in the body with remove extravasated blood and discharged waste of the body.
*Characteristics
(1) Improvement circulation
In Oriental medicine, break out Edema when the flow of air embolism choke with bad circulation. In other words, have to help the flow of air embolism. When the flow becomes active, the five viscera and the six viscera is going to be healthy.
(2) Improvement water metabolism circulation
Water balance in the body is important between intake and expulsion.

3. Oriental Cosmetic
Program for making and reveal the hiding body line with losing weight
4. Afterbirth Care Program
Afterbirth care program that make to reform more beauty bodyline before childbirth.
5. Psychical cure and dietary control
Our Psychical cure and dietary control center helps healthy and effective your diet with breaking out of a vicious circle from repeated overeating and extreme diet until now.
6. Wedding Program
Weight and body line care program for bridal before perfect wedding day or studio wedding photos.
Testimonial
"My cousin, who is a resident worker in Korea, recommended Ilmaek Oriental Hospital after she lost 10kg (22lb) with their help.
First time when I visited Korea, I got medical treatment and bought Oriental medicine in Ilmaek. After I came back to Japan, I continued to take the medicine. I felt it works, so every time I visit Korea, I get the treatment especially for my belly, tights and back. As a result, I lost 18.2kg in 4 months. I can feel happy that now I can swim in the clothes I wore before losing weight.
Even now, I am getting closer to my goal weight with taking Ilmaek's oriental medicine. Ilmaek is so attractive because I can lose weight without starving myself.
Thank you!"
Naoko (Japan)
For more information about our successful and efficient weight loss programs, do not hesitate to contact us!