Anagennisi Recovery and Rehabilitation Centre
Anagennisi – Best Rehab Clinic in Thessaloniki, Greece
Medical and Rehabilitation Resort, N. RAIDESTOS (57001) FILOTHEI , Thessaloniki, Greece

Specialty:

Alternative Medicine, Anti Aging, Cancer Treatment, Chronic Diseases, Detox, Executive Healthcheck, Fertility Treatment, General Medicine, General Surgery, Hair Transplantation, Infertility/IVF, Medical Spa Treatment, Neurology, Orthopedic/Knee Surgery, Pediatric Treatment, Rehabilitation, Rehabilitation and Medical Spa Treatment, Robotic Surgery, Spine Care/Surgery, Sports Medicine, Stem Cell Therapy, Urology, Vascular Surgery, Yoga/Meditation

Focus Area:

Anagennisi Recovery and Rehabilitation Centre | Thessaloniki | Greece | Physical Therapy | Hydrotherapy | Speech Therapy | Electrotherapy | Magnitotherapy | Thermotherapy
Anagennisi Recovery and Rehabilitation Centre Profile Overview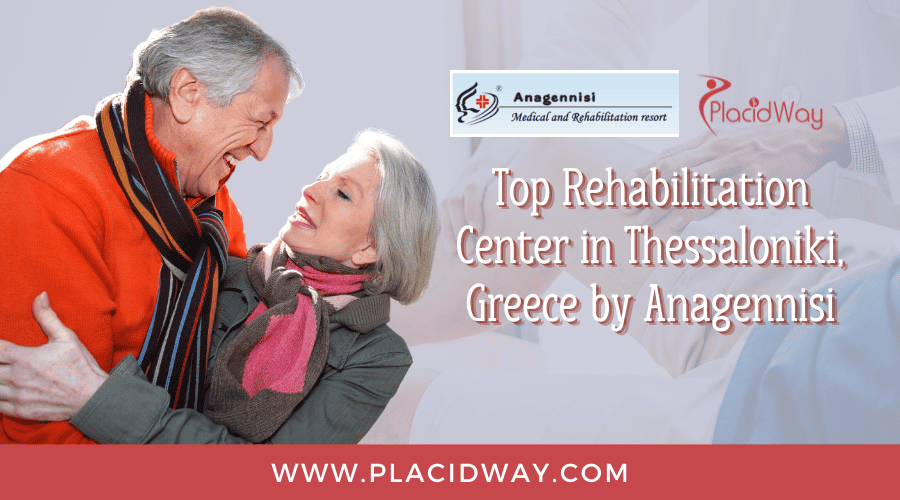 Anagennisi Recovery and Rehabilitation Center is a reputable hospital in Thessaloniki, Greece. Highly skilled medical team provides top-quality services for physical therapy, hydrotherapy, speech therapy, electrotherapy and magnitotherapy. Anagennisi Recovery and Rehabilitation Center located in Thessaloniki, Greece, offers an integrated rehabilitation program for patients with mobility problems of any origin.
The centre has opened its doors in 2005 and it is now the largest rehabilitation centre in Greece with 230 beds and more than 12,000 patients coming from all over the world. The centre has all the necessary equipment to treat its patients (treatment pool, mobility stand, etc) and it also offers any other special services required by patients that will help them return to their previous occupations and social lives.
The nursing staffs are in close contact with patients and the centre also collaborated with specialized doctors from all the other necessary specialization fields, covering the need for expert medical monitoring.
Clinic Name: Anagennisi Recovery and Rehabilitation Center
Procedure: Rehabilitation Therapy
Location: Thessaloniki, Greece
Doctor: Dr. Zefi and Dr. Iliana
Anagennisi Recovery and Rehabilitation Center is a private rehabilitation clinic in Thessaloniki, Greece. It offers a wide range of treatments, including physical therapy, hydrotherapy, speech therapy, electrotherapy, magnitotherapy, and more! The cost of rehab treatment at Anagennisi Recovery and Rehabilitation Center varies depending on the type of treatment required. For more information about price, feel free to contact our customer representative:

FAQ for Rehabilitation Therapy in Thessaloniki, Greece
Q: What Improvements can be Expected from Rehab Therapy in Thessaloniki?
A: Depending on the type of rehab therapy and the patient's individual needs and goals, improvements may be seen much quicker than with other types of treatment. Patients can expect to gain strength and flexibility while reducing pain, as well as improving posture, balance, coordination and range of motion.
Q: Who Should Consider Rehab Therapy in Thessaloniki?
A: People who have suffered from an injury, illness or disability and are looking for a way to improve their quality of life would benefit from rehab therapy in Thessaloniki. Rehab therapy can also be beneficial to athletes who want to regain and maintain peak performance levels.
Q: What Types of Rehab Therapy are Available in Thessaloniki?
A: There is a range of rehab therapy options available in Thessaloniki, including Physical Therapy, Hydrotherapy, Occupational Therapy, Speech Therapy, and more! Each type of therapy is tailored to an individual's needs and can provide relief from a variety of medical conditions.
Q: Is Rehab Therapy Safe?
A: Yes, rehab therapy is generally considered to be safe when performed properly by a skilled professional. However, it is important to discuss any potential risks with your doctor before proceeding with any type of therapy.
If you are looking for a top-quality rehabilitation center in Thessaloniki, Greece, look no further than Anagennisi Recovery and Rehabilitation Center. Our center offers state-of-the-art facilities and highly experienced staff, who are dedicated to helping you regain your health and vitality. Book your appointment for rehab treatment in Thessaloniki, Greece at PlacidWay!

---
Anagennisi Recovery and Rehabilitation Centre, Thessaloniki, Greece Profile Details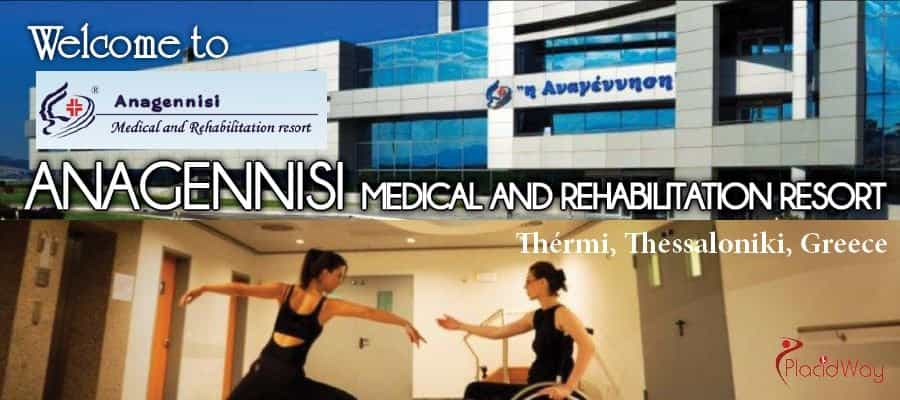 Anagennisi Recovery and Rehabilitation Center provides all necessary medical treatments and medications according to the latest medical protocols. The center has an experienced team of nutritionists, psychologists, physiotherapists, occupational therapists and social workers who provide comprehensive care for every patient depending on their particular needs.
The center also offers hydrotherapy, music therapy and massage therapy. The center is surrounded by natural beauty with the stunning Greek mountains, sun-kissed beaches and lush forests providing a calming environment that helps speed up recovery.
Furthermore, the team of over 220 experienced, highly qualified professionals are dedicated to helping patients achieve their rehabilitation goals. The staff is multilingual and very friendly, providing care and support in Greek, English, Russian, Arabic, French, German and Bulgarian.
Make sure to connect with Anagennisi Recovery and Rehabilitation Center, so that you can benefit from the state of the art technology, techniques and latest devices they offer.

---
---
---
Anagennisi Recovery and Rehabilitation Centre Testimonials
Check reviews from real patients below after receiving rehab treatments in Thessaloniki, Greece at Anagennisi Hospital:
A Remarkable Journey: Artur's Progress with Stem Cell Therapy for Cerebral Palsy in Greece
Knee Stem Cell Therapy in Greece Patient Testimonial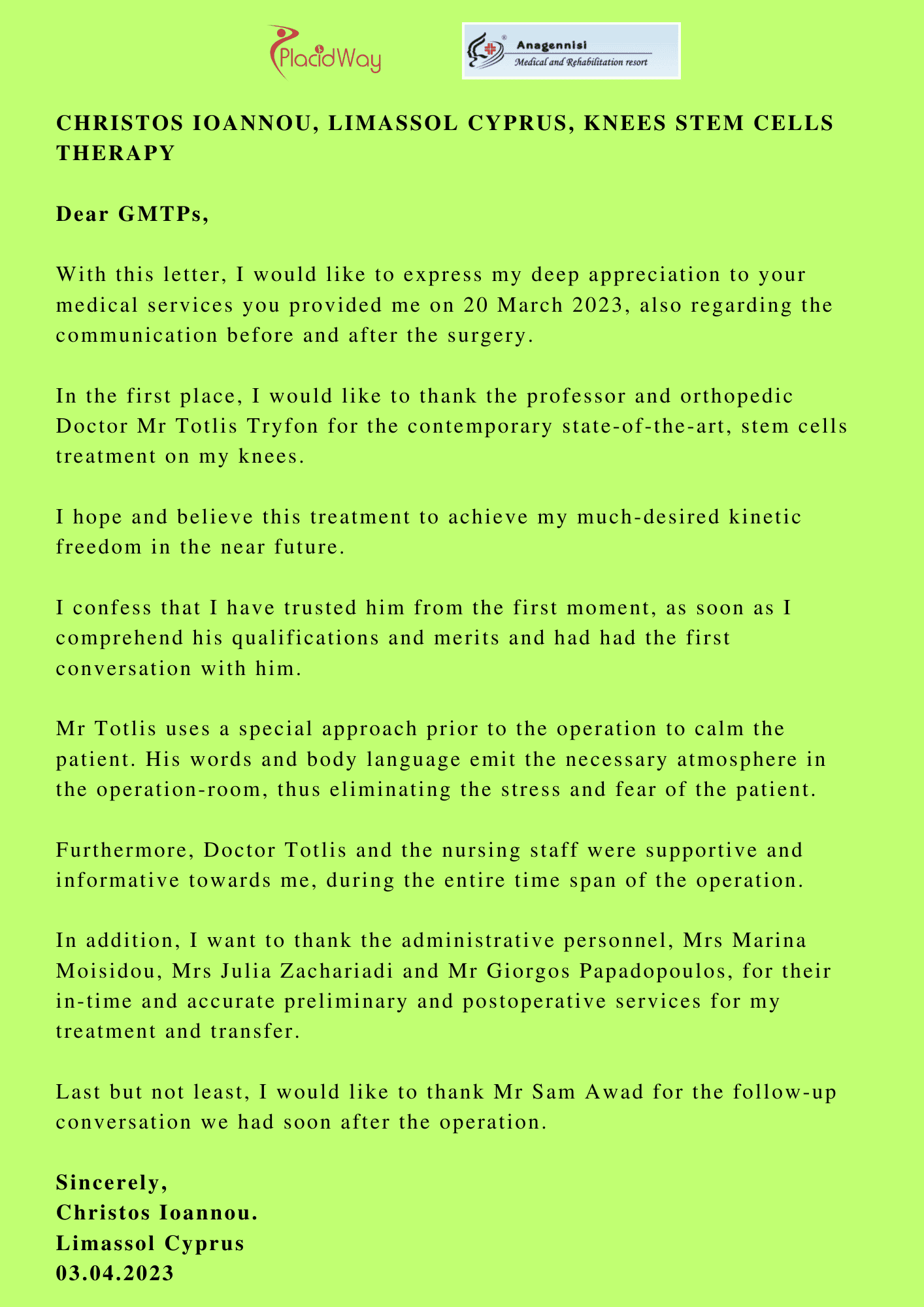 Christine Nychas
"I want to thank you for your courage energy and passion. I am a stroke survivor and i chose anagennisi. Best therapists here."
Sophia Christoforidou
"My experience was as follows. I once had my aunt here at Renaissance and she was very pleased with both the nursing and the food and treatment. So I came because of a total knee replacement I had. The experience was excellent in the room with my roommate we matched perfectly. Regarding the food, the negative is that they have plastic plates and glasses so they don't break, of course, but I would like them to be porcelain to be more hygienic, as well as the knives to be sharper. The foods are often salty but some are also very tasty like the moussaka. The hospital is very helpful but it would be good if there were even more staff. The 1st week I came I had a mess about my hygiene in the toilet but it was sorted out straight away. Daily cleaning to a good degree, but I would like one more time in the afternoon to disinfect my toilet. From treatments I received physical therapy and occupational therapy. Satisfactory on all levels and quick recovery both Thodoris and Iliana are wonderful. I was also pleased with the person in charge, Giorgos Kalogirou, who stood by me, listened to me, helped me, guided me in every problem I had, I thank you wholeheartedly. In general it has quite a lot of positives but please help to raise the image of rebirth more it needs more nursing staff to be a top rehab center."
Lazaros Amberiadis
"I suffered from coronary heart disease 7/2 and from Papanikolaou after a mistake of the doctors where I was in a desperate situation I went to help and then I came to rebirth where I was honestly resurrected by the doctors, the nurses and the therapists. Thank you for everything from the bottom of my heart but I can not miss anything. I would not have achieved anything without Basel the work of a therapist where she helped me incredibly so that I would not be in pain and I would be able to help myself. Also, my physiotherapist Maria Touplikioti regenerated me. All the staff of the hospital except one person were very kind and patient. I also thank the speech therapy that helped me so that I can speak clearly again without drowning etc. From the best centers in organization and quality. Probably the best center in Greece. Those of you who have had a difficult time with the dishonorable Covid honestly recommend it."
Nicolas Karanikolas
"One of the best rehabilitation centers in the world."

---
Anagennisi Recovery and Rehabilitation Centre Awards & Recognitions
Check below for information about awards received by Anagennisi Recovery and Rehabilitation Center: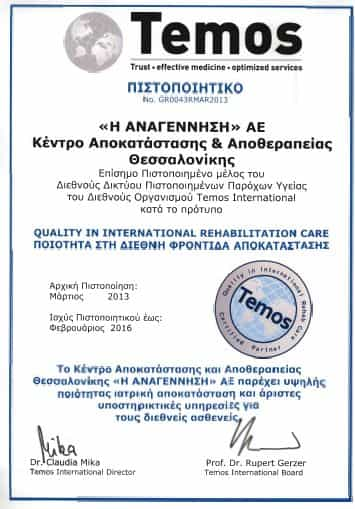 Why Choose Rehabilitation Treatments in Thessaloniki, Greece
Thessaloniki, Greece is home to a variety of rehabilitation centers that provide comprehensive treatments for people with physical and mental health issues, including Anagennisi Recovery and Rehabilitation Center. This center offer a wide range of services, including but not limited to psychotherapy, nutritional counseling, occupational therapy, physical therapy and much more. The professionals who work at this facility are highly trained and experienced!
You can also enjoy the benefit of the beautiful scenery in Thessaloniki which provides an ideal setting for relaxation and recovery. Rehabilitation treatments in Thessaloniki are tailored to each individual's needs and designed to help them reach their full potential.

---
Thessaloniki, Greece Destination Overview
Thessaloniki, Greece is one of the most popular medical tourism destinations in Europe. With its renowned hospitals, highly-qualified medical staff and affordable healthcare services, it offers an ideal destination for those looking for medical treatments abroad.
Medical Tourism in Thessaloniki, Greece – How to Get There
Visiting Thessaloniki, Greece is a great way to explore the country's rich history and culture. There are many ways to get to Thessaloniki, depending on where you are coming from.
For those coming from outside of Greece, there are several international air carriers that offer flights to Thessaloniki's "Makedonia Airport" (SKG). There are also ferries connecting Thessaloniki with other cities in the Balkans, including Istanbul and Bari in Italy.
If you're coming from within Greece, the most popular way of getting to Thessaloniki is by bus. Buses run daily between Athens and Thessaloniki, taking about five hours for the direct journey. There are also regular bus services running between Thessaloniki and other popular destinations in Greece, such as Crete and the islands of Corfu, Rhodes, and Santorini.
If you're looking for a more unique journey to get to Thessaloniki, consider renting a car. Driving through Greece is one of the best ways to explore its stunning landscapes and coasts. With Greece's well-maintained roads and clear signage, it's easy to make your way to Thessaloniki.

---
---