Tabula Rasa Retreat
Alentejo, Portugal
Estrada de Alcaria Vidigueira Alentejo

Focus Area: Drug Detoxification Treatment | Ibogaine Treatment | Ibogaine Therapy | Ibogaine Counseling Services | Tabula Rasa Retreat | Alentejo, Portugal | Meditation | Yoga | Light Therapy | Personal Development
Affordable Ibogaine Treatment Center in Alentejo, Portugal
Profile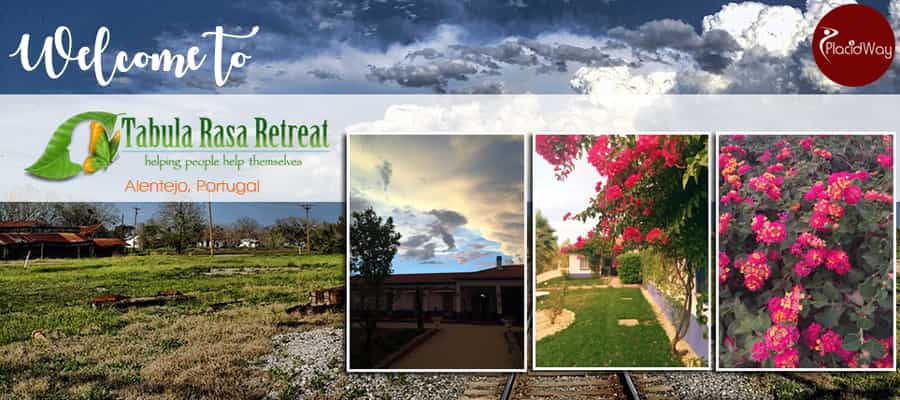 Tabula Rasa Retreat, Best Retreat Center in Alentejo, Portugal
Tabula Rasa Retreat offers best quality Ibogaine treatment for the clients. They acquire a brilliant group of in-house therapists who are dedicated to provide the best Ibogaine therapy at the best price and enhance the quality of your life.
Tabernanthe Iboga is a sacred plant that can help us to avail multiple health benefits at a time. Tabula Rasa Retreat is committed to lead you to the path of enlightenment or help you to reincarnate with our unique pain-free drug detoxification treatment. Their psycho-spiritual programme can help to get rid of numerous addictions ranging from drugs, alcohol to gambling or others.
Treatments and Procedures
Meditation and mindfulness

Breathe-work

and bodywork

Kundalini yoga

Light therapy

Kambo

Medicinal cacao

Equine assisted therapy

Personal development

Substance abuse
To learn more about the treatments and procedures at Tabula Rasa Retreat, click the button below:
Details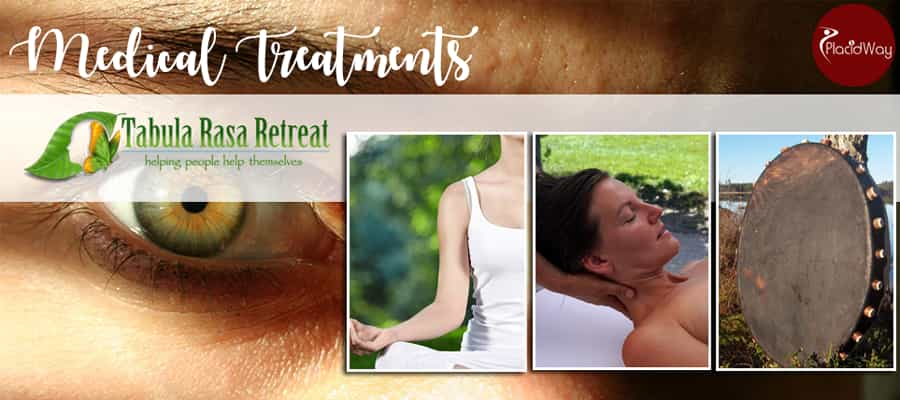 Why Should You Choose Tabula Rasa Retreat?
Tabula Rasa Retreat is Europe's leading Ibogaine Treatment Centre, located in based in the peaceful and quiet countryside Portugal. The center executes ibogaine in a completely safe way to the patients to recover from their sufferings. The medical team is always alert and at attention during the treatment. They take the full medical history of each of the patients prior to treatment along with full blood panel, liver function, ECG/EKG etc. ACLS certified Medical team from the American Heart Association monitor every patient on EKG machine as safety is the number one priority at Tabula Rasa Retreat.
The preparation of the treatment plan and its execution to dissociate the patients from addiction is planned during the pre-treatment session. Specialist counselors work rigorously with each patient to provide the best ibogaine pre-treatment support.
The aftercare programme is also vital at Tabula Rasa Retreat as it is designed to ensure the best possible results. The supportive medical team makes patients feel like being at home. They thus achieve a new balance of body, mind, and soul and discover values to live for.
The team provides holistic approaches to build trust, experience self-love and self-esteem. They stay in touch through Skype, Facebook and make sure that the patient lives addiction free for the rest of their lives.
To learn more about the center details of Tabula Rasa Retreat, click the button below:
Qualifications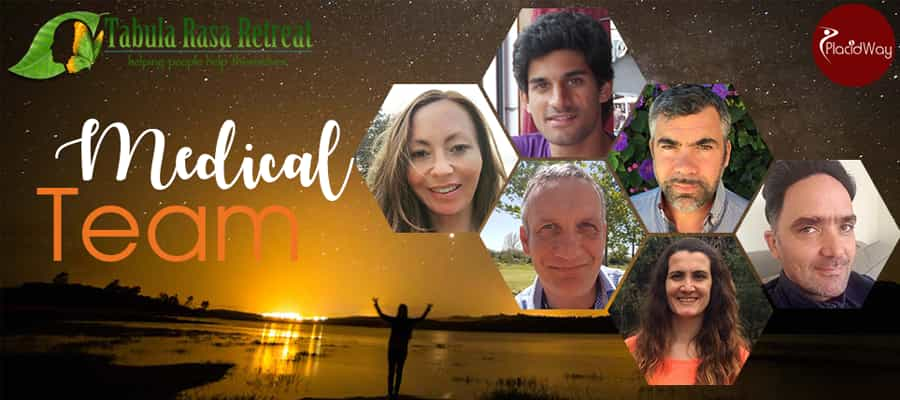 Medical Team
The medical team of Tabula Rasa Retreat is formed of a multidisciplinary team that operates in a truly medicalized setting. The clinic has Advanced Cardiac Life Support (ACLS) certified and experienced in-house medical doctors and nurses who monitor the treatment of each patient with continuous ECG measurement round the clock. Medical professionals at the clinic create a supportive ambiance with deep compassion while handling patients going through challenging situations. The non-judgmental and supportive environment of the clinic paves ways for the spiritual journey and Holistic healing of the patients in a psycho-spiritual programme.
Doctors and nurses at provide pre-care & after-care programme to the patients for consistent healing.
Alvaro de Ferranti
Alvaro de Ferranti is the founder of Tabula Rasa Retreat. He graduated in 1991, with a BA (Hons) in Business Studies at the University of East London. Apart from handling Tabula Rasa Retreat, Alvaro also heads three other eponymous brands, in the interiors and architectural sectors. Born in London, United Kingdom, Alvaro was raised in Portugal and returned to the UK for his career and work. Later he migrated to Portugal with his family to embark clinical trials with Ibogaine HCL in Portugal.
Claire Jade Ziani de Ferranti
Co-Founder of Tabula Rasa Retreat, Claire Jade Ziani de Ferranti is a qualified EFT level 1 & 2 practitioners and ABNLP/NLP Practitioner. Having her core interests in energy techniques, psychology/psycho-spiritual healing, Claire Jade always wanted to guide people to heal themselves naturally. She is in charge of natural therapies at Tabula Rasa Retreat.
Jeremy Weate
Retreat Director Jeremy is a Ph.D. in European philosophy from Warwick University and also the author of the best-selling book, A Young Person's Guide to Philosophy. He spent more than 15 years of his life to serving the government regarding the natural resource. He has traveled more than 60 countries been part of making movies, documentaries and researching natural healing procedures.
FC Barreto
Managing Director of Tabula Rasa Retreat, FC Barreto is a Master's Degree holder in Psychiatry from the Faculty of Medicine of the University of Lisbon and Advanced Cardiac Life Support (ACLS) certified. He has been part of research executions of various alternative approaches to achieve wellbeing. His extensive research on physical, mental, emotional and spiritual has developed various healing modalities, which he personally coaches to his patients and transforms their lives. Known for his experience in mindfulness-based approaches to self-knowledge, FC Barreto is focused on opening many doors to achieve complete liberation from our self-imposed limitations.
Ana Damiano
Head Nurse at Tabula Rasa Retreat, Ana Damiano is an experienced healing professional and has completed her nursing studies at the Beja School of Health and is an ACLS Certified Nurse. She is experienced in wound treatment and community nursing. She further developed her skills in critical illness and completed a postgraduate course in critical illness before joining intensive care unit at Jos Joaquim Fernandes Hospital, Beja and then the University Hospital of Wales (UHW) in Cardiff, UK.
She has also gained experience in wound treatment and critical illness nursing at the Wound Management Unit in one of the largest hospitals in Riyadh, Saudi Arabia.
Anders Beatty
Pre- and Post- Treatment Counselor at Tabula Rasa Retreat and a qualified Integrative Psychotherapist, Anders Beatty is a senior professional working in the field of addiction. Anders is specialized in Pre and Post Ibogaine Recovery Coaching and Counseling and guides patients in integrating their experience. She supports patients in by one-on-one recovery coaching, family coaching, and preparation and integration before and after treatment. Anders has founded the Ibogaine Counseling Services, a key partner to Tabula Rasa, to help people more holistically.
To learn more about the medical team of Tabula Rasa Retreat, click the button below:
Destination
Why Should You Choose the Alentejo, Portugal For Your Medical Treatments?
Portugal welcomes international patients with open arms for treatment. The country is renowned for its natural beauty and warm hospitality. It has excellent treatment facilities, great discount on treatment packages, and huge availability of qualified medical professionals and an abundance of treatment options. Holidays in Portugal are always memorable. The tropical country gives you a chance to sit back and relax amidst the beautiful nature while you are healing yourself with medical guidance.
Alentejo is a beautiful city to be in. The historic sites, wineries, and vineyards win every heart. The churches, museums, galleries and amazing Portugise cuisine will make you drool over the city for the period you be there for your medical treatment.
The cost of living in Portugal is relatively lower than other European countries. One can save a lot on the healthcare costs and get quality treatment abroad at affordable packages.
To learn more about the location of Tabula Rasa Retreat, click the button below: