Le Mirador Health Centre
Experience Superior Healthcare at Le Mirador Health Centre in Switzerland
Chemin de l'Hôtel Mirador 5 1801 Le Mont-Pèlerin Geneva Lake · Switzerland, Lausanne, Switzerland

Specialty:

Anti Aging, Detox, Medical Spa Treatment, Skin Care, Weight Loss Program, Yoga/Meditation

Focus Area:

Le Mirador Health Centre in Vevey, Switzerland | Wellness | Spa | Resort | Holistic Treatments | Anti-Aging | Sports medicine | Detox Programs
Le Mirador Health Centre Profile Overview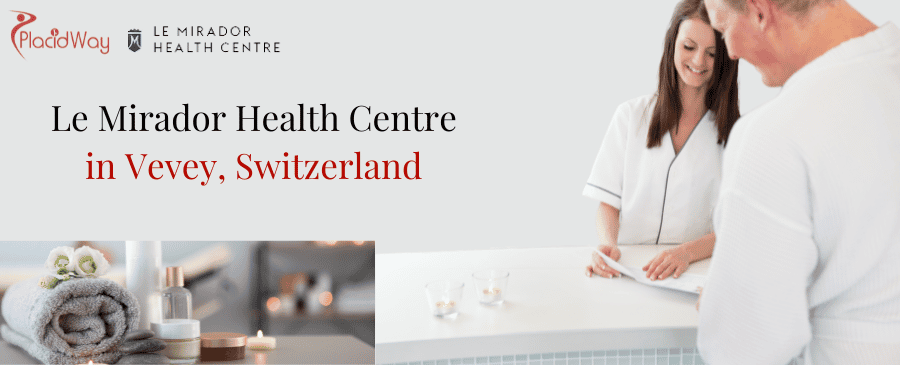 Le Mirador Health Centre is a veritable temple of well-being, nestled in a small, picturesque village overlooking the crystal-clear waters of Lake Geneva.
The Centre, located in Vevey, Switzerland, next to the highly exclusive five-star Le Mirador Resort & Spa and one of the world's seven-star Givenchy spas, offers an environment with perfect synergies, complete with all of the most recent technologies and innovations that go with exceptionally high-quality service.
Set in one of the most spectacular landscapes in Switzerland, Le Mirador Health Centre is located in the heart of a region that offers a diverse range of tourist, sporting, and cultural activities.
We use a personalized holistic approach to achieve body-mind harmony by fully restoring the inner strength that is naturally present in the body. Whether you want to regain a sense of general well-being, feel energized, get in shape, or slow the effects of time, our programs provide the best.
We believe that health is all about balance at Le Mirador Health Centre. To be in good health, you must be stable on all levels: physiological, mental, emotional, and energetic.
Our comprehensive approach focuses on restoring inner balance by sending a self-healing message to the body's various biological mechanisms.
The medical programs at the Le Mirador Health Centre are integrative, combining traditional western medicine with alternative methodologies based on the most recent scientific research and experimental medicine.
It is a holistic approach to optimizing and rebalancing your health on multiple levels while respecting your uniqueness. All of our predefined expertise programs are carefully combined to maximize the effectiveness of each treatment.
A medical check-up is provided prior to each initial program. A thorough physical examination is followed by extensive laboratory tests and diagnostics. Based on this information, we can tailor selected programs to individual needs and provide advice on various specialties.
The body will return to a healthy - balanced state known as homeostasis by supporting the body's inherent regulatory forces. With the methods and applications used in our center, we initiate complete body detoxification, tissue purification and immune system reload to restore natural and unique mechanisms of self-healing.
Le Mirador Health Centre Highlights
Built in 1904, Mon Repos clinic was designed to look more like a welcoming palace than a medical facility specializing in neurological and gastrointestinal disorders.
Mon Repos became famous for its innovative approach to medicine and achieved its greatest success in the 1930s. However, World War II forced many doctors and medical personnel to leave, closing the clinic.
It wasn't until 1952 when Swiss entrepreneur Andre Kurz transformed the building.
Then, in 1970, American entrepreneur Joseph Segel renamed it "Le Mirador Resort," and the establishment became a globally recognized destination.
In 1974, Mr. Segel added a wellness aspect to the hotel, incorporating a new aisle with treatment rooms and a swimming pool, a significant innovation for the era. Today, the center focuses on revitalization and regeneration treatments including the latest advances in anti-aging and disease prevention programs.
The Le Mirador Health Centre was expanded in 2018 to provide a broader range of medical services.
Medical Treatments & Services at Le Mirador Health Centre in Switzerland
The Le Mirador Health Centre now provides a wide range of services, including sports medicine, age, stress, and weight management programs, as well as specialist consultations with a Cardiologist, Gynecologist, Endocrinologist, and Dermatologist.
The variety of treatments offered reflects the spectacular panoramic setting between Lake Geneva and the mountains surrounding it, which is embedded in a dab of cotton cloud.
To achieve equilibrium on their own, all of these treatments are accompanied by individualized and exceptional customer service that respects personal security and privacy.
Givenchy Treatments
The infrastructure of Le Mirador Resort & SPA allows you to relax in Givenchy SPA, where you can receive professional Givenchy treatments for the face and body. During your free time, you should visit the fitness and water zones. Hiking and jogging trails around the resort allow you to maintain physical activities in the fresh air. We recommend keeping sports loads light to intermediate (up to your daily habits) during medical treatments.
MEDICAL CHECK - UP
The Expertise Mirador Check-Up provides early detection of pathophysiological imbalances, allowing for prompt action to prevent disease progression and promote better health. Factors such as balanced nutrition, physical activity, and genetic heritage can influence health status but can be improved with an optimized environment. Individuals can take responsibility for maintaining their health capital by raising awareness and providing personalized advice.
Anti-Aging Treatments
As we age, our skin experiences a loss of elasticity, dryness, and brittleness, resulting in wrinkles. Environmental factors such as gravity, sun exposure, and wind, as well as daily habits like smoking, drinking alcohol, stress, and fatigue, can exacerbate these effects. Our anti-aging medicine focuses on balancing hormones and ensuring adequate intake of micronutrients, promoting a healthy body and active mind. Non-surgical aesthetic treatments, such as Botox and hyaluronic acid at Le Mirador Medical Centre, can activate your skin's rejuvenation process, restoring its natural radiance.
Experienced Physicians at Le Mirador Health Centre in Vevey Switzerland
Le Mirador Health Centre in Vevey, Switzerland, is staffed by a team of experienced physicians specializing in various medical fields. These experts have extensive knowledge and skills to provide the best care possible to patients. They work together to create individualized treatment plans incorporating the latest medical technologies and techniques. From preventive care to complex procedures, patients can trust the physicians at Le Mirador Health Centre to deliver the highest level of care with compassion and expertise.
These are the names of the top 4 doctors:
Dr. Blanchard Jean (FMH),

Dr. Garbea Andrea (FMH),

Dr. oec. Otzen Eva (ASCA and RME),

Dr. Orlandini Andrea
Experience First-Rate Service Like a Celebrity at Le Mirador Resort & Spa!
​Le Mirador Health Centre, nestled amidst the serene surroundings of Lake Geneva and the UNESCO heritage vineyards, is a world-renowned facility that offers exceptional medical care and well-being services. With a focus on personalized treatments, advanced medical technology, and the expertise of highly qualified medical professionals, the center offers a range of services that cater to the diverse health needs of its clients.
Whether you seek medical advice, physical therapy, or relaxation, the center provides the ideal environment and care to meet your needs. The Le Mirador Health Centre is a leading destination for those who seek an unparalleled wellness experience that combines top-tier medical services, breathtaking surroundings, and luxurious facilities.
Contact us for more information today!
---
---