New Teeth
Orthodontic treatment in Turkey, Dental Treatments in Turkey, Dental Implant Cost in Izmir, Turkey, Maxillofacial Surgery in Izmir, Turkey, Cosmetic Dentistry Package in Turkey, Smile Designing, A New Teeth, Izmir, Turkey
Caher Dudayev Bulvari Mavibahce AVM. No:40/B Karsiyaka, Izmir, Turkey

Focus Area:

Orthodontic treatment in Turkey | Dental Treatments in Turkey | Dental Implant Cost in Izmir, Turkey | Maxillofacial Surgery in Izmir, Turkey | Cosmetic Dentistry Package in Turkey | Smile Designing | A New Teeth | Izmir, Turkey
New Teeth Profile Overview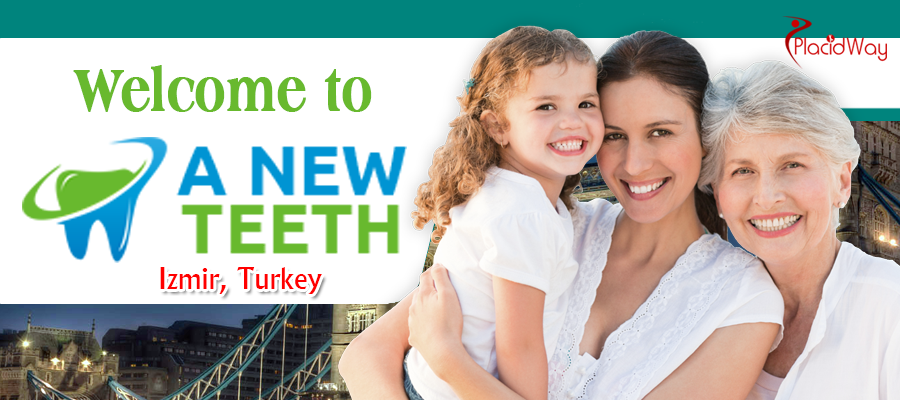 Get a New Smile at A New Teeth, Izmir, Turkey
Are you looking for an aesthetic enhancement of your lovely smile along with healthy teeth and gums? Get simple alterations of your teeth done for pronounced smile makeover at the most comfortable environment at A New Teeth in Izmir, Turkey. Modern dental innovators have made it easy to get a perfect smile by various cosmetic techniques contributing to every single and small enhancement. Dental professionals at A New Teeth fully redesign the smile and give you a complete makeover with best smile solution.
The professional clinical services rendered by A New Teeth make it a unique and most liked dental solution for many. Individual patient care in a friendly and modern set up for the well-being of the patients is truly assured in this dental clinic. Dentists follow latest technologies and use latest dental facilities to provide world class dental care. Equipments used by professionals here are very selective from the newest model of each, dental laser, dental unit, X-ray – panoramic and digital system, tooth whitening, or even hand piece materials etc. The support staff maintain highly standardized sterilization system applied, i.e. autoclave, ultrasonic sterilized system, one-time used most of the equipment.
Treatments and Procedures
Dental Treatments
Dental Implant

Veneers

Zirconium Teeth

Porcelain Crowns

Composite Filler Teeth

Laser Teeth Whiting

Root Canals

General Anesthesia
Cosmetic Dentistry
Smile Aesthetics

Ips Emax

Laminated Teeth

Ceramic Filler

Dental Cyst Surgery

Flap Operation

Gingivectomy

Oral And Maxillofacial Surgery
If you want to know more about A New Teeth or want to request for any information, just click the tab below!

---
---
Reviews
Julia

My sister and I had Porcelain Veneers and Teeth Whitening. They booked our hotel, arranged our transfer from airport and the hotel as well. Anew Teeth Clinic is the best. Very friendly, very helpful staff. I loved the treatment.
Me and my sister are very grateful, we have got the result we were looking for. Dentists are very good at what they are doing. They take their time, they do not rush and they speak good English. The place is very clean too like a medical center should be.

Apr 12 2019

Paula

I had 4 implant teeth in this clinic. I got on my zirconium dental implants and also other coatings. I am very satisfied. I would recommend it to everyone.

Apr 12 2019

Sandra S

I came here to have crowns fitted, saying I was a nervous wreck was an understatement! My Dr Soner Arikan, was such a lovely man and made me feel relaxed and at ease. His work is just incredible, I am now so happy with my smile! If anyone is ever looking for somewhere to have their teeth done I would 100% recommended Soner Arikan.

Mar 17 2019
---
Dentistry Related Packages
Dentistry Related Experiences