Cosmetic Surgery Center
Cosmetic Surgery Center, Plastic Surgery, Beirut, Lebanon, Rhinoplasty, Otoplasty, Breast Augmentation, Breast Reduction, Breast Lift, Tummy Tuck, Liposuction, Liposcultpture, Thigh Lift, Arm Lift

Ras Beirut Clinics Blg, 4th floor, Souraty Street, Hamra area Beirut , Lebanon

Specialty:

Anti Aging, Cosmetic/Plastic Surgery, Skin Care

Focus Area:

Cosmetic Surgery Center | Plastic Surgery | Beirut | Lebanon | Rhinoplasty | Otoplasty | Breast Augmentation | Breast Reduction | Breast Lift | Tummy Tuck | Liposuction | Liposcultpture | Thigh Lift | Arm Lift
Cosmetic Surgery Center Profile Overview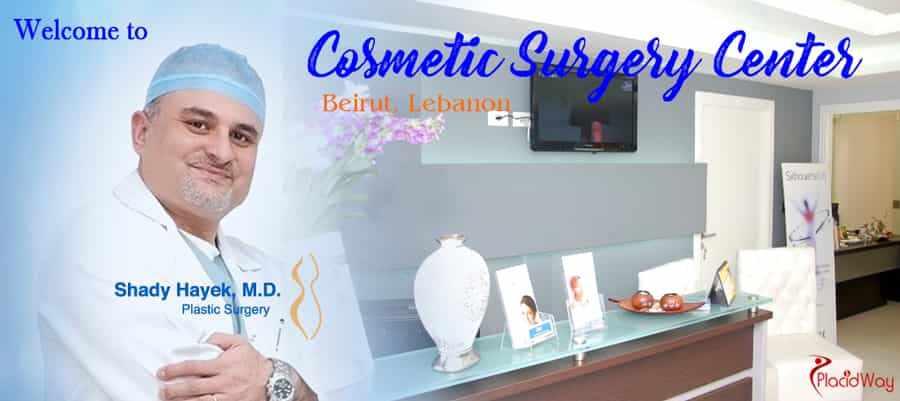 Cosmetic Surgery Center - Best Aesthetic Treatments in Beirut, Lebanon
Cosmetic Surgery Center in Beirut, Lebanon brings the best and most affordable aesthetic procedures in Beirut, Lebanon. They provide the highest standards of both non-invasive and surgical procedures that are affordable as well. The clinic run by Dr. Shady Hayek believes that beauty is very personal. He applies the same thought in all the procedures of the clinic that highlights the uniqueness of every individual. Thus, all the patients at the clinic get a natural and well-enhanced image of their body and face.
Dr. Hayek's academic record allows him to get on top of all new innovations in Plastic Surgery to provide his clients with exceptional solutions. He is the proud member of several national and international Plastic, Reconstructive and Aesthetic Surgery. Some of the top-notch services that you can get at his clinic are given below.
Treatments and Procedures:
Liposuction

Abdominoplasty

Rhinoplasty

Blepharoplasty

Face Lift

Breast Augmentation

Breast Reduction

Breast Lift

Otoplasty and Ear Reconstruction

Gynecomastia

Botox, etc.
To learn more details about the clinic's treatments and procedures, click the button below:

---
---