Ezgis Smile House
Ezgi's Smile House, Dental Implants, Zirconium Crowns, Lumineers, Porcelain Crowns, Teeth Whitening, Orthodontic, Antalya, Turkey

Arapsuyu Mah. Ataturk Bul. No:25/13 Tasarim Plaza Konyaalti/ANTALYA Antalya Konyaalti, Antalya, Turkey

Focus Area:

Ezgi's Smile House | Dental Care | Dental Implants | Zirconium Crowns | Lumineers | Porcelain Crowns | Teeth Whitening | Orthodontics | Antalya | Turkey
Ezgis Smile House Profile Overview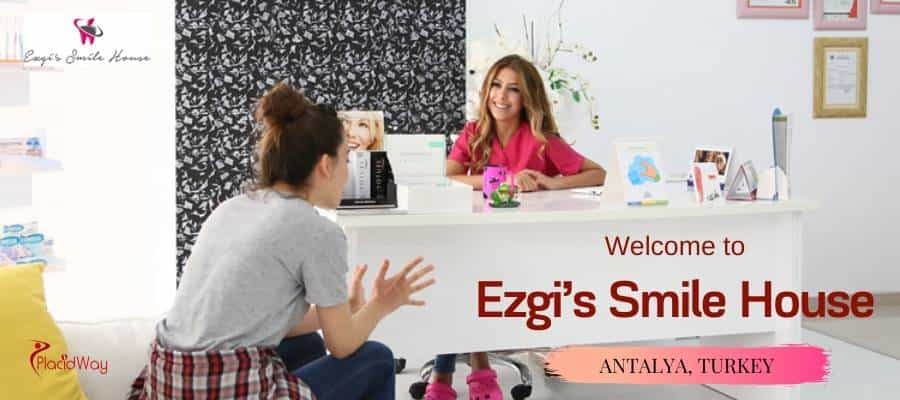 Ezgi's Smile House- Complete Dental Treatment Solutions in Antalya, Turkey
Your smile tells a lot about your personality and your teeth play a major role in it. Teeth lose their strength and shine over time and you often tend to take measures to bring them in better condition. Ezgi's Smile House can be a reliable clinic where you can get satisfactory dental solutions.
Located in Turkey's Antalya, the dental clinic has earned huge fame by delivering world-class dental solutions at the best-in-the-industry price. Ezgi's Smile House is a part of Turkey's thriving medical tourism industry and it welcomes both local and foreign patients to receive high-quality dental care solutions including dental implants and porcelain crowns.
Ezgi Senyurt is one of the renowned dentists in Antalya and she has been associated with the field for more than a decade. Dentist Ezgi Senyurt has been a faculty of Ege University from 2005 to 2010. She has gained professional interest across various types of dental solutions.
Key Solutions Include:
Oral implantology

Smile design

Bleaching

Orthodontics

Esthetic dentistry

Pediatric dentistry and more
Ezgi's Smile House has been serving international patients for many years. It has now become a major dental tourism destination for foreign patients seeking affordable dental care solutions. They also arrange transportation and accommodation for foreign patients. Antalya is one of the major tourist destinations in Europe and it is quite easy for foreigners to reach the city from any other major cities.
Ezgi's Smile House features all the facilities and equipment required to deliver ultimate dental solutions. The ambiance and associate staff are quite friendly and here you can expect the best medical tourism experience.
Treatments offered by Ezgi's Smile House:
Dental implants

Zirconium Crowns (Cerec)

Lumineers

Porcelain Crowns

Bleaching (Teeth Whitening)

Orthodontic Treatment
To know more about Ezgi's Smile House and their treatments, click below:

---
---