Dental Veneers in Antalya
Get Smile Makeover By Choosing Dental Veneers in Antalya, Turkey
Do you have aesthetic problems with your teeth? Misshapen, chipped, cracked, or discolored teeth deserve a smile restoration. Dental Veneers in Antalya Turkey are an excellent solution for your new, gorgeous smile.
Dental tourism is becoming more popular in Antalya thanks to qualified dentists who provide good quality services to international patients. They are trained and highly skilled in all areas of dentistry. Besides, prices for dental veneers in Antalya are considerably lower than in other developed countries worldwide.
We recommended the following:
Clinic: Denart Turkey Dental Centre
Procedure: Dental Veneers
Top Package Deal: $280
Cost in Antalya: From $145
Cost in Other Countries: From $600
Top Tourist Attractions: Kaleici - The old city of Antalya, Sapadere Kanyonu, Konyaalti Beach, and more.
---
Affordable Package for Teeth Veneers in Antalya
Antalya dental clinics do their best to attract foreign patients. They provide special package deals created for your needs and budget. It is an excellent way to save money and get top-notch services.
The dental veneers package we present you today cost $280 and includes the following:
Pre and post-operative consultations
All clinic fees
All medical fees and doctor fees
Read more below.
Dental veneer Antalya, Turkey, find all the necessary details about the best package here. Know the
---
Cost of Dental Veneers in Antalya, Turkey
Dental Veneers in Antalya cost start from $145, and the maximum price is $300 in our partner clinics. Patients in Germany would have to pay around $4,200 for a single veneer! While UK patients pay over $600 for dental veneer and US patients over $1,750.
Therefore, you can save up to 80% per veneer in Antalya! You can fix several teeth with veneers in Antalya for the price of just one veneer at home!
The table below shows the cost comparison of dental veneers in Antalya compared to your country.
Dental Veneers Centers Cost Comparison in Antalya, Turkey
| Provider | Procedure | Price |
| --- | --- | --- |
| Denart Turkey Dental Centre | Dental Veneers, Dentistry | $300 |
| Ozdemir Dental Center | Dental Veneers, Dentistry | $145 |
Dental Veneers Cost Comparison in Turkey

| Country | Procedure | Price |
| --- | --- | --- |
| Germany | Dental Veneers, Dentistry | $4213 |
| United Kingdom | Dental Veneers, Dentistry | $600 |
---
Popular Dental Clinics in Antalya for Veneers
Clinics in Antalya offer world-class services to international patients for many years. They are modern and utilize the latest diagnostic and therapeutic technologies to provide reliable treatment outcomes. Patients who had experience in these clinics have wonderful things to say about the staff and facilities, which reviews you can find in this guide.
Take a look at our recommended clinics in Antalya and see why they are popular among dental tourists:
---
Video Related to Veneers in Antalya, Turkey
If you are considering Antalya veneers, watch our video below to know more about the procedure in this stunning summer resort.
---
Dental Work in Antalya, Turkey Reviews
---
Important FAQs About Dental Veneers Cost in Antalya, Turkey
Would you like to learn more about the price of Dental Veneers in Antalya? If so, read our answer about the average cost and additional services you get for that price.
What is the Cost of Dental Veneers in Antalya, Turkey?
Show More
If you're looking to revamp your smile and boost your confidence, you might be wondering about the cost of dental veneers in Antalya, Turkey. Well, buckle up, buttercup, because this guide is going to be a wild ride filled with all the information you need to make an informed decision. The Cost of Dental Veneers in Antalya, Turkey: A Range to Meet Every Budget When it comes to the cost of dental veneers in Antalya, Turkey, you'll find that the prices vary depending on the type of veneers you choose and the experience of the dentist. On average, you can expect to pay anywhere from $200 to $300 for a single tooth veneer. Country Cost in USD (Per Tooth) Antalya, Turkey $200 - $300 United Kingdom $600 A Guide to Choosing the Right Dentist for Your Veneers in Antalya, Turkey When it comes to choosing a dentist for your veneers in Antalya, Turkey, you want to make sure you select someone who has the experience and expertise to deliver the results you're looking for. Ask around for recommendations from friends, family, or other expats in Antalya, and make sure to read reviews and check out the dentist's portfolio before making a final decision. Top 10 Dentists in Antalya, Turkey for Dental Veneers Dt. M. Burak Ceviz Dt. Ali Sefa Cali Dentist Ebru Yuceer Dr. Sevil Kaderli Dr. Sharif Rzayev Dr. Aykut Onol Dr. Sebnem Deniz Gunes Dr. Seda Onol Dr. Damla Kalayci Dr. Fatih Sunar The Benefits of Getting Dental Veneers in Antalya, Turkey Besides a brand-new smile that'll make you the envy of everyone you know, there are many benefits to getting dental veneers in Antalya, Turkey. For starters, they're a long-lasting solution to discoloration, chips, and gaps in your teeth. And, unlike traditional dental procedures, veneers are non-invasive, meaning your dentist won't have to remove any of your natural tooth structure. What to Expect During Your Dental Veneers Procedure in Antalya, Turkey Getting dental veneers in Antalya, Turkey is a straightforward and relatively painless process. During your initial consultation, your dentist will examine your teeth and determine if veneers are the right solution for you. If they are, your dentist will take an impression of your teeth and send it off to the lab to have your custom veneers made. On your second visit, your dentist will remove a small amount of tooth enamel and bond the veneers to your teeth. And voila! You'll have a brand-new, dazzling smile that'll make everyone do a double-take. 10 Best Clinics for Dental Veneers in Antalya, Turkey Denart Turkey Dental Centre Side Smile Dental Clinic Antlara Dental Clinic Beyaz Ada Dental Clinic CorpusRenew by Termessos Dent Laracity Dentalays Dental Center Ezgis Smile House Ozdemir Dental Center Umut Antalya Dental Clinic The Risks and Side-Effects of Dental Veneers in Antalya, Turkey Like any dental procedure, there are risks and side-effects associated with getting dental veneers in Antalya, Turkey. The most common side-effect is sensitivity to hot and cold temperatures, but this usually subsides after a few days. And, because your dentist will have to remove a small amount of tooth enamel, there's a chance that your natural teeth could become more susceptible to cavities and decay. However, these risks are minimal and can be prevented by following a strict oral hygiene regimen and visiting your dentist for regular check-ups. In conclusion, if you're looking for a way to improve your smile and boost your confidence, dental veneers in Antalya, Turkey could be the solution you've been searching for. With a range of costs to meet every budget, and a wealth of experienced and knowledgeable dentists to choose from, you're sure to find the perfect fit for you. Just remember to do your research, choose a quality dentist, and follow a strict oral hygiene regimen to keep your new veneers looking their best. And, with a little bit of patience and some TLC, you'll be on your way to a brighter, more confident smile in no time!
---
Best Dentists in Antalya, Turkey for Veneers
Antalya dentists have been through rigorous training and got their certificates from prestigious institutions in Turkey and abroad. They are dedicated to their patient's comfort and satisfaction in order to meet their goals and needs.
We know that the safety and quality of dental work are important to you as the price is. Thus we provide a list of highly qualified dentists in Antalya. Look at their profiles below and choose the right dentist for you.
---
Dental Tourism in Antalya & Other Best Things To Do
Do you long for a relaxing, blissful vacation? Since coming to Antalya for dental work, you can take advantage and stay in the city couple of days more to enjoy the sun and beach activities. Antalya is an attractive holiday destination very popular among European tourists.
Here are the best things you can do in Antalya on your dental trip:
Explore Antalya's Old Town Kaleici
Relax on Konyaalti Beach
Take Day Trip to Aspendos
Walk around the Ruins of Termessos
Admire the Yivli Minare
Stroll through Hadrian's Gate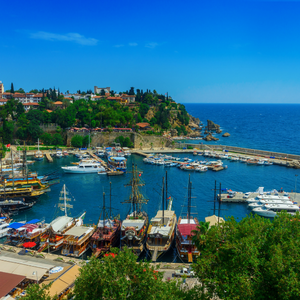 Marina of the old town Kaleici - Antalya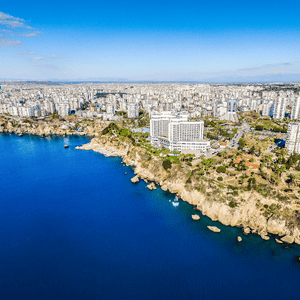 The view of Antalya
---
Book Veneers in Antalya at Affordable Price!
Get teeth veneers Antalya Turkey at up to 85% lower prices than your home country and experience a wonderful holiday!
Contact our PlacidWay team for more information and to receive a FREE price estimate!
---