Affordable Package for Dental Veneers in Turkey
Package price starting from:
$250
Treatment:
Dentistry, Dental Veneers
Focus Area:
Dental Veneers in Turkey | Teeth Veneers | Porcelain Veneers | Cosmetic Dentistry | Smile Makeover
---
Get a Cost-Effective Package for Teeth Veneers in Turkey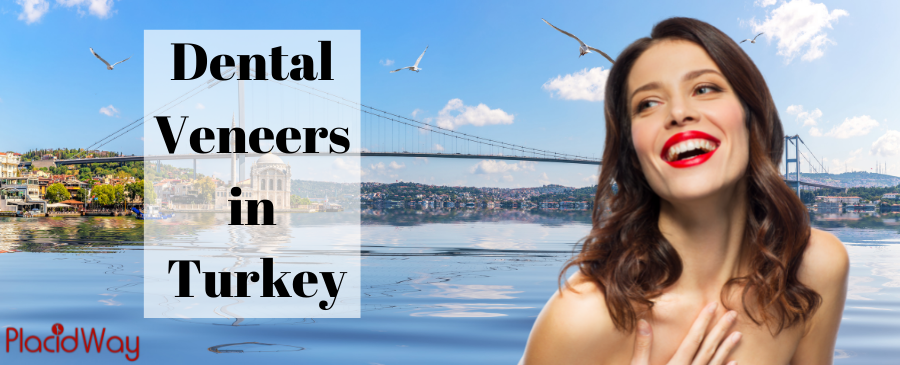 Our all-inclusive dental veneers package in Turkey starts at $250 at top-rated clinics. A tooth veneer is a thin, porcelain shell that is permanently placed on the front surface of teeth. Dental veneers improve your smile appearance by hiding gaps, covering dark stains, and making crooked teeth look straighter.
If you are considering dental veneers, you may wonder if they are affordable and a good option for you. We will discuss the cost of dental veneers in Turkey and compare it to the cost of dental veneers in other countries. We will also discuss the types and which types are best if you want to get dental veneers in Turkey.
Benefits of Teeth Veneers in Turkey
Affordable cost

Renowned dental surgeons

The natural appearance of teeth

Porcelain veneers are stain-resistant

Gum tissue tolerates veneers well
How Much Do Dental Veneers Cost in Turkey?
The cost of Dental Veneers in Turkey is $250 approximately. Final prices are determined after physical evaluation and laboratory reports analysis.
Cost of Dental Veneers in Turkish Towns
| | |
| --- | --- |
| City | Dental Veneers Cost |
| Istanbul, Turkey | $250 |
| Izmir, Turkey | $233 |
| Muratpasa, Lara Turkey | $245 |
| Antalya, Turkey | $280 |
Cost Comparison of Dental Veneers in Turkey VS Other Countries
| | |
| --- | --- |
| Country | Dental Veneers Cost |
| Turkey | $250 |
| United States | $1,750 |
| United Kingdom | $600 |
| Austalia | $2,000 |

What are Dental Veneers?
Dental veneers are an efficient and appreciated aesthetic dental solution, able to completely transform and improve the patient's smile. They're made of materials that look just like natural teeth. Dentists use them to correct aesthetic imperfections such as tooth shade or shape. The procedure allows the patients to choose any shade of white, regardless of their natural tooth color
Dental veneers are recommended for people with unaesthetic dental gaps, stained teeth, dental traumas, asymmetrical teeth, or dental crowding.
Types of Veneers
Zirconium Porcelain Veneers:
These are the most grounded sort of veneers and are tough. As per top Dentists, the veneers last 5 to 10 years, however, if Zirconium veneers are done well, with an exact fit and severe convention, and very much kept up with, they can last 25 to 30 years without any problem.​
E.Max  Porcelain Veneers: ​
​These are created from high-strength porcelain and specially crafted for the individual, Emax Veneers are meagerly layered and clung to the front surface of the teeth. This improves both the capacity and presence of teeth.
Which Veneers are the Best?
This is a typical question from our patients, which we will answer. Not all patients could have E.max porcelain veneers/crowns because we could manufacture E.max one by one, which means we can't do a bridge with them. Likewise, if the patient has rotten teeth, root trench treatment patients shouldn't have E.max because there is no meaning. E.max reflects patients' natural teeth tone, so in that manner, E.max could give a characteristic smile to the patient. Rotten teeth and root channel treatments will give no esthetic shades for a smile makeover. So our answer is NO for E.max we can't say that that is the best material. 
Zirconium could close your holes, rotten teeth, and root trench treatments and give you superb white shades. If you are searching for that, zirconium will be your best choice. If you have pretty healthy teeth and are searching for a brighter smile, E.max is the best alternative. 
Additionally, we see that some people guarantee E.max is the most durable material because it is expensive, and they need to sell that. We could give lab test examples, MPA is a pressure test done in labs. So as you see, our zirconium blocks are nearly 2-3 times more durable for MPA tests than E.max.
Dental Veneers Procedure
First, the dentist will help you find the right tooth color and show patients photographs of expected results. A customized dental plan will be decided upon between the dentist and the patient. Following that, the dentist may offer a local anesthetic, depending on the current condition of the teeth and the application process. The tooth is then reshaped to provide a customized fit for the dental veneer. The dentist will then make impressions of the teeth from a mold. This mold or impression will be sent to a dental laboratory to create customized dental veneers. While waiting for the permanent veneers, patients may be fitted with temporary veneers to help protect the surface of the teeth.
During the second visit, the dentist removes the temporary veneers and places the final veneers on the surface of the teeth, adjusting fit for optimal function and appearance. Dentists may use various techniques to produce, bond, and modify masks on the teeth. In most cases, veneers last for years with proper care, and patients are recommended to engage in regular dental cleanings and examinations to help promote longevity.
How Long Does the Procedure Take?
It takes around five days to complete the process. During this, we use a cad-cam and 3-D scan to get the exact measurements of your teeth. Then we will first create temporary teeth and start with the processing of creating veneers. It takes about 48 hours to create the veneers in our fully-equipped lab. Post that, we start with fitting the veneers and ensuring that the patients are fully comfortable with the set of veneers.
Factors that Affect Package Price of Turkish Veneers
You may find that the same provider offers different package prices for Dental Veneers in Turkey. This happens due to relative factors such as:
Number of teeth requiring a veneer

The material chosen for veneers (the radiance and quality of the veneers depend on the materials used)

Age of the patient and his/her jaw flexibility

Experience and qualification of the dentist
The clinic doctor would ask for laboratory tests to ascertain the plan for your treatment course of action. The laboratory test reports help to analyze the condition of your body's preparation before the surgery. Based on that, the doctor may consult over the phone and explain the treatment plan to you.
Length of Stay: Same-day procedure
Dental Veneers Package Inclusions
Pre and post-operative consultations

All clinic fees

All medical fees and doctor fees,
Dental Veneers Package Exclusions
Hotel or recovery house

Preoperative lab work

Airfare
Complexity Level: Low
List of Required Pre-Op Tests
X-ray of teeth

Complete blood count

Blood tests for hormone levels

Rh factor blood test
Note: The laboratory tests are done at least 7-10 days prior to the procedure. The particular tests are prescribed after a complete physical evaluation of the patient.
Payment Options: Cash, credit card, wire transfer
Note: The center may require a money deposit once a patient decides to book the surgery.
FAQs About Teeth Veneers in Turkey
Does It Feel Like a Natural tooth?
It will be a little different since it doesn't have the cushioning layer as natural teeth do. Many patients didn't even notice the presence of Veneers after some time.
Can I pick the color before Dental Veneers?
During Color Selection, your dentist must select the best color suitable for you. There are four categories of veneers. These are reddish-brown, reddish-yellow, grey, and reddish-grey. Under these categories, there are 11 subcategories to personalize the patient's results further.
Is Dental Veneers Painful?
The Procedure for Getting Dental Veneers is 100% pain-free. Some people with very sensitive teeth experience some discomfort, but no severe pain is involved with veneers.
Who is an idle candidate for Dental Veneers?
An ideal candidate for dental veneers is someone who would like to improve the color or contour of their teeth. Specifically, the perfect veneer candidate is someone with minor cosmetic imperfections or severely stained teeth.
Why do people get porcelain veneers?
​Further developed appearance and reestablished confidence: Porcelain veneers can assist people with dental imperfections, for example, teeth that are abnormal, stained, or have little holes between them. Veneers significantly change an individual's grin and, all the while, assist with working on self-assurance.
What amount of tooth decrease is required?
Veneers require your normal tooth finish to be shaved down to oblige the slender porcelain shells put over every tooth.
Why Choose Turkey For Dental Veneers?
The main reason for traveling to Turkey for dental care is the price. You can save more than 70% of the cost of the US. The more extensive and expensive the treatment, of course, the more you are saving and that is why Turkey has become more popular for medical tourism.
How to Reach Turkey for Veneers?
Turkey is served by many international airports. These airports connect the cities with the rest of the world and you won't have any problem visiting your preferred destination. Turkey is also connected by highways and you can travel by road.
Book Affordable Dental Veneers Package in Turkey through PlacidWay!
If you want a smile makeover at an affordable price, dental veneers in Turkey can be the perfect option! Contact us for more details on this exclusive package deal, and book today by clicking the button below!

Related Experiences:
Dental Veneers in Cabo San Lucas
Dental Veneers in India
Dental Veneers in Hungary
Dental Veneers in Zagreb Croatia
Dental Veneers in Juarez, Mexico
Dental Veneers in Dubai UAE
---
Dentistry Related Packages
Dentistry Related Experiences