Dentalays Dental Center
Affordable Dental Clinic in Antalya, Turkey
Caglayan Mahallesi, Bulent Ecevit Blv. Ozgurluk Apt. Sit. No:102/D Lara / Antalya, Antalya 07230, Turkey

Specialty:

Dentistry, Radiology/CT Scans

Focus Area:

Dental Treatment Clinic | Antalya | Turkey | Dentalays Dental Center | Dental Implant | All on 4 | All on 6 | Teeth Whitening | Orthodontic | Dental Crown | Smile Makeover
Dentalays Dental Center Profile Overview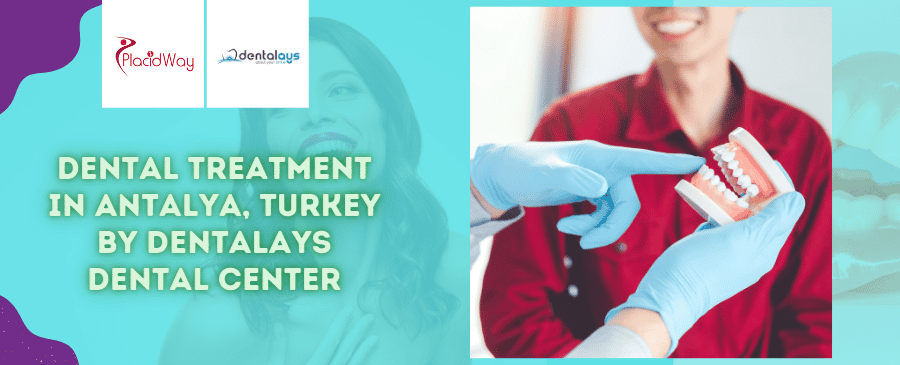 Dentalays Dental Center provides best Dental Treatment in Antalya, Turkey. Book online now Dental Implant, All on 4, and All on 6 at Dentalays Dental Center. Dentalays is a Premium clinic in Antalya that gives a lovely environment of dental care. We have received 3 Architectural Awards. Our dental specialist are utilizing their 15 years of experiences, and using latest technology to give incredible and effective outcomes. Utilizing the most recent technology, for example, computerized Smile Makeover; our talented group of dental specialists in Antalya exceeds all expectations to assist our patients with accomplishing their hope for beautiful and healthy smile.
We offer the most elevated standards of dental treatments in Antalya, making your dental medical care experience a pleasant one. We want to give professional oral wellbeing in a caring environment while zeroing in on our patients' necessities and prosperity. All our experience joined offer you admittance to specialist dental consideration in an advanced treatment center.
Our group skilled and top dental specialists in Antalya offer a wide scope of complex dental care, such as General Dentistry, Cosmetic Dentistry, Pediatric Dentistry, Veneers, Orthodontics, Dental Implants and Oral Surgery. This allows us to serve all our patients while giving you quality treatments and prevalent client assistance. Our clinic is one of the interesting clinics which give the opportunity to their patients have their dental procedures done under sedation. In Antalya you can find a harmony of psyche realizing that you are in safe hands under the care of our professional medical teams. Our clinic is one of the world class clinics in the world. Patient safety and comfort is our first concern.
Here are several advantages of using Dental Clinics in Antalya, Turkey by Dentalays Dental Center:
More than 15 years of experiences

Affordable cost

Certified and experienced dentists and medical teams

24/7 online support and consultation

Complete selections of dental treatments
Check below for list of procedures of Dental Treatment in Antalya, Turkey by Dentalays Dental Center:
Emax Veneers are meager bits of porcelain which are set over the highest point of your genuine teeth. A piece like a phony nail that is set over your fingernails, yet entirely significantly stronger!
A dental implant is a metal post that replaces the root portion of a missing tooth.
Zirconia is a white strong artistic coating and one of a few more up to date materials that join metal's solidarity with the stylish, tooth-like allure of porcelain.
Computerized grin configuration is a restorative dental procedure that utilizes program to examine and upgrade a patient's smile.
Invisalign treatment allows you to change your grin attentively and serenely with virtually-undetectable, removable supports; while Orthodontics is a part of dentistry that arrangements with inappropriate positioning of teeth.
Teeth Whitening is a basic cycle. Brightening items contain one of two tooth fades (hydrogen peroxide or carbamide peroxide).
General Dentistry Procedures
General Dentistry procedures like Tooth Extraction, Surgical Extraction, Gum Contouring, and Oral Night Guard.
Dental tomography gadget is that converts the information acquired from the jaw and teeth region into a three-dimensional picture and moves it to the advanced environment.
Pedodontics is a specialty centered on diagnosing and treating kids' dental issues.
Dental Treatment in Antalya, Turkey by Dentalays Dental Center will provide you with many advantages and convenience. You can get affordable cost of dental care from top dentists in Turkey. For more information about Cost of Dental Treatment in Antalya, Turkey by Dentalays Dental Center, click below link.
| | |
| --- | --- |
| | |
| 3D Smile Design | 100£ |
| E-Max Porcelain Crowns/Laminate Veneers | 240£ |
| Zirconium Porcelain Crowns/Laminate Veneers | 165£ |
| Root Canal Treatment (Per Root) | 125£ |
| Inley & Onlay (Digital) Fillings | 240£ |
| Laser Teeth Bleaching Via Philips Zoom | 200£ |
| Deep Cleaning Per Jaw (Curettage) | 130£ |
| Sinus Lifting (Per side) | 300£ |
| Surgical Tooth Extraction | 100£ |

Check below for more information about top Dentists in Antalya, Turkey by Dentalays Dental Center received certifications from Health Tourisim Authorzation Certificate of Turkish Ministry of Health:
Dr. Erkan UZUN
Dr. Fatih TORGUT
Dr. Gizem Duygu ATES
Dr. Merve EVER
Dr. Talha ASCI
Start your consultation today for Dental Treatment in Antalya, Turkey by Dentalays Dental Center. You are free to ask any questions about the dental problems you are experiencing and the specialists at this clinic will provide the best solutions and procedures that can be applied to you. For more information about Dental Packages, or if you have other questions, make sure to tab below contact us button:

---
---