Sani Dental Group Cancun Riviera
Cancun,Playa Del Carmen, Mexico
Fase II, Av.10 lote 1 local 46, Playa del Carmen Quintana Roo Fraccionamiento, Playacar, 77710 Playa del Carmen, Q.R.

Focus Area: Sani Dental Group, Sani Dental Group Cancun Riviera
Sani Dental Group Cancun Riviera, Cancun, Playa Del Carmen, Mexico,
Profile

Perfect Dental Solutions at Sani Dental Group Cancun, Riviera, Mexico
Sani Dental Group is one of the biggest dental service providers in Mexico. The clinic has evolved from being a 2-chair office when established in the year 1985 to one of the mighty dental care group of today. Sani dental has multiple units at different locations and a very special one in Riviera, Cancun. This is a special center that caters to all dental medical needs of North American and Canadian citizens.
Sani Dental Group offers quality standard treatment facilities that are not compromised by affordable prices. Dentists working for Sani are all well-qualified from the best schools in Mexico and the US, such as Harvard and Loma Linda. They offer you a unique dental experience in Mexico. Dentists provide a caring and nurturing environment to the patients with maximum comfort. They are consistently brilliant in their delivery of the treatment and offer world-class care.
The clinic practices preventive and conservative dentistry and aims to keep it natural. They never compromise on sanitation and disinfection. It ensures painless dental procedures to its patients with a detailed explanation by dental professionals with the help of visual aids and an expatiated treatment plan.
Treatments and Procedures:
Bone Graft/Sinus Lift
Cosmetic Dentistry
Crowns
Porcelain Fused to Metal Crowns

Zirconium Crowns

E-max Crowns

Gold Crowns
Dental Implants
Bridge supported implant

Implants supported dentures
Dental Laser
Laser Dental Whitening and Cleaning
Veneers
Dentures
Implants supported dentures

TCS or Partial flexible
Full Mouth Restoration
Zygomatic Implants
If you want to know more about Sani Dental Group, Cancun, Mexico or want to request any information, just click the contact tab below!
Details

Why Should You Choose Sani Dental Group?
Sani Dental Group, Cancun, Mexico is honored with the IPSC "International Patient Services Certification" by the Medical Tourism Association in 2013. It is the first and only Dental Clinic in Mexico with MTA certification. This puts the clinic apart being the best option for international patients to choose dental treatments here. Sani Dental Group is also a proud member of the American Dental Association (ADA).
All dentists are specialists in their respective fields within dentistry and hold relevant knowledge and experience. They aim to follow the developing technology, adopting dental health treatments, and offer advanced diagnosis and treatment methods to patients along with better and safer health services.
The clinic is motivated to present oral and dental health treatments using the latest technological facilities with internationally approved methods in all branches of expertise for better patient servicing.

If you want to know more about Sani Dental Group, Cancun, Mexico or want to request any information, just click the contact tab below!
Qualifications

Medical Team
The medical team of Sani Dental Group is headed by D.D.S. Enrique Arturo Jimenez Alvarez. He leads the multidisciplinary team that uses the latest medical and surgical equipment to execute successful dental solutions. He is the Founder & Chief Medical Officer of the dental group.
Dr. Alvarez is one of Mexico's most reputed dental consultants with experience in completing dental procedures on thousands of overseas patients. He is committed to provide patient safety and ensure his clients regarding achieving the best possible outcomes.
D.D.S. Alejandro Ramírez Rivas contributes to Diagnostic and Cosmetic Dentistry at the dental clinic and is a Dental Surgeon with superlative skills and knowledge in Basic CPR and Electric Therapy. Dr. Alejandro is a specialist in correctly diagnosing dental problems and prescribing the right plan of treatment.
D.D.S. Luis Alberto Rodriguez Castro is an expert in Oral Surgery and Dental Implants. With more than 12 years of practice in Dental Surgery he is ready to assist you. He is algo an honorable member of several Multidisciplinary Congress and American Dental Association.
D.D.S. David Rosenber Ruiz Dominguez also contributes to Cosmetic Dentistry at the dental clinic. He have multiple studies on Veneers, Crowns, Resins, and Oral Rehabilitation.
The medical staffs of Sani Dental offer a positive clinical environment and follow minimal invasive treatment protocol. The caring and healing touch of the doctors makes the whole experience extraordinary for the patients. They aim to give total relaxation to the patient's senses as they are working on their oral health. The qualified staff of the dental unit provides comfortable and precise dental treatment with updated vision and equipment.
If you want to know more about Sani Dental Group, Cancun, Mexico or want to request any information, just click the contact tab below!
Destination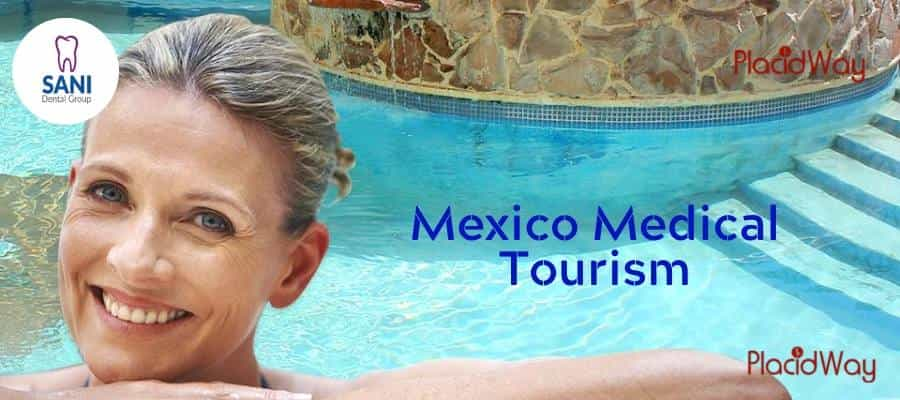 Why Should You Choose Riviera, Cancun For Your Medical Treatments?
The correct selection of medical tourism destination is important to get the recovery and healing. Located in the southwest of Mexico, in the state of Quintana Roo, Cancun, Mexico is one of the best medical tourism destinations that offer you its scenic beauty and soothing climatic conditions.
It is a beautiful tourist destination worldwide. You get to see a lot of natural beauty combined with the turquoise Caribbean Sea and white sand beaches. Cancun is the ideal place to spend a holiday as you get to visit multiple sight-seeing attractions apart from the white sand beaches, rich cultural heritage, and bright sunshine.
Apart from the archeological remains, there is more beauty to witness in Riviera such as Tulum, Coba, and Chichen Itza. You get to see several archaeological zones and discover parks and nature reserves. You can enjoy sporting activities such as cenotes, ziplines, golf, and many water sports.
The cost of living in Mexico is relatively lower than in many European countries. You can save a lot on dental medical costs and get quality treatment in Cancun at affordable packages.
If you want to know more about Sani Dental Group, Cancun, Mexico or want to request any information, just click the contact tab below!
Reviews