Assoc. Prof. Fatih Irmak Aesthetic and Plastic Surgery Clinic
Expertise in Aesthetic and Reconstructive Plastic Surgery by Prof. Fatih Irmak in Istanbul
Tesvikiye mahallesi, Hakki Yeten Caddesi, Ascioglu Plaza, No:17/6 Fulya, Sisli, Istanbul-Turkey Istanbul, Istanbul, Turkey

Specialty:

Anti Aging, Cosmetic/Plastic Surgery

Focus Area:

Assoc. Prof. Fatih Irmak Aesthetic and Plastic Surgery Clinic | Tummy Tuck | Facelift | Breast Lift | Liposuction | Mommy Makeover | Istanbul | Turkey
Assoc. Prof. Fatih Irmak Aesthetic and Plastic Surgery Clinic Profile Overview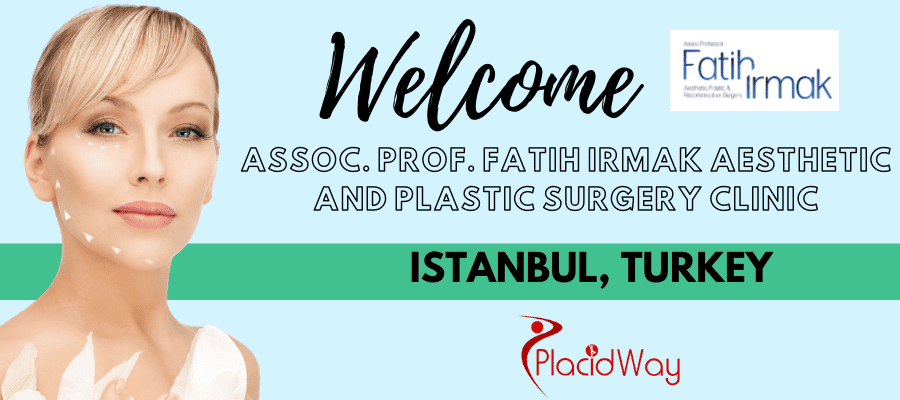 Prof. Fatih Irmak Aesthetic and Plastic Surgery Clinic in Istanbul is one of the best clinics in Turkey that has set a benchmark with its ultimate cosmetic and aesthetic solutions.
From simple cosmetic procedures to advanced aesthetic treatments, people can get a wide range of treatments under the same roof. Prof. Dr. Fatih Irmak is a double-board certified Plastic and Aesthetics Surgeon and he is recognized as one of the top doctors in the country.
His patient-centric approach has helped hundreds of individuals to get the desired results. Dr. Irmak is specialized in the nose, face, breast, body shaping, BBL procedures, etc. One can get a customized medical experience at Assoc. Prof. Fatih Irmak Aesthetic and Plastic Surgery Clinic.
Scheduling an appointment at Assoc. Prof. Fatih Irmak Aesthetic and Plastic Surgery Clinic is very easy. You just have to fill a form with your details to schedule a consultation. You can also send a message through WhatsApp to schedule a consultation. The clinic is located near Vital Fulya Plaza and you won't have any problems in reaching up to the clinic.
Advantages and Services at Prof. Fatih Irmak Aesthetic and Plastic Surgery Clinic
Experienced and Skilled Surgeon: Prof. Fatih Irmak is a highly experienced and skilled plastic surgeon who has extensive training and knowledge in all aspects of aesthetic and plastic surgery.

Advanced Technology: The clinic is equipped with state-of-the-art technology and medical equipment that help to deliver high-quality and safe surgical results.

Comprehensive Services: The clinic offers a wide range of services that include face and body rejuvenation, breast surgery, reconstructive surgery, and non-surgical treatments.

Personalized Care: Patients receive personalized care and attention from the clinic's staff and surgeon to ensure their needs and expectations are met.

After-Care Services: The clinic provides comprehensive after-care services to help patients recover and adjust to their new look.

Affordable Pricing: The clinic offers affordable pricing for its services and treatments, making it accessible to a wider range of patients.

Confidentiality: The clinic ensures that all patient information and medical records are kept confidential and protected.

Consultation Services: The clinic provides patients with an opportunity to consult with the surgeon and discuss their concerns, expectations, and options for their procedure.

Safe and Sterile Environment: The clinic operates in a safe and sterile environment to minimize the risk of infections and other complications.
Treatments at

Prof. Fatih Irmak Aesthetic and Plastic Surgery Clinic in Istanbul, Turkey
Face and eyes
Ear reshaping (Otoplasty)

Brow Lift

Chin Augmentation

Eyelid reduction

Facelift

Necklift

Neck liposuction

Scar revision
Nose
Rhinoplasty

Revision rhinoplasty
Breast
Breast Augmentation

Breast Lift

Breast Reconstruction

Breast Reduction

Nipple & Areola Reduction

Replacement of Breast Implants
Body
Abdominoplasty – Tummy Tuck

Arm Lift

Brazilian Butt Lift

Buttock Augmentation

Liposuction

Mommy Makeover

Vaginal Rejuvenation
For Men
Breast Reduction (Gynaecomastia)

Facelift

Hair Transplant

Liposuction for Men
Non-Surgical
Botulinum Toxin Application

Filler Facelift
Highly Qualified Plastic Surgeon in Istanbul Turkey
Prof. Fatih Irmak is a well-renowned plastic surgeon based in Istanbul, Turkey. He has extensive experience in the field of plastic and reconstructive surgery, having performed numerous successful procedures in his career. He is highly regarded by his patients and peers alike, and has a reputation for delivering outstanding results.
Prof. Irmak has a deep passion for his work, and his commitment to his patients is unwavering. He takes the time to understand each patient's individual needs and works closely with them to develop a customized treatment plan that addresses their specific concerns. He is known for his meticulous attention to detail and his ability to achieve natural-looking results.
In addition to his clinical work, Prof. Irmak is also a respected educator and researcher. He has published numerous articles in leading medical journals and has presented his work at conferences and symposiums around the world. He is also a frequent speaker at professional events, sharing his expertise and knowledge with colleagues in the field.
Book a Consultation for Cosmetic Surgery with Dr. Imrak in Istanbul, Turkey Today!
If you are considering plastic surgery in Istanbul, Prof. Fatih Irmak is an excellent choice. With his years of experience and his commitment to providing the best possible care to his patients, you can be confident that you are in safe hands. Whether you are looking to enhance your appearance, restore your confidence, or simply improve your quality of life, Prof. Irmak is here to help.
To know more about treatments and services, please click here:

---
---