Estemita Aesthetics Clinic of Op. Dr. Hakan Olmezturk
Antalya, Turkey
Caglayan Mahallesi, 2004. Sk. No:21, 07230 Muratpasa/Antalya

Focus Area: Dr. Hakan Olmezturk, best plastic surgeon in Antalya, Turkey
Top cosmetic and plastic surgeon in Antalya, Turkey
Profile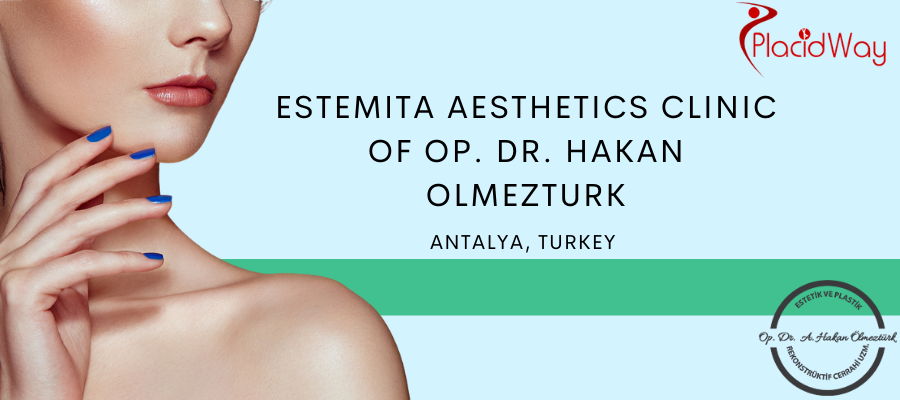 Estemita Aesthetics Plastic Surgery Clinic in Antalya, Turkey
Find out the top plastic surgery procedures by the best plastic surgeon in Antalya, Turkey. The top procedure includes Breast Implants, Rhinoplasty, Body Aesthetics, etc. Doctor Hakan Olmezturk is the founder who has a great amount of experience in almost every branch of Plastic and reconstructive surgeries. You can easily contact us to find out about prices and services. Op.Dr. Avni Hakan OLMEZTURK graduated from the Ege University Faculty of Medicine in 1998, followed by his graduation from Faculty of Medicine in 2005. He specialized in Plastic, Aesthetic and Reconstructive Surgery in Suleyman Demirel University Faculty of Medicine in 2013. In the year 2016, he founded the private clinic with the aim of contributing to aesthetic and plastic surgery field.
Surgical and Non-Surgical Treatments:
Surgical Treatment:
Non-Surgical Treatment:
Top Plastic Surgery Procedures Details:
Breast Implants
Breasts are of high significance for women in terms of their figure and body perception. Small and problematic breasts always discomfort the women's subconscious. Even wearing a dress shall cause problems because of small breasts. Shortly, breasts are the most important part of the body for women both physically and mentally.
Implant technology is advanced now, creating forms that imitate women's breasts. They are known as drop silicone. The exterior of the implants can be smooth with coating. Silicone implants are produced under extremely hygienic and special conditions. Approved by FDA, silicone is a fully natural element. It is generally found in beach sand or natural crystal that is called quartz. It is added to several products from stainless steel to baby food. Silicates are integral parts of human collagen tissue. Silicone-based materials are commonly used in implants that are placed in the body. For example, cardiac valves are produced out of silicone.
Rhinoplasty
Rhinoplasty is carried out in order to reshape the nose. The tip of the nose can be repositioned (up or down) or reshaped (thinner or thicker). The curvatures can be fixed. If the nose bone is thin it can be filled. Big nostrils can be reduced. Asymmetries in the nose can be reshaped. If the patient suffers from septum deviation which is accompanied by internal cartilage and bone deviation with problems when breathing besides problems about the shape of the nose, rhinoplasty surgery is combined with septum deviation surgery in order to enable easy breathing for the patient. Ideal rhinoplasty surgeries must also make a difference in easily breathing in addition to reshaping the nose in proportion with the face.
Body Aesthetics
Abdominoplasty or "tummy tuck" is a major cosmetic surgery procedure used to make the abdomen thinner and more firm. Tummy tuck surgery flattens the abdomen by removing extra fat and skin and tightening muscles in your abdominal wall. The scars of the incisions vary according to the type of surgery following abdominoplasty which dramatically improves the saggy abdomen.
Surgery Process
People with well-shaped bodies who cannot remove fat tissues and sagging in their abdominal region despite diet and exercises are ideal candidates for abdominoplasty surgeries. Skin and muscles in the abdominal region can be deformed following pregnancies creating problems in the abdominal region. Abdominoplasty is the perfect way to remove these problems. Patients who have a slight middle-aged spread with skin loss are also ideal candidates for the surgery. The people who plan to lose weight shall postpone having an abdominoplasty. Abdominal muscles which are firmed via surgery can get tight during pregnancy so if you are planning to get pregnant, postpone the surgery.
If you have scars from previous abdominal surgeries, your surgeon can warn you about more scars. Although the surgeries reshape your abdomen, they do not guarantee the belly of your dreams. You had better consider your expectations and clarify them to your plastic surgeon.
For more details about the treatments and procedures, click the button below: