CorpusRenew by Termessos Hospital
World-Renewed Hospital in Antalya, Turkey for Dental Care, Bariatric and Plastic Surgery
Yenikoy Mah. 74.Sok. No:53/B 07190, Antalya, Turkey, Antalya, Turkey

Specialty:

Anti Aging, Cancer Treatment, Chronic Diseases, Cosmetic/Plastic Surgery, Dentistry, Detox, ENT, Executive Healthcheck, Eye/Lasik Care, General Medicine, General Surgery, Gynecology Treatment, Hair Transplantation, Laparoscopic Surgery, Laser Surgery, Neurology, Obesity/Bariatric Surgery, Orthopedic/Knee Surgery, Radiology/CT Scans, Rehabilitation, Robotic Surgery, Sexual Medicine and Treatment, Skin Care, Urology, Weight Loss Program

Focus Area:

CorpusRenew Agency in Antalya, Turkey | Private Termessos Hospital | Plastic Surgery | Oral health | Obesity surgery | Gynecological surgery | Hair transplant
CorpusRenew by Termessos Hospital Profile Overview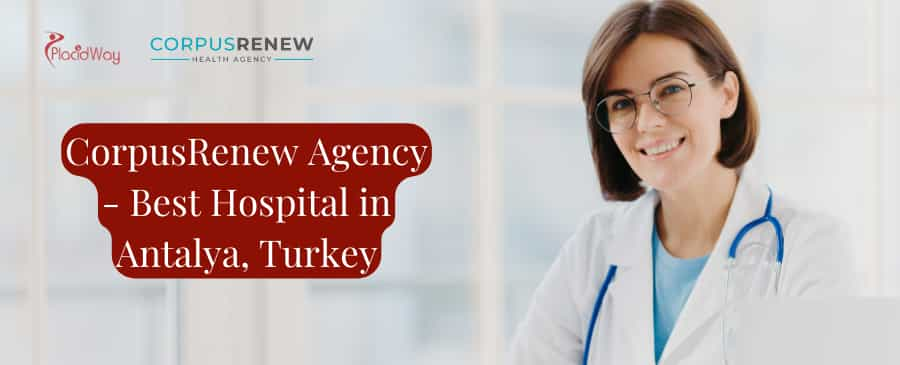 Corpus Renew by Termessos is the developing health facility with modern infrastructure located in beautiful resort of Antalya, on Turkish Mediteranean coast. They utilize cutting-edge technology to deliver first-rate services with specialist doctors following international health standards. Our well-equipped hospitals in Turkey offer obesity treatment, dental treatment, hair implants, plastic aesthetics, and reconstructive surgery.
By providing patient-centered healthcare and delivering excellent clinical quality through integrated medical practice, education, and research, a professional medical team inspires hope and contributes to well-being. We make quality health care more accessible to a broader range of people and extend quality care beyond national borders through medical tourism.
CorpusRenew by Termessos offers you the best opportunities for life-changing results, beauty, and fulfillment.
CorpusRenew by Termessos was officially established to aid patients' treatment by providing high-quality medical care and excellent hospitality. We hope our guests will benefit from a safer environment, more informed decisions, and significantly lower medical travel costs. With our extensive experience in the health and tourism fields, we provide these international services. Our core values are honesty, transparency, and privacy.
As of July 2018, our hospital, with a closed area of 12.000 m2 and experienced management, doctors, health personnel, and expert staff, has been providing health services in the Döşemealt region as Private Termessos Hospital.
Our 6-story hospital is 22 kilometers from the airport.
75 Beds

9 Deluxe Rooms

3 Disabled Rooms

14 Standard Rooms

5 Operating Rooms

3 Delivery rooms

32 Adult Intensive Care

17 Neonatal Intensive Care Units.
We also provide free transportation from the airport to the hotel and studios. Our studios are located in various parts of Antalya. There are direct flights to Antalya from a variety of countries. We can set up appointments for you if we know your potential travel dates. In addition, we will provide you with a list of hotels from which you can select the best hotel for you.
Benefits of Choosing CorpusRenew by Termessos in Antalya, Turkey
State-of-the-art medical facilities and equipment

Experienced and qualified medical staff

Affordable medical treatment options

Minimal wait times for medical procedures

Wide range of medical treatments available, including bariatric and plastic surgery

Convenient location in Antalya, Turkey, a popular tourist destination

Spacious and comfortable patient rooms

Comprehensive patient support services

Strong commitment to patient privacy and confidentiality

High success rates for medical treatments and procedures.
Most Popular Treatments at CorpusRenew by Termessos Hospital in Antalya, Turkey
Obesity surgery -

Gastric Sleeve

, Bypass, Balloon

Aesthetic & plastic surgery -

Body Countouring

, Liposuction, Breast lift, Tummy tuck

Gynecological surgery -

Vaginoplasty

, Hysteroscopy

Cardiology

Orthopedics

ENT

Checkups

Urology
Physicians Specialists at CorpusRenew by Termessos in Antalya, Turkey
Find more information below about the best doctors in Antalya who specialize in various treatments and procedures:
Contact our Customer Care team to book your treatment today!

---
---