Este Prime Clinic Hair Transplant and Aesthetic Center
Este Prime Clinic Hair Transplant and Aesthetic Center in Istanbul, Turkey
, Istanbul, Turkey

Specialty:

Anti Aging, Cosmetic/Plastic Surgery, Dentistry, Hair Transplantation, Skin Care

Focus Area:

FUT, FUE, FUT and FUE, Hair Transplant, Body Hair Transplantation, PRP Hair, Beard Transplant, Moustache Transplant, Dental Veneers, Liposuction, Rhinoplasty, Dental Implants, Istanbul, Turkey
Este Prime Clinic Hair Transplant and Aesthetic Center Profile Overview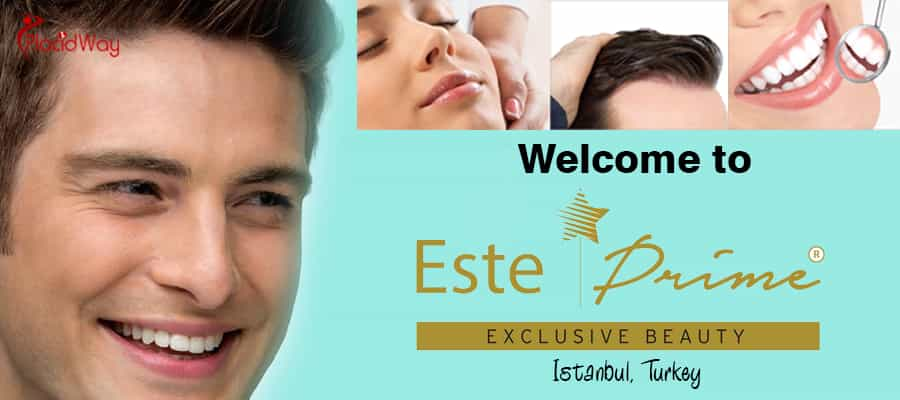 Welcome to Este Prime Clinic Hair Transplant and Aesthetic Center
Located in Istanbul, Turkey, Este Prime Clinic Hair Transplant and Aesthetic Center welcomes international and local patients, offering them world-class hair transplant, aesthetic and dental procedures performed by teams of renowned doctors, with cutting-edge medical equipment. The clinic focuses on providing top-notch medical care at affordable prices, as well as creating and maintaining valuable patient-doctor relationships before, during, and after the medical treatments.
Treatments and Procedures
Fue Hair Transplant
PRP Hair Treatment
After Hair Transplant
Hair Plantation For You
Beard Transplant
Mustache Transplant
Breast Reduction
Eyelid Surgery
FiIIings
Liposuction
Mesotherapy
Nose Aesthetics
Rhinoplasty
Silicone Breast Enlargement
Dental Veneers
Bleaching
Aesthetic Smile Design
Dental Implant Operation
Do you have any questions about Este Prime Clinic Hair Transplant and Aesthetic Center? Get in touch with us!

---