Smile Zone Clinic
Smile Zone Oral and Dental Health Polyclinic in Ankara, Turkey
Baglica Bulvari no:1-D4 / Villa, 06790 Etimesgut/Ankara, Turkey, Ankara 06790, Turkey

Focus Area:

Smile Zone Clinic | Ankara | Turkey | Dental Implants | Dental Veneers | Smile Design | Digital Dentistry
Smile Zone Clinic Profile Overview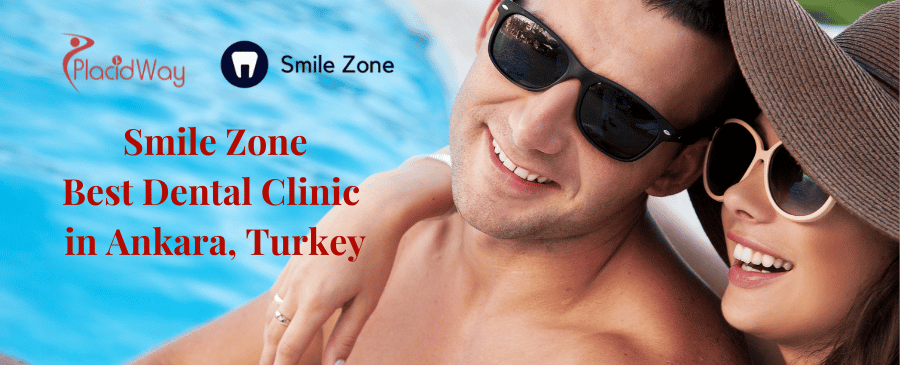 When it comes to dental care, it's essential to find a clinic and doctor that you trust. Smile Zone Oral and Dental Health Polyclinic, located in the heart of Ankara, Turkey, is a top choice for those seeking the best dental care available. Dr. Sevket Sahin and Dr. Merve Koseoglu Sahin are the skilled dentists behind Smile Zone Clinic, offering top-notch services to their patients.
Not only is the clinic equipped with state-of-the-art technology, but the doctors themselves are experts in their field. Dr. Sevket Sahin, a board-certified dental surgeon, has been practicing dentistry for over 20 years. Dr. Merve Koseoglu Sahin, also a board-certified dentist, brings her extensive knowledge and experience to the clinic as well. Together, they make an unbeatable team.
But it's not just their expertise that sets Smile Zone Clinic apart. The clinic also prides itself on providing a comfortable and welcoming environment for patients. From the moment you step through the door, you'll feel at ease with their friendly and attentive staff. And if you're nervous about dental procedures, Smile Zone Clinic offers sedation dentistry to make your experience as stress-free as possible.
Advantages of Choosing Dental Treatments in Ankara, Turkey
There are many advantages to choosing Smile Zone Clinic and Dr. Sevket Sahin and Dr. Merve Koseoglu Sahin as your dental care providers in Ankara, Turkey. Here are just a few:
Cost: One of the most significant advantages of choosing a dental clinic in Turkey is the cost savings. Compared to many other countries, dental treatments in Turkey are much more affordable, without sacrificing quality or safety.
Technology: Smile Zone Clinic is equipped with the latest dental technology, ensuring that you receive the best possible care. From digital dentistry to 3D scanning and printing, they use cutting-edge equipment to ensure that your treatment is as efficient and precise as possible.
Tourism: If you're traveling to Ankara for dental treatment, you'll find that the city has much to offer in terms of tourism. From historical landmarks to vibrant nightlife, there's something for everyone to enjoy.
Expertise: With board-certified dentists like Dr. Sevket Sahin and Dr. Merve Koseoglu Sahin, you can trust that you're in good hands. They have the knowledge and experience necessary to provide top-quality dental care, with a focus on patient comfort and satisfaction.
Treatments Offered by Smile Zone Clinic in Istanbul, Turkey
At Smile Zone Clinic, patients have access to a wide range of dental treatments, including:
Implant Dental Treatment

: This procedure involves replacing missing teeth with artificial ones that look and function like natural teeth.
Zirconium Dental Veneers: These thin shells are placed over existing teeth to improve their appearance, providing a natural-looking, long-lasting solution for chipped, discolored, or misaligned teeth.

Laminated Dental Veneers

: Similar to zirconium veneers, laminated veneers are a cosmetic dental solution that can help to enhance your smile's appearance.
Smile Design: This treatment involves a comprehensive analysis of your teeth, gums, and smile, followed by a customized plan to achieve the perfect smile.
Invisalign Transparent Plate: Invisalign is a popular alternative to traditional braces, using clear aligners to straighten teeth without the discomfort and inconvenience of metal wires and brackets.
Digital Dentistry: Smile Zone Clinic uses digital technology to improve the accuracy and efficiency of dental procedures, making treatments faster and more comfortable for patients.
Teeth Whitening – Bleaching: This treatment can whiten teeth by several shades, helping to improve the appearance of stained or discolored teeth.
Board Certified Dentists in Ankara, Turkey
Smile Zone Oral and Dental Health Polyclinic is proud to have two board-certified dentists on their team: Dr. Sevket Sahin and Dr. Merve Koseoglu Sahin. Dr. Sevket Sahin has been practicing dentistry in Ankara, Turkey with a focus on implantology, prosthodontics, and aesthetic dentistry. He has received numerous awards for his work and is an active member of several dental organizations.
Dr. Merve Koseoglu Sahin brings her own expertise to the clinic, with a focus on cosmetic dentistry, orthodontics, and pediatric dentistry. She has received specialized training in Invisalign and has completed advanced courses in implantology, ensuring that patients receive the highest level of care possible.
Get FREE CONSULTATION for Dental Treatments in Ankara, Turkey at PlacidWay!
If you're interested in receiving top-quality dental care at Smile Zone Clinic in Ankara, Turkey, we encourage you to book a consultation through PlacidWay Medical Tourism. Their team can assist you with travel arrangements and provide all the information you need to ensure a comfortable and stress-free experience. Don't wait to achieve the smile of your dreams – contact PlacidWay Medical Tourism today to book your consultation.

---
---