QasemDental
Dental Implants, Dental Crowns, Dental Veneers, Dental Bridges, Braces, Amman, Jordan?

10 Alhasan Alwazzan, Amman, Jordan

Focus Area:

Dental Implants | Dental Crowns | Dental Veneers | Dental Bridges | Braces | Amman | Jordan
QasemDental Profile Overview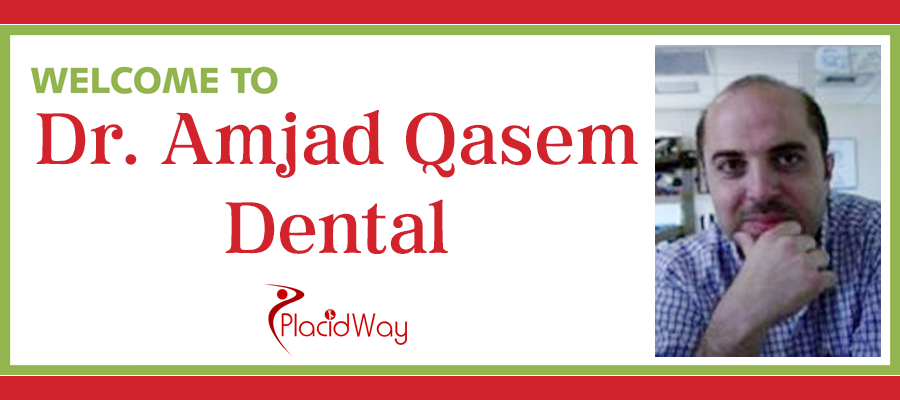 Welcome to QasemDental, Amman, Jordan
QasemDental is a renowned dental clinic located in Amman, Jordan. The team of dentists is highly trained and qualified and has solid experience and knowledge in the dentistry field. Both local and international patients are welcomed by Dr. Amjad Qasem into the pleasant and relaxing medical center. The dental office features cutting-edge technology and offers pocket-friendly prices.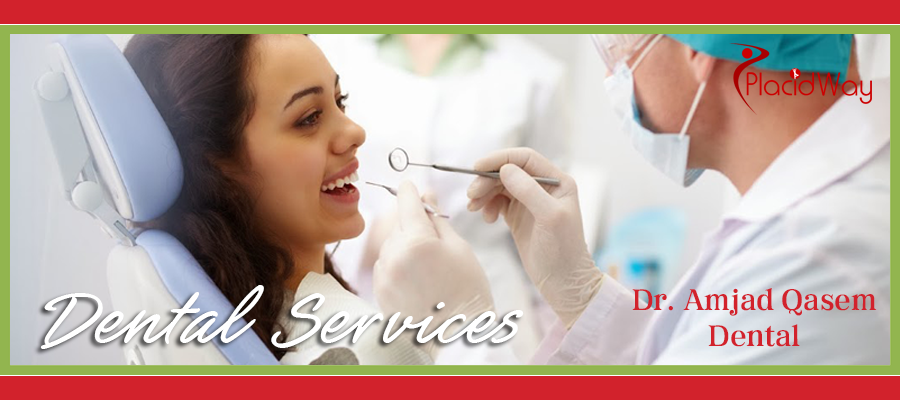 Treatments and Procedures
QasemDental offers a wide range of affordable dental treatments and procedures, including:
Braces
Dental Bridges
Dental Crowns
Dental Implants
Dental Fillings
Root Canals
Dental Veneers
Lumineers™
Know everything about QasemDental! Get in touch with us today!
---
---
Reviews
Qasem

"A highly skillful professional"
Treatment Received:
Dentist Consultation
Reviewed 26 May 2015 Review verified by phone and email.
"I contacted Dr. Amjad from Australia where I live through the what clinic website in March and received a prompt response from Dr. Amjad with a treatment plan and a cost estimate. In April, I met Dr. Amjad in Amman. He was confident and calm. The treatment was completed in three sessions and much less than the quoted price because he decided the root canal treatment is not necessary.
Dr. Amjad came across as a highly skillful professional with a wealth of experience. He listened carefully to my concerns and acted in a very professional and friendly manner. He insisted on seeing me before my departure,at no cost, to ensure I had no problems and that all was well.
I am very glad for trusting Dr. Amjad with my treatment and have no hesitation in recommending him. In fact, just before I left Amman, I introduced my sister to him to carry on a root canal and filings treatment which is now in progress to my and her satisfaction. Thank you Dr. Amjad.
The clinic itself is in a quite area of the upmarket Shmeisani area not far from Jordan Hospital. The clinic is immaculate and equipped with high tech machines. In my treatment, Dr. Amjad used a camera instead of the old/conventional silicon mould to get an exact measurement for the inlay which he later installed for me."

Facebook

Feb 16 2017

Zeinat

My experience with Dr. Daniel at Dr. Qasim Center ,, It was a very comfortable experience ,,
Dealing with the doctor,, has been successful for many years,, and Dr. Daniel,, has distinguished the center (her precision of work,, her knowledge,, speed in work and comfortable dealing with patients,,) all respect and appreciation

Facebook

Jul 14 2019

bilal

Perfect dentist

Google

Mar 22 2019
---
Dentistry Related Packages
Dentistry Related Experiences