Obesity Free
Weight Loss Surgery Procedures, Cost, Doctors, Clinic, Advantages, Monterrey, Mexico

PIEDRAS NEGRAS MEDICAL CENTER Rodrigo Andalon St # 112 Suite C Colonia Burocratas Piedras Negras, Coahuila, Mexico, DOCTORS HOSPITAL Ecuador # 2331 Col. Balcones de Galerias Monterrey, N.L. , Monterrey,Piedras Negras, Mexico

Specialty:

Obesity/Bariatric Surgery, Weight Loss Program

Focus Area:

Weight Loss Surgery Clinic in Monterrey, Mexico | Obesity Free Clinic | Bariatric Surgery | Weight Loss Surgery | Gastric Sleeve | Lap Band | Gastric Bypass
Obesity Free Profile Overview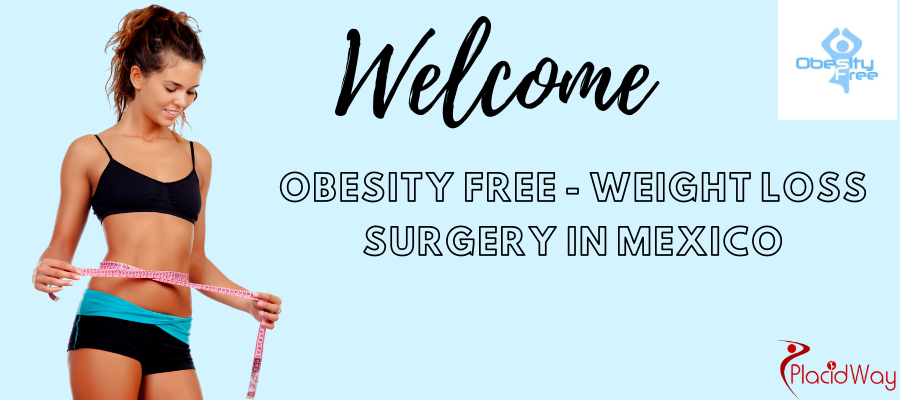 Obesity Free Clinic - Weight Loss Surgery in Mexico
If you are looking for a top quality care at an affordable price for your weight loss surgery in Mexico, you have come to the right place.
At Obesity Free Clinic you can be sure that we will do everything possible to offer you the top quality of care during the entire process of this life-changing decision of weight loss surgery in Mexico. We imagine you have had hard time with your weight for years. Unfortunately, you might not have found an effective, long-lasting, non-surgical answer to your problem. The good news is that there is a way, one that will certainly improve your life and health, and this is Weight Loss Surgery.
Criteria for Laparoscopic Weight Loss Surgery
According to the National Institutes of Health (NIH), patients are candidates for weight loss surgery if they meet all or most of the following criteria:
Morbidly obese (BMI > 40 kg/m2 or BMI ≥ 35 kg/m2 with co-morbidities)

Have failed to lose weight with diet and exercise

Are prepared to change their eating habits

Do not abuse any substances (drugs/alcohol)

Are well educated on their treatment options

Are in good mental health

Have acceptable operative risks
Cost of Weight Loss Surgery in Mexico
| | |
| --- | --- |
| Procedure | Cost |
| Gastric Sleeve | $5,900 - $8,500 |
| Lap Band Surgery | $5,200 |
For latest information about the Cost of Weight Loss Surgery in Mexico, you can directly contact the Customer Representative of Obesity Free.

Gastric Sleeve Surgery in Mexico:
Sleeve gastrectomy is a type of bariatric surgery that drastically reduces the size of the stomach. Also known as a vertical gastrectomy, a partial gastrectomy, gastric reduction, as well as a greater curvature gastrectomy, this type of procedure is offered as an alternative to gastric bypass surgeries and encourages weight-loss in obese patients by removing up to 85% of the stomach. This is a permanent procedure that cannot be reversed, but one that is providing a growing number of obese patients from around the world with life-saving benefits.
Lap Band Surgery in Mexico:
Since its introduction in 2001 to the United States and 1993 to Europe and Australia, the Lap-band is one of the most popular forms of bariatric surgery. The Lap band helps patients suffering with obesity and weight related medical disorders to lose weight by restricting how much food could be eaten over the course of a day, resulting in weight loss. With this simple surgical technique, a smaller stomach becomes full sooner and empties into the intestines at a slower rate, promoting slower digestion. Over time, the band can be adjusted according to patient's desires, or if they have met their goal weight.
At Obesity Free, we understand that for most patients, the decision to undergo bariatric surgery has been a long time coming, and we work with patients to make their entire treatment process as safe as possible.
RELIABLE CARE

NO HIDDEN FEES

EXPERIENCED SURGEON

NO DELAYS

BEST LOCATIONS
Dr . Gabriel Rosales and his staff are extremely qualified surgeons, board accredited and in continued training programs. They really are in persistent mission of trying to learn the recent advancements in minimal invasive surgery in an effort to offer patients the top health care achievable. He is also member of several well-recognized associations.
Despite the fact that Dr. Rosales prefers performing general surgery procedures, during the past five years he has focused especially on performing weight loss surgical procedure since these types of operations, particularly the laparoscopic Gastric Sleeve as well as Gastric Band have shown to him that it must be likely that you can offer patients a life changing experience, something that is not always achievable with general surgery.

The satisfaction, joy and happiness of individuals are an essential element in every physician's practice, and weight loss surgery treatment offers Dr. Rosales this fantastic as well as gratifying prospect. After dedicating the majority of his practice lately to bariatric surgery treatment, Dr. Rosales has a mixed experience of executing as well as helping out in over 1500 bariatric procedures.
School of Medicine Universidad De Monterrey (UDEM) in Monterrey, Mexico which is accredited by the University Commission: SACS (Southern Association of Colleges and Schools) in the U.S.

Medical Internship in Mexican Institute of Social Security (IMSS), "General and Family Medicine Hospital # 2"

General Surgery Residency Christus Muguerza High Specialty Hospital. Monterrey, Mexico.

Advanced Laparoscopy Christus Muguerza High Specialty Hospital, Monterrey, Mexico.

Member of the Mexican Association of Endoscopic Surgery, AMCE

Board Certified Surgeon

American College of Surgeons (ACS) Certified for Advanced Trauma and Life Support
Member of medical staff as a General and Bariatric Laparoscopic Surgeon in various hospitals accredited by the Joint Commission in the U.S. such as:
Christus Muguerza High Specialty Hospital, Christus Muguerza South Hospital and Christus Muguerza Conchita Hospital

San Jose Tec de Monterrey Hospital

OCA Hospital
Other Accomplishments
95% Fluent English (TOEFL Approved)

Chief Resident in his General and Advanced Laparoscopic Surgical Training

Recognitions and Courses in Mexico and the U.S.
It's time to get the best medical services of Weight Loss Surgery in Mexico by Obesity Free. You will get wholehearted medical services from experienced medical staff, competent surgeons, and the most complete facilities that exceed your expectations. For more information, please click the button below:

---
Obesity Free Awards & Recognitions
---
---
Obesity/Bariatric-Surgery Related Packages
Obesity/Bariatric-Surgery Related Experiences