Knee Surgery in Italy Patient Testimonial
Location:
Viale Fratelli Rosselli 62, Florence,Umbertide, Italy
Focus Area:
Knee Surgery Testimonial | Placid Way Patient Story | Patient Testimonial Knee Surgery | Rheumatoid arthritis | Total Knee Replacement Surgery | Knee Replacement Surgery | Knee Replacement Surgeons | Knee Replacement Surgery Clinic |
PlacidWay Patient Story, Knee Surgery Testimonial, Rheumatoid arthritis in Italy, Bilateral Total Knee Replacement Surgery in Italy, Knee Replacement Surgery in Europe, Knee Replacement Surgeons in Italy, Knee Replacement Surgery Clinic in Italy&a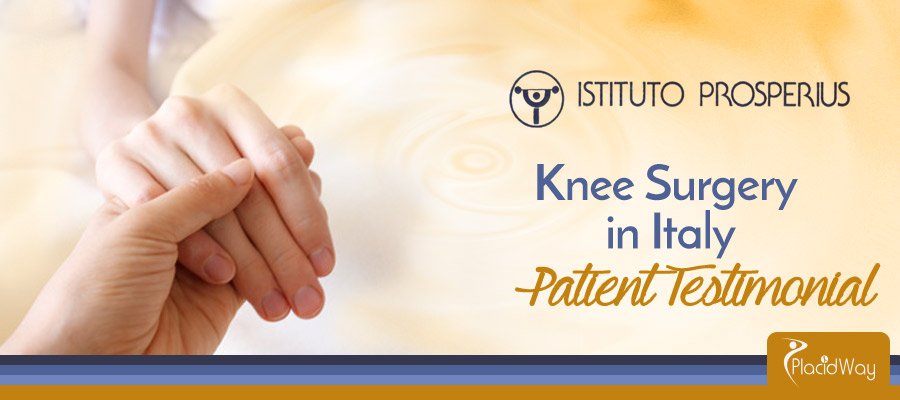 My name is Jaza, I'm 55 and I come from Iraq. Like many men, I consider myself the "grin and bear it" type of guy. When I encounter pain, I'm more likely to tough it out rather than complain about it. So, when the knee pain of osteoarthritis began a few years years ago, I just "worked through it," ignoring it at first, and then compensating for it.
For as long as I could, I kept up many of my activities, which included even football playing and daily gardening. Also my jobs included lots of physical labor.
Needless to say, I lead an active life. So I wasn't about to let osteoarthritis take control. When it first started, knee pain was bearable, so I didn't take it very serious.
However, as the pain progressed, I had to start giving up the things I truly enjoyed. Every physical activity was just too painful. It was terrible, as I had an active life. The pain was difficult even when I was just standing, without involving physical activity. And things kept getting worse. Doctors told me I was a good candidate for knee replacement surgery, but I kept putting it off, waiting for something new to come out.
I began getting injections in my knees to help ease the pain. They worked for a time, and I wished I could continue with them, but the doctor told me that my knees were too badly worn; so I needed pretty urgent a knee-replacement surgery.
So I started looking for a place that could help me. Talking with other patients, I heard about this website, PlacidWay, that offered medical tourism packages for people looking for medical procedures abroad. Truth to be told, I was a bit skeptical at first, but I figured it wouldn't hurt to ask for more information. So I called them up and started discussing with one of their patient coordinators. I was more than happy to find out that they knew several places that could help me because I was searching for medical centers in Europe, especially in Poland and Italy.
After comparing the many options they offered, I went with an Italian center, at the Prosperius Institute, in Florence. With great help from PlacidWay everything was set for me: they arranged the flight, they arranged the drive to and from the airports, and they even helped me contact the doctor that was going to do the knee surgery procedure.
Therefore, I was admitted for the surgery and postoperative care, which included early rehabilitation. The price for the knee surgery and the rehabilitation period was around 12.000 euros.
My surgery went very well. The doctor chose a special implant called a rotating platform knee designed to both bend and rotate which accommodates for more normal movement and helps reduce implant wear.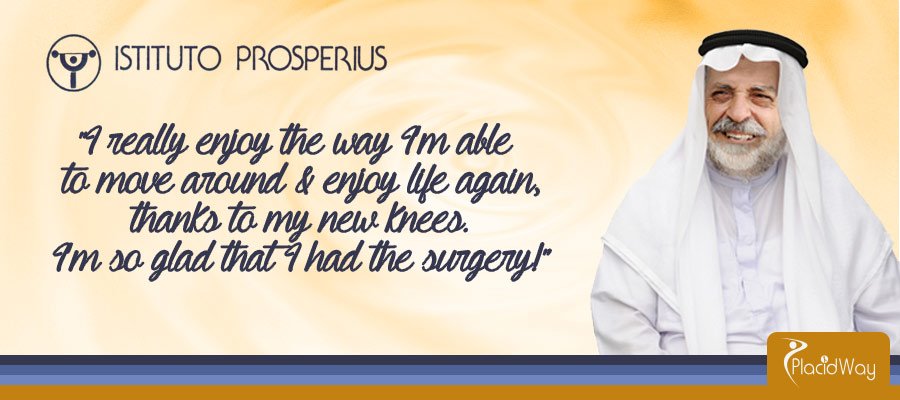 And after a short stay in the hospital, I was admitted to the rehabilitation hospital, Istituto Prosperius Tiberino in Umbertide, for a full month of intensive rehabilitation and attentive follow-up medical care. All these cost me 600 euros per day, including room and meals for me and my wife.
Life has been great for me since surgery. It has done a world of good for me. Finally I am able to keep up with the labor needed everyday. I really enjoy the way I'm able to move around and enjoy life again, thanks to my new knees. I'm so glad that I had the surgery! And my wife is really thankful that we could revive our much beloved daily walks.

---
Request your Free Quote
×