Testimonial Ligament surgery in Turan Turan Health Group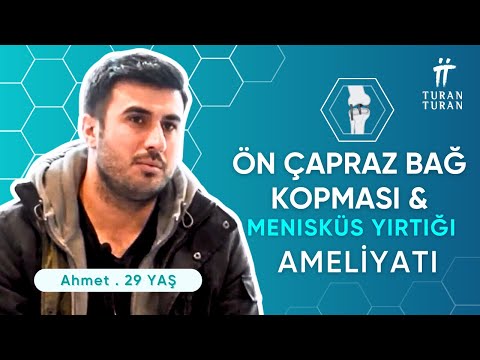 Ligament surgery | Bursa | Turkey | Turan Turan Health Group | Knee surgery
Category:
Patient Testimonial
Procedure:
General Medicine
Source:
Check below Video of Ligament surgery in Bursa, Turkey. Find best and affordable Ligament surgery at Turan Turan Health Group. Ahmet, who underwent anterior cruciate ligament surgery and meniscus repair, explained his postoperative remarks.
"As a result of a knee sprain in an astroturf race, there was a sound that sounded like a sudden sound. Then I injured my leg, I could barely smell coffee in my leg. When I woke up the next day, my legs began to swell in several parts and I could not move them.… I was wondering if it wouldn't go away on its own, I thought it was like the previous knees, but no. ... Well, I'm a person who loves sports so much, I don't think I can do it after surgery. They say around me, you can't play ball, you can't play sports like before. When I spoke to Kayhan's teacher, she was very supportive. He said that after physical therapy, after strengthening the feet, you can play with the ball as before and everything will return to normal. He explained it to me very well, and after being satisfied, I decided to have surgery after the question marks disappeared in my head. I underwent anterior cruciate ligament rupture and meniscus rupture and was released the same day. After my release, I could not step on my foot for 5 weeks, my doctor said that I could not step on my foot evenly. 4.5 months ago I had no problem walking, my print is now solid and reliable. Going up or down the stairs, nice compared to my situation before surgery.... I want to thank those who recommended my teacher Kayan, those who helped me with the operation here, and my teacher Kayhan."
Anterior cruciate ligament rupture is one of the most common problems, accounting for almost half of a knee injury. Anterior cruciate ligament; It is one of the 4 most important knee ligaments that controls the forward movement of the knee. Symptoms such as hearing banging or cracking in the knee (at the time of the injury), swelling around the knee (immediately or after several hours), difficulty and pain in placing the load on the knee, restriction of the knee movements, feeling of space and knee instability.
If you have experienced the aforementioned anterior cruciate ligament rupture and symptoms of meniscus rupture, you can contact us.
Why choose

Ligament surgery

in

Bursa, Turkey by Turan Turan Health Group
For Knee surgery or related sergery like ligament surgery Turan Tutan Health Group is one of the best surgerical centre in turkey the Turan Turan Health Group provides advanced technologies (robotic surgery, O-Arm spine surgery visualization, stem cells, microsurgery, etc.) that reduce error rates for surgeons and specialists in faster and less painful recovery after surgery. Our doctors, who use the technological methods used in surgery, have a culture of continuous medical education. They excel in medical practice and have experience in more than 1000 robotic operations. Our highly trained and experienced quality-oriented doctors support our doctors very well. The basis of our services is scientific discipline, optimal equipment and cooperation of qualified staff. Our orthopedic specializations are; Robotic knee replacement, stem cell therapy, arthroplasty, arthroscopy, sports surgery, hand surgery, foot and ankle surgery, spine surgery, pediatric orthopedics, orthopedic trauma surgery and orthopedic oncology.
We founded our Robotic Center in 2016, and since then we have performed more than 1,000 successful knee and hip endoprostheses. Our virtual preoperative surgical planning allows patients to lead an active lifestyle, a shorter recovery time and a more natural sense of cohesion. As the first team to successfully use these new techniques in Turkey, we are proud to be able to offer advanced technology in patient-centered care for joint replacement surgery at an affordable price.
How to Book Ligament surgery in Bursa, Turkey
Turkey is one of the Best place for Ligament surgery or any kind of medical or surgrical procedures. We are here for you if you need any kind of information. Call us or Contact us by pressing the button below for furthur information:

Ligament surgery in Bursa, Turkey by Turan Turan Health Group
Keywords: Ligament surgery, Bursa, Turkey, Turan Turan Health Group