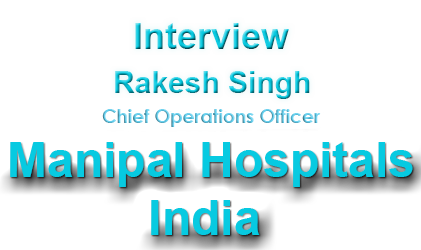 Rakesh Singh COO Manipal Hospitals India Interview
Rakesh Singh is Chief Operating Officer at Manipal Hospitals India, a medical tourism hotspot, and he was kind to answer a few questions about India?s famous hospital chain.
Manipal Hospitals India Facilities and Services
Manipal Health Enterprises provides healthcare from the smallest to the most complex medical problems.
This state-of-the-art facility is renowned for its pioneering work in the Indian healthcare industry that has been developing for more than 4 decades.
National and international patients from all over the world have been treated here.
Driven by clinical excellence, patient centricity and ethical practices, Manipal Hospitals people and machines work in a symbiosis to provide ground-breaking medical services and technologies in this new age of healthcare.
Within the walls of Manipal?s
16 Hospitals

9 Primary Care Clinics and

55 Community Health Programs, the patient will find quaternary, tertiary, secondary and primary healthcare services.  
This is an opportunity to learn more on the India?s top medical professionals behind the Indian medical tourism facilities.
Interview Questions for Chief Operating Officer with Answers
PlacidWay: To being with, which is your centers? most sought after treatment/therapy and why?
R. Singh, Manipal COO: Manipal Hospital has been a landmark destination for not just domestic patients but also for International Medical value travelers, who are seeking healthcare abroad, Manipal Hospital receives around 4500 international patients a year from across the globe.
Manipal Hospital is a quaternary care hospital with over 14 super specialties and 56 specialties.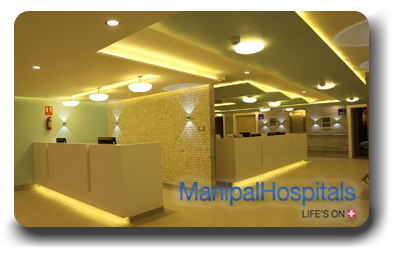 We are proud to say we cover around 98 percent of worlds? morbidity causes. To name a few we get quite a number of international patients for high end procedures like Bone Marrow Transplantations, Liver transplantations, Kidney Transplantation, Spinal surgeries, cardiac surgeries (Especially Aortic Valve Repair). Our other sought after procedures include Spine Surgeries, Neurosurgeries, Bariatric surgeries, Cardio Thoracic and Hip/Knee Replacements.
The clinical outcomes, success rates, and our doctors? international affiliations with advanced technology make us the preferred choice of international patients.
Manipal history is built and proven on the three pillars:
PlacidWay: Can you please mention how is your company perceived domestically as well as internationally in general?
R. Singh, Manipal COO: Manipal is well established and a preferred choice for patient centric care, ethical practice and clinical outcomes.
Our continuous strive on Quality excellence is recognized by ISO, NABH, NABL. Also to mention a few recognitions below:
The Consumer Voice surveyed and rated Manipal Hospital, Bangalore as the Most Patient Recommended Hospital in India.
Manipal  Hospital,  Bangalore  was  adjudged  Best  Hospital  in  Bangalore  by  "The  Week" magazine, consecutively for the past nine years; 2004, 2005, 2006, 2007, 2008, 2009, 2010 2011 and 2012.

PlacidWay: How do the patients you cater to benefit when choosing your facility?
R. Singh, Manipal COO: Manipal Hospitals, being quaternary care hospitals, add value with the availability of all specialties under one hospital, eliminating the need for referrals.
The clinical outcomes of Manipal Hospitals are on par with international standards.
Manipal Hospitals have performed and proved its expertise though the most complex surgeries that raised the milestone in the Indian healthcare realm.

PlacidWay: Today, Medical Tourism has become highly competitive. How do you set your business apart?
R. Singh, Manipal COO: We set our business apart through patient centric care, advanced technologies, ethical practice, clinical outcomes and success rates at international standards.

PlacidWay: What are the challenges and risks involved in your business specifically from Medical Tourism perspective?
R. Singh, Manipal COO: Given the diversity of patients we get from across the globe, we address their cultural and individual needs to make them feel at home.
It is a continuous process we are looking at, there are players who have price differentiators but the most important factors, in making a decision when choosing a hospital are the outcome, clinical expertise, technology being used and success rates.
We feel these set us apart from most of the hospitals.

PlacidWay: What kind of additional services do you offer and what should the patient pay for (not included in the stay ? meals, transport, all-inclusive).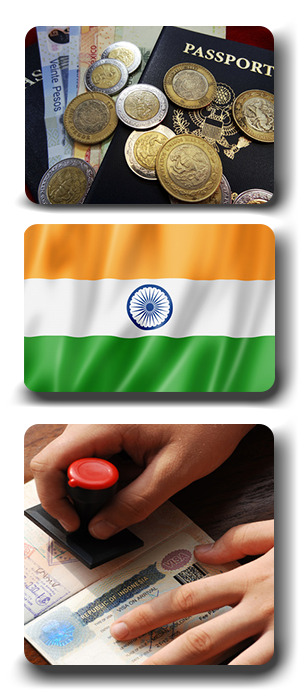 R. Singh, Manipal COO: We have Manipal International Patient Care Center (One Stop Service Point) to address all the needs of our international patients.
We provide assistance in the following areas:
Pre Arrival:
Appointment assistance

Quote assistance

Invitation letter assistance

Foreign remittance assistance
Arrival:
Airport Pickup/drop-off

Translation service

Forex Service

Local sim card and internet assistance

Legal assistance

Accommodation assistance

Visa extension service

Insurance liaison.
Post arrival:
Follow up reminders

Consultations
Our Quotes only include medical treatment.

PlacidWay: A few words on your clientele ? is it more of insurance, corporate clients (employer sponsored), or more individuals?
R. Singh, Manipal COO: Most of our clients are self-funded. Around 20% of our patients are government and employer funded.

PlacidWay: What do you think the patients should know when opting to travel for health to your facility?
R. Singh, Manipal COO: The patients travelling for care to Manipal Hospitals should know that we are a high-standard facility, therefore:
 
Quality of the treatment will never be compromised

Clinical outcomes are of international standards

The case manager assigned to them will be with them every step during their stay with us.


PlacidWay: Finally, a few words on your most recent developments/therapies/services unique to your organization.
R. Singh, Manipal COO: Robotic Assisted Surgery in the field of Oncology, Urology and Gynecology and Bone Marrow Transplantation are the most recent services available at Manipal Hospitals.
Learn more about Manipal Hospitals India
by clicking the button below.