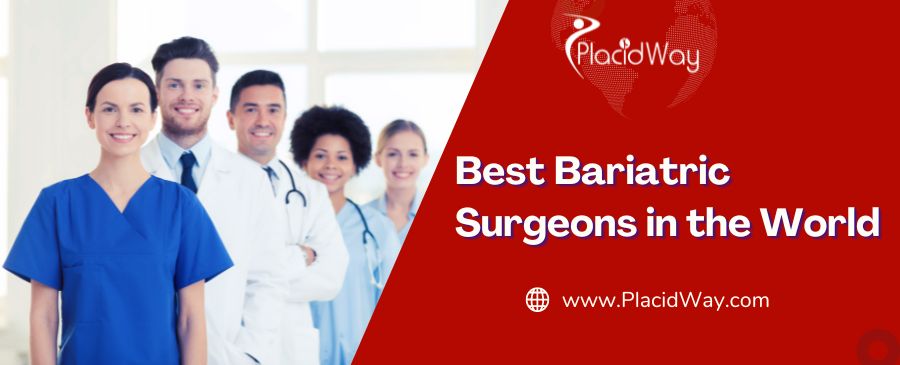 Making the decision to undergo bariatric surgery is a big one, and it's important that you are comfortable in selecting a surgeon who has the experience and skill necessary for a successful procedure. That's why we set out on a mission to identify the best bariatric surgeons in the world. Our research included an extensive review of surgeons' credentials, risk management practices, success rates with patients—we even conducted interviews with satisfied patients to get their firsthand accounts! Now, armed with this knowledge, let's take an in-depth look at these top medical professionals who have earned our trust through their dedication to excellence and outstanding patient satisfaction.
| | | |
| --- | --- | --- |
| Name | Countries | Centers |
| Murat Ustun | Turkey | Istanbul Bariatric Center |
| Dr. Marco Sarinana | Mexico | Family Hospital |
| Dr. Martin Esteban | Mexico | Sani Medical Center |
| Dr. Vinodha | India | Manipal Hospital |
| Dr. Bulent Halaclar | Turkey | Private Algomed Hospital |
| Dr. Thomas Umbach | USA | Blossom Bariatrics |
| Dr. Alberto Carlos | Mexico | CER Hospital |
| Dr. Mehmet | Turkey | Dr HE Obesity Clinic |
| Dr. Elias Garcia | Mexico | Elias Garcia Clinic |
| Dr. Girish Juneja | UAE  | Cocoona Center |
Top 10 Bariatric Surgeons in the World
1. Murat Ustun
Dr. Murat Ustun has made a commitment to every patient's well-being and safety, a goal that is also pursued by our staff and medical professionals that are at your service, this is part of the excellence equation. Dr Murat Üstün and the Istanbul Bariatric Center team perform medical procedures, including gastric bypass, sleeve gastrectomy, adjustable gastric band, and biliopancreatic diversion with duodenal switch. While performed differently, all of these procedures help patients lose weight by limiting how much food the stomach can hold as well as the patient's absorption of nutrients.
Surgeries are performed at a JCI accredited Acibadem Hospital. The Joint Commission International works to improve safety at health care facilities domestically and globally. Accreditation ensures facilities are up to date, physicians are board-certified, plans for follow-up care are in place, risks of traveling after surgery are outlined, and more.
2. Marco Sarinana
Dr. Marco Sarinana is a graduate of the UABC Faculty of Medicine in Mexicali, Mexico. His Social service internships followed in Mexicali and Ensenada. Four years of additional General Surgery training were completed at Hospital General de Zacatecas, Mexico.
In 2007, Dr. Sariñana received Advanced Laparoscopic Surgery and Bariatric Surgery training in Tijuana as well as a Fellowship in Gastric Banding and Gastric Balloon. As a continuing process of his preparation, he expanded his studies and practice to Diagnostic Endoscopy and training in all sorts of weight loss procedures.
He has performed over 1,000 Cosmetic procedures, over 2,000 weight loss surgeries, including  gastric band, gastric balloon, gastric sleeve and gastric bypass procedures. He also does high-level General Surgeries. Dr. Sariñana Gudiri has operated to more than 500 American patients, and speaks Spanish and English.
3. Dr. Martin Esteban
Dr. Martin Esteban Orduno Felix at Baja Surgery Center is highly skilled and experienced surgeon who offer a variety of weight loss surgery options, including gastric sleeve surgery, gastric bypass surgery, and lap band surgery. They use the latest techniques and technology to provide their patients with excellent care.
Dr. Felix has a passion for bariatric surgery and consistently works to deliver excellent care to his patients in Mexicali, Mexico. He strives to ensure that each patient's experience with him is positive and successful. Dr. Felix is committed to providing the highest quality of care and takes great pride in his work as a bariatric surgeon.
For those seeking bariatric surgery in Mexicali, Mexico, Dr. Martin Esteban Orduno Felix is the perfect choice. His experience and expertise in the field make him a trustworthy and knowledgeable surgeon.
4. Dr. Vinodha
Dr. Vinodha is Consultant Surgical Gastroenterologist & Bariatric Surgeon.  Got MBBS degree at Bangalore Medical College, Bangalore. and MS (General Surgery) : Bangalore Medical College, Bangalore. DNB (General Surgery): National Board Of Examinations. and  Fellowships(FRCS): Edinburgh, UK
5. Dr. Bulent Halaclar
M.D. Bulent Halaclar is a top surgeon at Private Algomed Hospital in Adana, Turkey. He has expertise in Obesity and Metabolic Surgery, Laparoscopic Surgery, Oncological and Gastrointestinol Surgery, Breast and Thyroid Surgery, and Endoscopic and Colonoscopic Procedures. This doctor is an alumni of the Atatürk University School of Medicine and part of the Turkish Surgical Association.
6. Dr. Thomas Umbach
Dr. Thomas Umbach is one of the best bariatric surgeon in US and as a bariatric professional at North Vista Hospital and Saint Rose de Lima Hospital, Dr. Umbach delivers his experience of setting up effective bariatric procedures to the Las Vegas region. He has earlier started up the laproscopic surgical weight loss system at Kaiser Permanente South San Francisco, which services all of Northern California. He after that developed a "Center of Excellence" plan in Eugene, Oregon. Further remarkable successes consist of; "America's Top Surgeon 2008," several "Who's Who" listings and being an Eagle Scout. 
Bariatrics is Dr. Umbach's Enthusiasm! His technique is 100% dedicated to assisting Las Vegas Lap Band and gastric bypass patients attain much healthier way of life. It delivers them wonderful satisfaction to notice patients get rid of their overweight and also take pleasure in the effortless happiness of life. 
7. Dr.Alberto Carlos
Dr. Alberto Carlos Rivas holds broad and renowned work insight all through being the Head of General Surgery for the Hospital General Tecate and as a General Surgeon and Medical Director for the Mexican Red Cross in Tijuana, Mexico.
Dr. Rivas acquired his four-year physician certification at the Faculty of Human Medicine of the Autonomous at the University of Nayarit. He finished a clinical entry level position at the Regional General Hospital in Tepic, Nayarit, Mexico and made his residency at the General Surgery of the National Medical Center Northwest of the Mexican Social Security Institute, where he was Chief Resident of General Surgery from 2011-2012.
8. Dr. Mehmet
Dr. Mehmet trained in general surgery at Haydarpasa Numune Educational and Research Hospital in Turkey (2013-2017).  He worked several hospitals from 2017, such as Dr. HE Obesity Clinic. His clinical interest is minimal invasiv surgery and bariatric surgery. He has publications in international and national journals. Dr. Mehmet GENÇTÜRK is a highly experienced and skilled gastric surgeon who always does his best to satisfy all of his patients' needs. He has helped numerous patients achieve their desired results through gastric surgery and other weight loss procedures.
Dr. Mehmet is highly dedicated to his work and provides each of his patients with the individualized care and attention they deserve. As a result, his patients always leave his office feeling satisfied with their experience. If you are considering gastric surgery or any other type of Weight Loss Procedure, Dr. Mehmet GENÇTÜRK is the surgeon you can trust to help you achieve your goals. Schedule a consultation with him today to learn more about what he can do for you.
9. Dr. Elias Garcia
Dr. Elias Garcia can perform three types of bariatric surgery: Gastric Bypass, Gastric Band, and Gastric Sleeve. He is one of the few surgeons in the area who is trained and experienced in all three procedures. No matter what your unique situation is, Dr. Garcia can help you find the right solution for you. Whether you're a candidate for Gastric Bypass, Gastric Band, or Gastric Sleeve, he will work with you to create a treatment plan that's perfect for you.
10. Dr. Girish Juneja
Dr. Girish Juneja got vasic laparoscopic training from Dundee Medical School, Scotland & UK, He got diploma in minimal access surgery from Strassbourg, France. Also Fellow of ACE Bariatric Surgical Center, Emmen, Netherlands. Most Procedures performed by Dr. Girish Juneja are Bariatric surgery: sleeve gastrectomy, lapband, gastric bypass, gastric balloon, Hernia, Gallstone removal, Reflux disease surgery and Thyroid surgery.
9 Questions to Ask before Choosing a Bariatric Surgeon Abroad
Obesity and bariatric surgeries have become possibly the most effective way to deal with obesity and over-weight problems. However, as every surgery, they carry certain risks with them, which is why they are not the miracle solution that many over-weight people consider them to be. A lot about the surgery depends on the surgeons themselves and how good they are.
In order to find out whether the surgeon you are about to choose to do your obesity/bariatric surgery we suggest that you ask him/her the following questions.
1. How experienced are you?
Experience of the surgeon is almost everything when it comes to surgery. It is simple – the more cases a surgeon has handled throughout their careers, the more knowledgeable they will be when it comes to various complications and conditions. However, this does not mean that you should immediately write-off the surgeons with less experience. Young surgeons today have had access to the newest technologies during their studies and are probably more apt to use them. Surgeons also have fellowship programs where they train under a fellow, more experienced surgeon, for a couple of years. If you find a young surgeon with a finished fellowship program under a well-known, highly experienced surgeon, you might want to pose some more questions to him/her before moving on.
2. Which surgery type would you recommend for me?
Not every bariatric surgery corresponds well with the overall health and obesity problems that a patient may have. A good surgeon will recognize your overall condition and recommend what he thinks is the best surgery for you. You should then consult with your dedicated physician and, if possible, with another bariatric surgeon and check whether the recommendation matches your condition. If right, the surgeon probably knows what he/she is talking about.
3. How will the recommended surgery help me lose weight?
Losing weight is not just a simple matter of having a surgery and then magically losing weight. In fact, the surgery is probably just a first step towards it. Before deciding, you have to know specifically how that surgery type will help you lose weight. Will it affect your appetite, your digestion? You will not immediately lose weight, but the point is to know how the surgery will affect you, so that you can focus your further efforts on maximizing the efficiency of the surgery.
4. What resources do you have at your disposal?
It is important to note whether the surgeon has hospital privileges for the patients. Some surgeons operate in private clinics or outpatient medical facilities, and they don't have inherent hospital privileges, meaning that any complications will have to be dealt with in the emergency care, which, depending on the country, is rarely a good thing. Also, having hospital privileges helps with post-op recovery.
5. What are your complication rates?
Surgeries always come with a risk of complications. If a surgeon guarantees you 100% success rate without any complications, that surgeon is either inexperienced or lying. Either way, you should stay away. Depending on the procedure, complication rates may vary. Gastric bypass serious perioperative complications are at 3.6%, sleeve gastrectomy at 2.2%, and lap band surgery at 0.9%, according to a study done in 2010. The surgeon you choose should have complication rates near or below these figures.
6. Do you have pre- and post-op care?
Preparing for and recovering from the surgery should also be of both yours and your surgeon's concern. You should be informed what to do and what not to do before the surgery, and you should probably spend a day in the hospital, with nurses and the surgeon preparing you for it. When it comes to recovery, if the surgery is laparoscopic (as they mostly are), it takes about 2 or 3 days of hospital stay and 4 to 5 weeks of outpatient recovery. The 3 days of primary recovery are vital, as you have to have the surgeon monitor it to see whether there are any complications. Also, not all surgeons have a habit of visiting their patients after the operation. For all of these reasons, it is important to choose a surgeon with both pre- and post-op care plan.
7. Could the surgery affect my other health problems?
Long-standing obesity can cause a plethora of other health problems, like increased blood pressure, risk of stroke and heart attack, diabetes, etc. Dealing with obesity and losing weight can help with these problems, as well, as the underlying cause of the problems will be removed. However, sometimes bariatric surgeries can have detrimental effects to overall health, due to other health conditions. Surgeons should know when this will be the case, and they should advise you against a surgery type that might impact your health in a negative way.
8. Are there certain foods that I won't be able to eat after the surgery?
It is highly likely that you will have to alter your dietary habits before and after the surgery to allow your stomach the time to prepare for and heal from the surgery. Some surgery types, however, might have a longer impact on your diet and you might have to change some habits permanently. The surgeon should know all about this and tell you which options demand which dietary "sacrifices".
9. How likely it is that I'll regain weight after the surgery?
Every surgery type carries with it a risk that the patient will regain weight after some time has passed. This has little to do with the surgeries themselves and more with the patients and their willingness to follow the instructions. However, depending on the surgery type, some have higher chances of this happening and some have lower chances. A quality surgeon should be able to explain to you the difference between the various surgery types and explain what you will need to do to minimize the risk of regaining weight.
Opting for an obesity/bariatric surgery is usually the last step in the struggle to lose weight and it means that all other attempts at it have failed. They carry certain risks with them, which is why you should be very careful about choosing a surgeon to perform the surgery on you. When considering a surgery abroad, you should be even more cautious and make sure that you are completely informed about everything related to the surgery. Posing questions to the surgeon before choosing serves a double purpose: to gain more information and to test the surgeon and see whether he is the right one. If you need any further help on this matter, we would be more than glad to assist you in any way we can.
Here at PlacidWay, we are at your disposal if you need any help or have any questions regarding obesity/bariatric surgery, so do not hesitate to contact us!