Gastric Sleeve Package in Tijuana, Mexico by Dr. Maytorena
Package price starting from:
$4600
Treatment:
Obesity/Bariatric Surgery, Sleeve Gastrectomy
Location:
MedSuites-New City Medical Plaza Ave. Paseo del Centenario 9580 Piso 25, Zona Urbana Rio Tijuana Tijuana, B.C., Mexico
Focus Area:
Dr Jorge Maytorena | Tijuana | Mexico | Sleeve Gastrectomy
---
Affordable Sleeve Gastrectomy Surgery in Tijuana, Mexico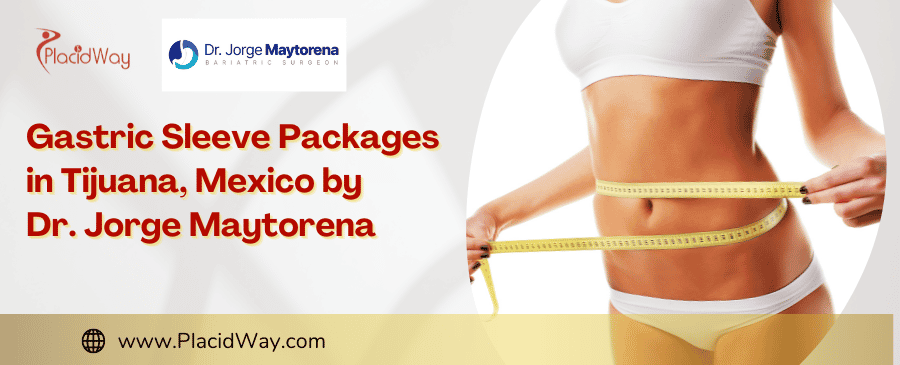 Obesity is a growing health concern worldwide, affecting millions of people. For those who have struggled with their weight for years and have tried everything, including diet and exercise, gastric sleeve surgery can be an effective solution. Dr. Jorge Maytorena is a renowned bariatric surgeon in Tijuana, Mexico, who offers affordable gastric sleeve packages for those seeking a solution to their weight problem. Check our package details below to learn more:
You can get gastric sleeve surgery packages in Tijuana, Mexico by Dr. Jorge Maytorena with the price starts at: $4,600. Check our price list table below to learn more:
| | |
| --- | --- |
| City, Country | Cost in USD |
| | |
| | |
| | |
Note: price may change and vary depends on complexity of procedures and patient condition. Click FREE QUOTE button below for more information:

Affordable prices: One of the biggest advantages of getting gastric sleeve surgery in Tijuana is the cost. The prices for weight loss surgeries in Tijuana are significantly lower than in the United States, making it a popular destination for medical tourism.
Experienced Surgeons: Dr. Jorge Maytorena is a highly experienced bariatric surgeon, having performed over 6,000 successful surgeries. He is renowned for his expertise in the field and has helped many patients achieve their weight loss goals.
State-of-the-art Facilities: Dr. Maytorena's clinic is equipped with state-of-the-art facilities, including a modern operating room and comfortable patient rooms.
Short Wait Times: Unlike other countries where there are long wait times for bariatric surgery, in Tijuana, the wait times are much shorter. Patients can usually have their surgery within a few weeks of booking their appointment.
Easy Access: Tijuana is located just across the border from San Diego, making it easy to travel to and from the United States. Patients can fly in for their surgery and then return home the next day or stay in Tijuana for a few days to recover.
Before and After Images for Bariatric Surgery in Tijuana, Mexico at Dr. Jorge Maytorena Clinic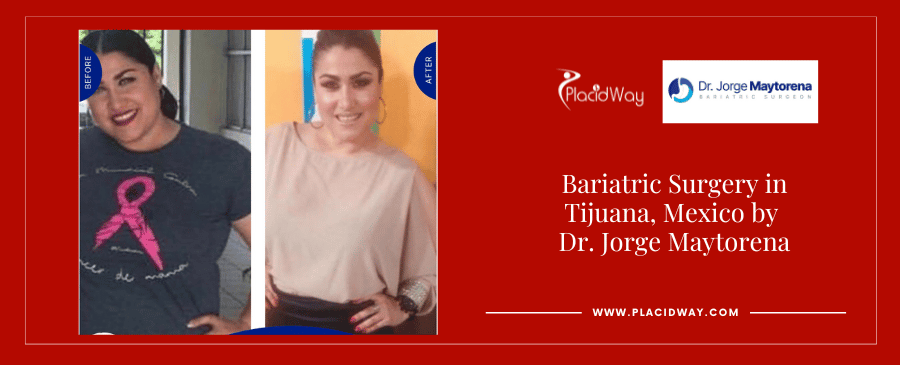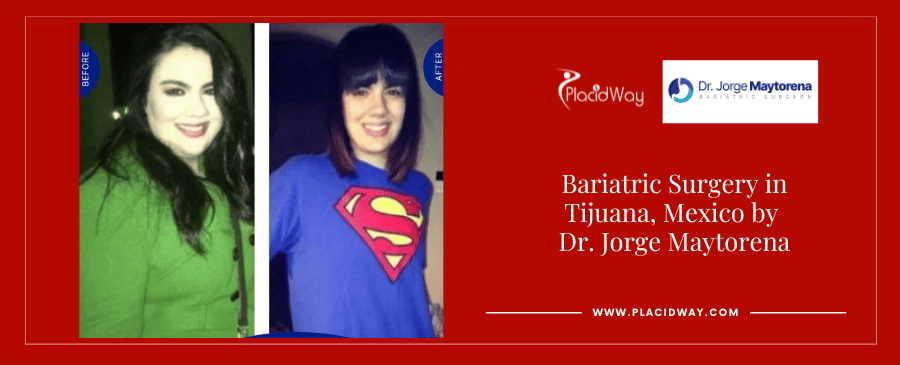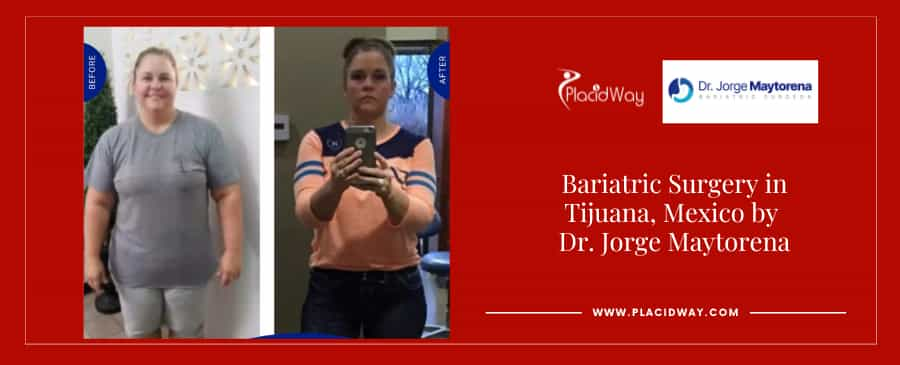 Gastric Sleeve Surgery: The package includes the cost of the surgery itself, including anesthesia and surgeon fees.
Medical Consultations: Patients will have access to pre and post-operative consultations with Dr. Maytorena to discuss any questions or concerns they may have.
Hospital Stay: The package includes a hospital stay of 2 to 3 nights, depending on the patient's recovery.
Ground Transportation: Patients will be provided with transportation to and from the airport and the hospital.
Nutritional Support: Patients will receive nutritional counseling before and after the surgery to help them adjust to their new diet and lifestyle.
Note: Only for gastric sleeve candidates, with BMC less than 40.
Airfare and hotel accommodations are not included in the packages.

Any complications or additional procedures required during or after the surgery will be billed separately.

Medications and supplements needed after the surgery are not included in the package.

Any additional diagnostic tests or lab work required before or after the surgery will be billed separately.

Any pre-existing medical conditions that require additional treatment may not be covered under the package.
Gastric Sleeve Surgery Pre-Op Tests:
Complete blood count (CBC)

Comprehensive metabolic panel

Electrocardiogram (EKG)

Upper endoscopy

Pulmonary function test
Board Certified Bariatric Surgeon in Tijuana, Mexico
 

Graduated from the UABC, Faculty of Medicine at Mexicali, Baja California, Mexico (1994-1999).

Intership at IMSS Mexicali (1999-2000). Advanced Laparoscopic Training in the Mexican Society of  Endoscopic surgery at Tijuana, Baja California (2006).

Sleeve gastrectomy Training at the Mexican College of Metabolic and Obesity. Fellowship in Gastric Banding by inamed Lap Band.

Allergan (inamed) Certified surgeon.

Gastric Bypass and Metabolic Surgery Fellowship in the San Camilo Hospital at Sao Paulo, Brazil.

Member of the College of General surgeons at Mexicali, Baja California

Certified by the Mexican Board of General surgeons.
Why Choose Bariatric Surgery in Tijuana, Mexico:
Choosing to have gastric sleeve surgery in Tijuana with Dr. Jorge Maytorena offers a number of benefits. In addition to the lower costs and state-of-the-art facilities, patients can also enjoy the beautiful weather and scenery of Tijuana. The city is known for its rich culture and history, and there are plenty of attractions and activities for patients to enjoy while they recover.
Q: What is gastric sleeve surgery?
A: Gastric sleeve surgery is a weight loss surgery that involves removing a portion of the stomach, leaving behind a sleeve-like structure. This reduces the size of the stomach and limits the amount of food that can be eaten, leading to weight loss.
Q: What is the success rate of gastric sleeve surgery in Tijuana, Mexico?
A: The success rate of gastric sleeve surgery in Tijuana, Mexico is comparable to that of the United States, with a success rate of around 80-85%. Success is defined as losing at least 50% of excess body weight and maintaining that weight loss for at least five years.
Q: What is the recovery process like after gastric sleeve surgery in Tijuana, Mexico?
A: Recovery after gastric sleeve surgery typically takes several weeks. Patients will need to follow a strict diet and exercise regimen to ensure a successful outcome. Your surgeon will provide detailed instructions on what to eat, how to exercise, and how to care for yourself after surgery.
Q: Are there any risks associated with gastric sleeve surgery in Tijuana, Mexico?
A: As with any surgery, there are risks associated with gastric sleeve surgery. These may include bleeding, infection, blood clots, and complications with anesthesia. However, these risks can be minimized by choosing a qualified and experienced surgeon and following all post-operative instructions closely.
If you are considering gastric sleeve surgery and want to learn more about Dr. Jorge Maytorena's packages in Tijuana, Mexico, contact PlacidWay Medical Tourism. Our team can help you book your consultation with Dr. Maytorena and provide you with all the information you need to plan your medical trip for gastric sleeve in Tijuana. Take the first step towards achieving your weight loss goals and book your consultation today.

Related Experiences:
Gastric Sleeve Surgery in Tijuana, Mexico
Gastric Sleeve in Cancun, Mexico
Gastric Sleeve Surgery in Reynosa, Mexico
Gastric Sleeve Surgery in Mexicali, Mexico
Gastric Sleeve Surgery in Mexico
Gastric Sleeve Surgery in Merida, Mexico
---