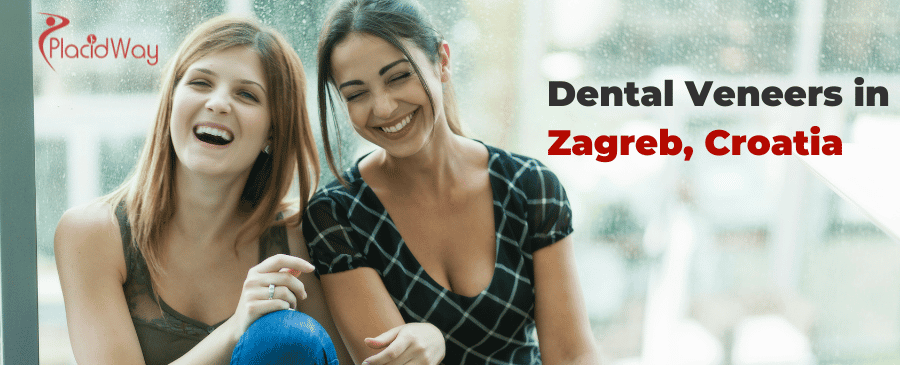 Dental Veneers are one of the most popular cosmetic dental procedures. Veneers are thin pieces of porcelain or composite that are bonded to the front of your teeth. They can be used to correct a wide variety of dental problems, including chipped teeth, stained teeth, and misshapen teeth. Dental veneers are an excellent option for anyone looking for a quick and easy way to improve their smile.
The average cost of the Dental Veneers in Zagreb, Croatia is around $370 per tooth and for full set of veneers price around $3500. The final price depends on the number of the tooth you are going to dental veneers for.
| | |
| --- | --- |
| Country | Per Unit Cost |
| Zagreb, Croatia | $370 |
| United States | $1,750 |
| Canada | $1,700 |
How Dental Veneers Procedure Performed?
The procedure for getting veneers is relatively simple. First, your dentist will take an impression of your teeth. Next, they will create a model of your teeth and mouth. Once the model is complete, they will order the veneers from a lab. When the veneers arrive, your dentist will bond them to your teeth using special adhesive. The entire process usually takes place over the course of two or three dental visits.
There are two main types of dental veneers:
Porcelain veneers are made from a thin layer of ceramic material, and they offer a natural appearance that is resistant to staining.
Composite veneers are made from a mix of plastic and glass, and they offer a more affordable option that can be completed in just one visit to your dentist.
Regardless of which type you choose, dental veneers can provide you with a beautiful and long-lasting smile.
Dental veneers are extremely thin, custom-made shells that are designed to cover the front surface of your teeth. They are made of either composite resin or porcelain, and they are often used to improve the appearance of your smile. Composite veneers are made of a tooth-colored plastic material, while porcelain veneers are made of a translucent ceramic material. Dental veneers are an extremely popular cosmetic dental treatment, and they offer a number of benefits.
First, veneers can be used to disguise misshapen or chipped teeth.

Second, they can be used to close gaps between teeth or to change the color or shape of your teeth.

Third, veneers are very durable and can last for many years with proper care. Finally, veneers can give you a beautiful, natural-looking smile.
If you are considering dental veneers, be sure to consult with a qualified cosmetic dentist to learn more about this exciting treatment option.
Best Dental Clinic in Zagreb, Croatia for Veneers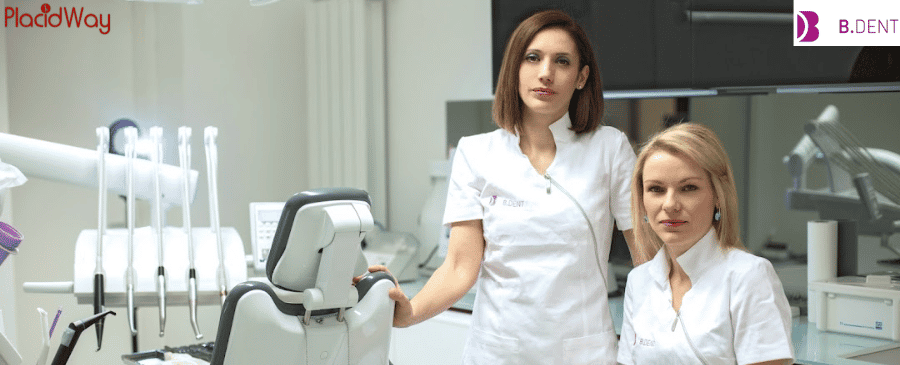 B.Dent is a renowned dental clinic that offers high-quality dental care. All patients coming here benefit from modern dental techniques and materials and a highly qualified medical team.
Top Dentist in Zagreb, Croatia for Veneers
You can find many reliable dentists for teeth veneers in Zagreb, Croatia with several years of experience and knowledge. It is always advised to see the certification and registration of the doctor and know about his expertise. It is also important to check the number of successful similar cases the doctor has handled previously.
Do your homework to prepare a list of questions that you want to ask the doctor before your Dental Veneers procedure. Here we are providing five important questions that can make it into your list:
Are you experienced, and board-certified cosmetic dentist to perform the surgery?

What are the risks and complications associated with this procedure?

What would be the itinerary for my treatment?

May I get some patient references that I could get in touch with for feedback?

Does the package include travel and accommodation expenses?
FAQs about Dental Veneers in Zagreb, Croatia
Is Dental veneers Procedure Painful?
The applying process of dental veneers is 100% pain-free. There are some people with very sensitive teeth who experience some discomfort but there is no serious pain involved with veneers.
Should I choose composite bonding or porcelain veneers?
Ask your prosthodontist which alternative is best for you. On the off chance that the required changes are minor and the teeth work appropriately, corrective holding is a suitable decision. In case teeth are separated, broken, dull, as well as the patient holds or grates their teeth, then, at that point porcelain veneers might be the favored choice.
Can i Trust the Quality of Dental Veneers in Zagreb, Croatia
The quality of dental care in Croatia is generally of a high standard. Clinics are modern, equipped with the latest technologies, such as 3D/CT scanning, CAD/CAM and digital radiography. Once you have found a clinic that you feel comfortable with, you can schedule an appointment for a consultation. During this consultation, your dentist will examine your teeth and discuss the best options for you. They will also answer any questions you may have about the veneering process. Once you have decided to go ahead with treatment, your dentist will take impressions of your teeth and send them to a laboratory where the veneers will be custom-made. The entire process usually takes about two weeks. You will then need to return to the clinic for a second appointment so that the veneers can be bonded to your teeth. After this procedure, you can enjoy your new smile!
If you wish to know more about Dental Veneers in Zagreb, Croatia, or you wish to get a FREE quote for one of the clinics represented on PlacidWay, feel free to contact us using the button below!