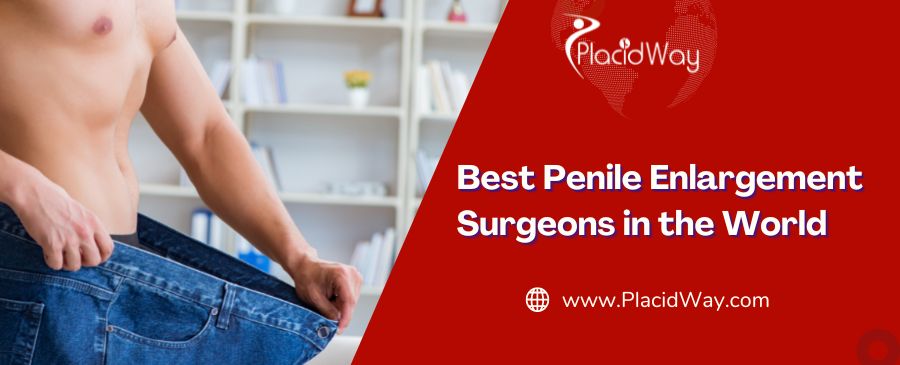 Have you been thinking of exploring the options available for penile enlargement? If so, then you are not alone; an increasing number of men around the world are choosing to pursue penis enlargement surgery in order to increase confidence and improve their overall self-image. It's important to choose the right specialist when considering such a procedure though, as it is a complex operation that requires precise skill and expertise. That is why we have compiled a list featuring some of the best known penile enlargement surgeons from around the world – meaning you can feel safe in knowing that your choice puts you in good hands!
| | | |
| --- | --- | --- |
| Name | Country | Centers |
| Dr. Hermes Pelayo | Mexico | Ciplastic |
| Dr Ali Nurhan | Turkey | Grand Clinic |
| Dr. Ernesto Javier | Mexico | Dr. Ernesto Javier Clinic |
| Dr. Mustafa Mehmet | Turkey | Hermes Clinics |
| Dr. Rohit Krishna | India | Rohit Krishna Clinic |
5 Best Penile Enlargement Surgeons in the World
1. Dr. Hermes Pelayo
When it comes to choosing a highly-trained and experienced specialist for penile enlargement in Mexico, there is no better choice than Dr. Hermes Pelayo. With his state-of-the-art facilities and advanced techniques, patients can trust and feel reassured that they are getting the highest quality care possible. His specialties include Botox injection therapy and augmentation of penile parts.
Furthermore, he has conducted extensive research in this field and was an integral part of many publications on this topic. He is renowned for his compassion, knowledge and experience as well as his commitment to staying current with best practices while providing excellent patient care.
With Dr. Pelayo's expertise in safety and proven results, you can trust that you are in good hands when selecting him as your penile enlargement specialist in Mexico.
2. Dr Ali Nurhan
Dr Ali Nurhan Ozbaba is an experienced and highly regarded specialist in the field of penile enlargement surgery, based in Istanbul, Turkey. He has perfected a range of techniques to effectively increase girth or length of the penis and carries out a tailored operational plan for patients according to their facial structure and lifestyle needs. This ensures natural, excellent results with minimal risk factors.
With over 25 years' experience in the medical profession, Dr Ozbaba's credentials speak far beyond his experience in urological surgery; he also has many famous clients who are happy to attest to his surgical excellence.
On top of this, he offers exceptional aftercare services to ensure the best possible outcome post-surgery. For anyone looking for a safe and proven solution to improving penile size and shape, selecting Dr Ali Nurhan Ozbaba as your surgeon is certainly worth considering.
3. Dr. Ernesto Javier
Dr. Ernesto Javier is an experienced Mexico-based specialist in penile augmentation procedures. He brings over 15 years of experience to the table, and his skill combined with a deep understanding of the procedure has made him one of Mexico's top surgeons in this field. Patients have praised Dr. Javier for his precision, attentiveness to detail and empathetic bedside manner during the consultation and pre-operative stages of their surgery.
He is well respected not just by former patients, but also other professionals in Mexico's medical community for his attention to safety protocols and use of advanced technologies that ensure optimal results from surgery. All these qualifications make him one of the best investments for any patient looking for a safe, affordable penile augmentation procedure.
4. Dr. Mustafa Mehmet
Dr. Mustafa Mehmet is a highly sought-after doctor for penile augmentation in Turkey due to his eye-catching success rate and dedication to patient education. He takes a holistic approach to penis enlargement, meaning that each case is approached through a combination of medical and psychological factors.
Dr. Mehmet's commitment to perfection in the field has earned him a reputation as being one of the top names for penile augmentation in the country, as he always keeps up with the latest developments in the industry.
Patients report an exceptional level of care from Dr. Mehmet who, despite being a well-renowned name in the area, caters to everyone with patience and attentiveness. He makes sure that all questions are answered before proceeding with any form of treatment and educates patients about potential risks involved so that their decisions are fully informed.
Experience and expertise aside, Dr. Mustafa Mehmet's strong sense of integrity puts him far steps above other doctors providing similar services in Turkey - making him one of the best choices when it comes to penile augmentation procedures.
5. Dr. Rohit Krishna
Dr. Rohit Krishna is the best penile enlargement surgeon in the world and has decades of experience performing penile augmentation surgeries in India. He uses state-of-the-art technology and advanced techniques to ensure that patients receive the best care.
He employs an individualized approach to each patient, with full transparency when it comes to discussing procedure steps, timeline, and desired results. Dr. Krishna is also renowned for his precise craftsmanship and attention to detail, giving him the best possible results far exceeding those of other providers.
Additionally, he is highly praised by former patients for his compassionate demeanor and commitment to providing an enjoyable patient experience before, during, and after surgery.
When looking for a reputable surgeon dedicated to delivering superior services within India, you can trust in Dr. Rohit Krishna as your best choice!
Consulting the plastic surgeons will help you to understand the types of available penile augmentation, procedure and other aspects to achieve the desired goal.
Questions You Should Ask a Plastic Surgeon before Going for Penile Augmentation
When you are going to a new place for surgery like penile augmentation, you will have a lot of doubts and queries in your mind. It is very important to ask questions to the doctor and get all your doubts clear. Here is a list of ten questions that you can ask a plastic surgeon before going for a penile augmentation:
How long are you performing Penile Augmentation surgery?

Would you suggest a size best for me?

Is penile augmentation is permanent? 

Will the procedure hurt?

Can you show before and after pictures of some of your patients who went through the same penile augmentation?

Will I be able to go for intercourse?

How long of a recovery period can be expected after the surgery?

What are the complications and risks associated with the penile augmentation procedure?

Is there a risk of cancer?

What will be the options if I am not satisfied with the outcome of the surgery?
Thus, it is a great choice to go through penile augmentation. If you want to search for the best clinics, doctors and packages for penile augmentation, let PlacidWay assist you.
Please feel free to click the button below for requesting any query regarding best penile englargment surgeon in the world.