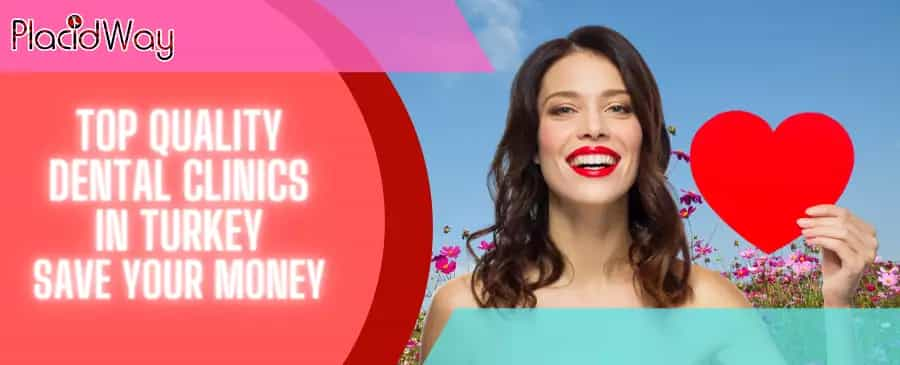 Turkey has steadily emerged as a sought-after destination for dental tourism, owing to its blend of top-notch medical expertise, state-of-the-art facilities, and competitive prices. From the historic streets of Istanbul to the serene beaches of Antalya, patients from all over the world are discovering that Turkey offers not just picturesque vacations but also impeccable dental services. Dental implants, in particular, have seen a surge in popularity given the advanced technology and skilled specialists available in the country. Whether you're considering a dental vacation or just seeking the best care for your teeth, this article will navigate you through the top 10 dental clinics in Turkey for implants in 2023. Dive in to discover where quality meets affordability.
Dental Treatments in Turkey is growing so fast nowadays, and becoming a trending destination for local and foreign tourists. When you compare Dental Clinics in Turkey with other countries, you will find a very significant difference in terms of price. Yes, if you seek for low-cost Dental Vacation, Turkey is the answer! Dental in Turkey is able to provide affordable prices, but still prioritizes high-quality of dental care.
According to the International Dental Journal, friendly atmosphere, support for health insurance, and good service are the reasons why many people choosing Dental Treatments in Turkey, with more female patients than male patients. Some popular Dental Procedures are available to be chosen by the patients, such as Dental Implants, Smile Makeover, Cosmetic Dentistry, Dental Crowns, Dental Veneers, Denture, and many more!
Here PlacidWay will compile to you excellence at a low cost 31 Top-Quality Dental Clinics in Turkey that can save you more money! Let's check it out below:
Top 10 Dental Clinics in Turkey for Implants
| Clinics | Locations |
| --- | --- |
| BHT Clinic | Istanbul, Turkey |
| WestDent Clinic Turkey | Izmir, Turkey |
| Bergedent Aesthetic Dental | Istanbul, Turkey |
| Academic Hospital | Istanbul, Turkey |
| ADATIP Hospital | Istanbul, Turkey |
| Tower Dental Clinic | Istanbul, Turkey |
| Zeynep Isilay Kaya | Istanbul, Turkey |
| Bilgi Hastanesi Hospital  | Ankara, Turkey |
| Denart Turkey Dental Centre | Antalya, Turkey |
| Side Smile Dental Clinic | Antalya, Turkey |
Details of 10 Best Dental Clinics in Turkey for Implants
1. BHT Clinic 
Set amidst the urban charm of Istanbul, BHT Clinic provides a sanctuary of advanced dental care. The clinic boasts state-of-the-art operating rooms, 3D imaging, and a comfortable recovery area. Apart from their prowess in dental implants, BHT offers expertise in orthodontics, cosmetic dentistry, and periodontal treatments. What sets them apart is their commitment to a superior patient experience, with multilingual staff and arrangements for local accommodations for international visitors.
2. WestDent Clinic
Representing the progressive spirit of Izmir, WestDent Clinic stands as a beacon of modern dentistry. The facility is equipped with cutting-edge dental labs, offers laser treatments, and employs digital dental radiography. Beyond implants, they specialize in treatments like crowns, veneers, and teeth whitening. Their emphasis on patient education ensures that every individual is well-informed about their treatment options.
3. Bergedent Aesthetic Dental
Embodying a blend of aesthetic appeal and functional dental care, Bergedent is a sought-after clinic in Istanbul. With custom dental suites, an in-house ceramist, and sedation options, Bergedent makes dental procedures smooth and seamless. While they excel in dental implants, they are also renowned for full mouth reconstructions and cosmetic dentistry.
4. Academic Hospital
Upholding the highest standards in medical care, the Academic Hospital is more than just a dental clinic. Its multidisciplinary structure is complemented by a state-of-the-art dental department. Their areas of expertise stretch from dental implants to pediatric dentistry and orthodontics. As a research-oriented facility, patients can be assured of evidence-based treatments.
5. ADATIP Hospital
A true hallmark of healthcare in Istanbul, ADATIP Hospital offers holistic medical and dental care. While serving as a comprehensive hospital, its dental wing stands out for its expertise in implantology, root canals, and cosmetic procedures. Their integrated care model ensures a holistic approach to a patient's health.
6. Tower Dental Clinic
Offering panoramic views of Istanbul, Tower Dental Clinic merges contemporary aesthetics with top-tier dental care. The clinic is equipped with the latest in dental technology, including AI-powered imaging. Their primary services range from dental implants and laser dentistry to preventive care, always focusing on minimally invasive techniques.
7. Zeynep Isilay Kaya
At Dr. Kaya's clinic Zeynep Isilay Kaya, patients are offered a blend of professional expertise and personalized care in a boutique setting. With private consultation rooms, Dr. Kaya offers services ranging from dental implants and aesthetic corrections to general dentistry. Known for her warm and hands-on approach, she ensures each patient's comfort and understanding of their treatments.
8. Bilgi Hastanesi Hospital 
A stalwart in Ankara's medical landscape, Bilgi Hastanesi offers a wide array of medical and dental services. The hospital is renowned for its state-of-the-art dental operating rooms, imaging centers, and labs. Beyond implants, they offer orthodontics and pediatric dentistry, ensuring comprehensive care for all ages.
9. Denart Turkey Dental Centre
Overlooking the tranquil shores of Antalya, Denart provides a unique blend of vacation and top-tier dental service. With a resort-like ambiance, patients can avail services from dental implants to orthodontics. The clinic's unique proposition is its treatment-vacation packages, ensuring a rejuvenating experience.
10. Side Smile Dental Clinic
As a boutique clinic in Antalya, Side Smile is recognized for its expertise and personal touch. With state-of-the-art facilities, the clinic offers a range of services from dental implants to general dentistry. Each patient's experience at Side Smile is characterized by thorough consultations and meticulous attention to detail.
Price Comparison of Dental Treatments in Turkey Vs. Other Countries
Apart from being a great place for holidays, Turkey is well-known for providing the best prices in the world for Dental Treatments. If you compare Dental Cost in UK, you can save more than 60% of your money. For information on the comparison of Dental Price in Turkey Vs. other Countries, please see the table below:
| | | | | |
| --- | --- | --- | --- | --- |
| Treatments | Turkey | UK | Georgia | USA |
| Dental Implants | $800 | $2,000 | $2,800 | $1,500 |
| All on 4 | $5,000 | $15,000 | $15,000 | $12,000 |
| Dental Veneers | $270 | $600 | $1,000 | $2,500 |
| Dental Crowns | $160 | $500 | $1,000 | $1,100 |
| Dental Bridges | $200 | $500 | $3,500 | $1,500 |
| Smile Makeover | $600 | $2,000 | $2,500 | $3,500 |
| Dentures | $750 | $1,000 | $2,000 | $1,800 |
| Orthodontics | $1,000 | $2,000 | $4,800 | $5,000 |
Note: The prices listed in the table can change at any time depending on the patient's condition. Please ask providers and follow current pricing policies.
Turkey, with its blend of ancient charm and modern medical advancements, has solidified its position as a leading destination for dental tourism. From the bustling streets of Istanbul to the serene coastal beauty of Antalya, the country offers a plethora of top-tier dental clinics that prioritize patient care, innovation, and affordability. Whether it's the sophisticated environment of BHT Clinic, the holistic approach of Academic Hospital, or the resort-like experience at Denart Turkey Dental Centre, each facility endeavors to provide exemplary services, ensuring patients leave with a smile. As always, while the allure of world-class dental care combined with the beauty of Turkey is compelling, it's imperative for individuals to conduct thorough research, seek personal testimonials, and consult directly with clinics before making any decisions. In Turkey's vibrant dental landscape, quality and care go hand in hand, promising a positive experience for all who seek its services.
Build-Up Your Smile Using 1st Class Dental Clinics in Turkey Now!
Find the best Dental Clinics in Turkey right now, and you will get very satisfying and affordable prices! In addition, there are various choices of interesting Dental Packages that will make you amazed by the prices and inclusions. Want more information? Feel free to contact us by pressing the following button:??