Think you Need a Joint Replacement? Choose Carefully
Joint Replacement in Chennai, India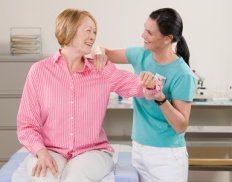 Don't think that just because you have weak or aching joints that a joint replacement procedure should be your first option. Yes, many older people are excellent candidates for shoulder, knee or hip joint replacement procedures due to the wear and tear that decades of work or play may have on joints. However, it's always best to consider your options before choosing a joint replacement procedure.
Leading expert for Joints in Chennai India
One of the leading joint replacement experts and surgeons around the globe is Dr. A.K. Venkatachalam, of the Madras Joint Replacement Center in Chennai, India. He has seen younger and younger individuals approaching him for knee joint replacement procedures than ever before. "Earlier knee replacements were common in those above 65 only, but now it has shifted to the age group of 25 to 50-year-olds," he says.

The reason for this? Younger people are injured and suffer permanent damage to their ankle, knee and hip joints due to a vigorous and active lifestyle. This is not to say that younger people shouldn't engage in physical activity, or even high-impact sports. The key to long-term health and wellness of the joints is to properly protect those joints during work and play. Pay attention to warning signs that something isn't right with a joint.

If you believe a joint has been injured, for any reason, don't let the condition go unattended. Even teenagers and those in their 20s should take the time to have x-rays or MRIs done on joints that have received an injury, or formerly injured joints that lack stability, strength or mobility. This may prevent problems in middle or older age.
Joint Replacement – When is the Best Time?
One of the most common types of orthopedic procedures performed today are joint implants and replacements. However, in some cases, joint implants that have been inserted incorrectly, or where the wrong size has been implanted, can cause individuals as much, if not more pain than the original joint injury or damage. This is especially true for younger patients undergoing a partial or complete joint replacement procedure.

Today, the Oxinium joint implants are the optimal choice for younger individuals, as they last twice as long as traditional implants. Traditional implant materials are made of stainless steel, metallic alloys or cobalt chrome, which have a lifespan of approximately 10 to 15 years, depending on activity levels.

When is the best time to consider a joint replacement procedure? Consult an experienced, certified expert in joint replacement procedures about that. The key is for both patient and doctor to determine goals and outcomes of a joint replacement surgical procedure. Range of motion, bone scans, and techniques such as arthroscopy may help determine whether an implant is the best option. Dozens of techniques and procedures may help restore function to joints before a full joint replacement should be considered.

After a patient has decided to undergo a joint replacement, make sure that the right materials are being used. Metal-on-metal implants and joint sockets in partial or full joint replacement procedures may cause more problems than they cure in the long run. Newer technologies, newer materials and newer, minimally invasive joint replacement and implant procedures offer patients today shorter healing times, less tissue and joint damage caused by the procedure, and fewer complications in the future.

Seek out experts in the field like Dr. A.K. Venkatachalam, a board certified orthopedic surgeon and experienced joint replacement surgeon who has performed procedures in not only India, but Great Britain, Belgium, and the Middle East. He specializes in partial knee and bilateral joint replacements.

Take the time to carefully research your options before jumping into a joint replacement procedure. Ask about the materials used, their longevity, and complications associated with the materials and/or partial and full joint replacement procedures.

For more information regarding joint replacement procedures, or Dr. Venkatachalam and the Madras Joint Replacement Center in India, visit PlacidWay.com, a leading medical resource and provider based in Denver, Colorado.
Please click here for more information about Joint Replacement in India.
Related Experiences:
Hip Replacement in India - Find Effective Hip Surgery Package
Knee Replacement Surgery in India - Clinics, Doctors, and Costs
All You Need to Know about Orthopedic Surgery in India
Hip Replacement in Tijuana - Improve Your Hip Health
Total Hip Replacement in Johnstown USA - For Your New Hips
Feel Better & Move Better with Knee Replacement in Mexicali
2012-04-02 / Updated on: 2022-03-29