Dr. S. V. Santpure is gaining quite a name for himself, not only in his native India, but also around the world, and with good reason. He's one of the leading joint replacement surgeons around the globe.  As a consultant orthopedic surgeon, he focuses on joint replacements, having performed more than 5,000 major orthopedic surgeries since 2002. Dr. Santpure has also completed approximately 1,000 cases each in joint replacement and deformity correction, and his experience and expertise pays off, both physically and emotionally, for his patients.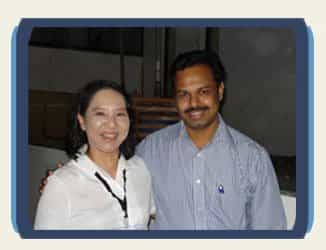 Dr. Santpure is one of a handful of surgeons in India performing total joint replacement procedures. His success relies on advanced technology and most recent operative techniques, combined by experience and capability. Today, Dr. Santpure Shivkumar offers his services as a consultant at the Kamalnayan Bajaj Hospital in Aurangabad, India, a multi-specialty hospital that focuses on joint replacement surgical procedures, diagnostic services, and laminar airflow technologies for replacement surgeries.
Dr. Santpure Fixes More than Bones – He Restores Mobility
Former patients are ecstatic about his expertise, compassion and knowledge.  A 2-year-old child from Iraq underwent pediatric deformity correction under the guidance of Dr. Santpure with great results. The little girl had been born with congenital hip dislocation and she underwent reconstructive surgery to both hips to enable her to walk. Her parents spent one-tenth the cost for the surgical procedure as they would have had to pay in the United States.
A 35-year-old man, also from Iraq, experienced severe right hip pain, ultimately diagnosed with a vascular necrosis. He required a total hip replacement, which was successfully performed with Dr. Santpure, and now he this an active, pain-free life.
Two young students, also from Iraq, experienced Dr. Santpure's expertise and compassion when they arrived at his hospital with poorly healed fractures caused by a car accident in their homeland. One suffered a fractured forearm, the other fractures in his lower leg. The fractures had been poorly fixated at their hospital. The forearm fracture of the first patient was repaired, and the second patient underwent a total knee replacement.  Both are recovering well and have regained range of motion and increased mobility.
The stories of success don't end there. A 68-year-old Saudi Arabian woman experiencing the pain and limited mobility caused by arthritis in her knees came to India to see what Dr. Santpure could do for her. She underwent a total knee replacement and is now enjoying a more independent, mobile, and pain-free lifestyle.
Dr. Santpure belongs to the Indian Orthopedic Association and is an M.S. (Ortho), Fellowship, Baltimore (USA) recipient, as well as belonging to several other orthopedic surgical associations and organizations. He's an expert in joint replacement, complex trauma surgical procedures, soft tissue reconstruction, vascular repair, and deformity correction for both pediatric and adult patients.
For more information about Dr. Santpure and his center at the Kamalnayan Bajaj Hospital in Aurangabad, India, visit PlacidWay.com, an international medical resource and provider based in Denver, Colorado.