Dobro pozhalovati v Moldovu!
Welcome to Moldova!

Moldova, officially known as the Republic of Moldova, is located in Eastern Europe, between Romania and Ukraine. The country is known as a pristine rural country, with almost 60% of the country's population living in the countryside.
Tourists coming here are amazed by the wild beauty of this region, geological monuments, monasteries, green forests, friendly people, but also by the hectic life in the big cities such as Chisinau, Tiraspol or Balti. Over the past years Moldova has also seen an increase in the medical tourists choosing this country for its affordable prices, physicians trained abroad, high-quality fertility treatments and dental procedures, as well as modern spa resorts and medical facilities.
Moldova in a snapshot:

Currency – Moldovan Leu (MDL)

Language: Romanian, Russian, Ukrainian

Climate: Moldova has a moderately continental climate, with long and warn summers and temperatures averaging 20 °C (68 °F), and dry and mild winters with January temperatures averaging −4 °C (25 °F).

Capital: Chisinau
Moldova has become independent in 1991 and is currently trying to follow the EU regulations for a future integration. The country is a member of UNICEF, WMO, United Nations, CIS, GUAM, BSEC and others. Tourists coming to this country need passports and the maximum foreign currency allowed should be equivalent with 10,000 euro in national currency.
The Republic of Moldova has a culture which brings together music, religion, architecture and cuisine, all celebrated at various festivals and events. Although a country characterized by its simplicity and hard working, religious people, Moldova is in continuous development and modernization. Special focus is placed on the development of medical infrastructure, where the number of tourists keeps increasing each year.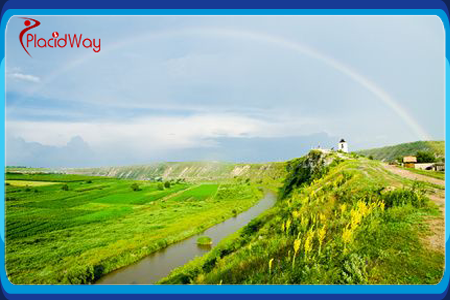 Why health tourism in Moldova?

Medical tourists choosing Moldova can enjoy affordable and high quality medical services, but also take part in relaxing activities, travel and discover new amazing places. The country has many accredited clinics and medical facilities, most of them in the dental, aesthetics, fertility and wellness fields. Moldova is also famous for its spa water treatment offered in sanatoria complexes.
Over the past years healthcare in Moldova has seen a dynamic development. Most clinics and hospitals in Chisinau have been fitted with modern equipment and the health expenditure per capita has increased from $138 in 2004 to $223 in 2011.
10 fun things to do in Moldova:

Take a walk in the Dendrarium Park in Chisinau

Visit the Old Orhei Archeological Complex in Trebujeni

Drink some wine at Weinkombinat in Cricova

Eat traditional food

Visit the Jewish Cemetery in Chisinau

Admire the old Cave Monasteries

Choose the adventure: hiking, scuba diving, biking, caving, horseback riding, kayaking

Visit the beautiful manor houses, estates and fortresses spread around Chisinau

Relax in a beauty and spa center

Drink the traditional alcoholic beverage - vodka

Although not a well-known country around the world, Moldova has a lot to offer both as a medical tourism destination or just a simple holiday choice. More and more tourists are coming here to benefit from the simple and beautiful life this country offers, but also for its affordable and quality medical care.

If you need more information about the available medical treatments in Moldova, click the button below!