Dr. Gerhard Siebenhuener, Cancer Specialist, Regenerative Medicine - Frankfurt, Germany
Dr.med. Gerhard Siebenhüner, Vilbeler Landstrasse 45b
Frankfurt, Germany
Speciality:
Cancer Specialist, Regenerative Medicine,
Degree:
Cancer Specialist
Focus Area:
Dr. Gerhard Siebenhuener | Stem Cell Therapy | Cancer Treatment | Alternative Medicine | Regenerative Medicine | German International Clinic | Frankfurt, Germany
---
About - Dr. Gerhard Siebenhuener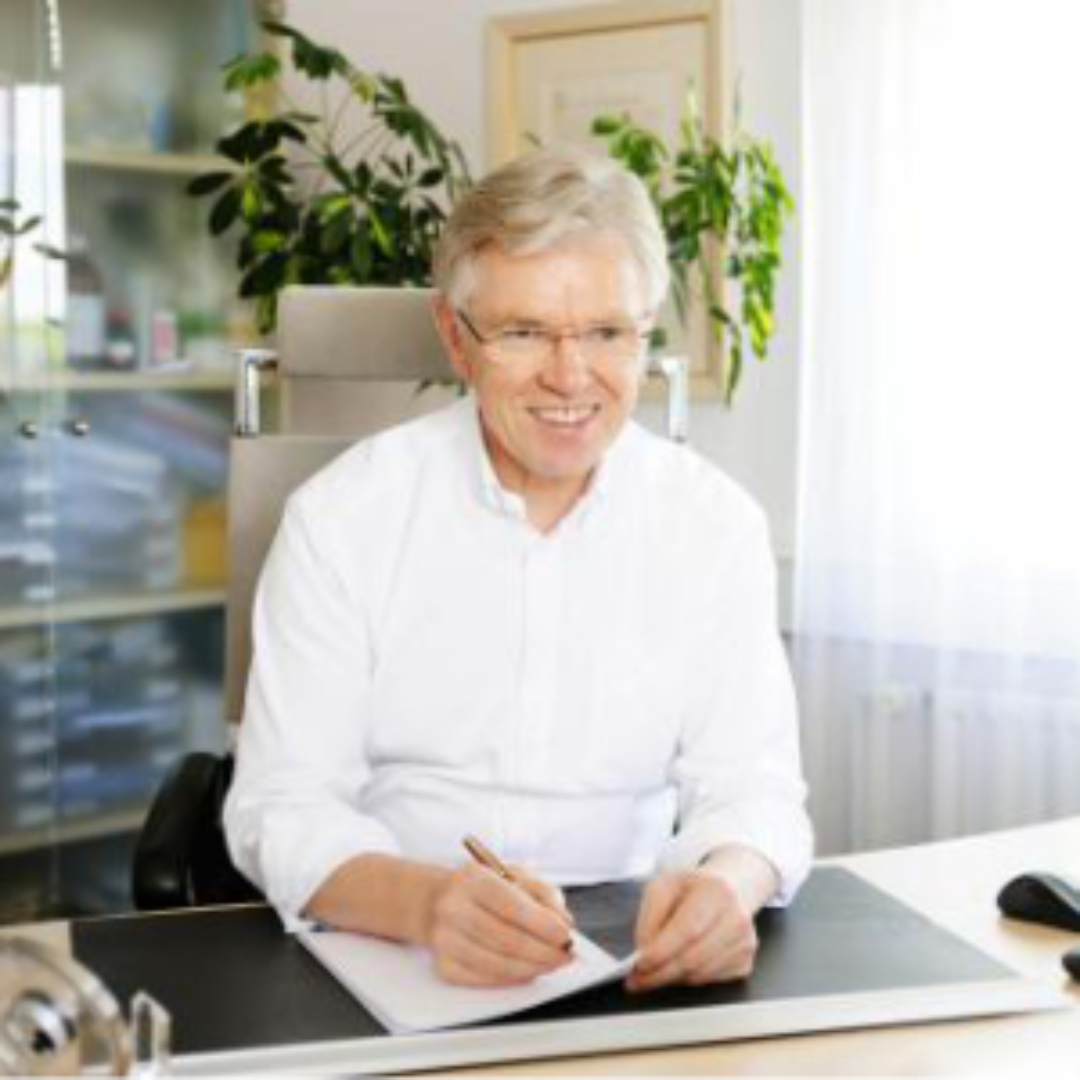 Dr. Siebenhuener is the director of the German International Clinic in Frankfurt, Germany. He welcomes patients to his private practice and hopes the experienced and friendly team will help every patient return to their health. Dr. Gerhard combines methods of conventional medicine with alternative effective biological therapies of advanced medicine with naturopathy.
For 40 years now, Gerhard Siebenhüner, M. D., has been practicing and studying physics and mathematics before his medical studies in his clinic. From the beginning, it was and is the doctrine of Gerhard Siebenhüner to offer his patients holistic medicine that prioritizes their well-being.
He treats his patients in private medical practice at a high level in a pleasant and cozy environment. A competent, highly motivated team is there to help you achieve your treatment outcome and improve your health. With the most advanced technology and proven alternative therapy concepts, Dr. Gerhard Siebenhüner desires the best possible medical success in the interest of his patients. He also attends regular training internationally and research in cooperation with physicians and scientists directly do benefit the patients in the center for advanced medicine.
Gerhard Siebenhüner and his interdisciplinary team provide patients with the highest professional competence in various fields. Dr. Siebenhüner has extended medical knowledge as Medical Doctor / Natural Remedies, Complementary oncology, Stem Cells, Integrative Medicine, Immunology, Rejuvenation, and Nutrition / Metabolism.
He focuses on Complementary and alternative Oncology, Chronic diseases (healing by treating the cause), Detoxification, metabolic regulation and the Immune system (control and regulation).
Get in touch with the prominent and highly experienced stem cell doctor Gerhard Siebenhüner and learn more about Regenerative Medicine in Frankfurt, Germany.

Education
Gerhard Siebenhüner education and experience background includes:
EDUCATION
University: Johann Wolfgang Goethe University; Graduation: 1985

Internal Medicine / General Practice

Complementary Oncology

Psychosomatic Medicine (Positive Psychotherapy)

Herbal medicine (phytotherapy)

Biochemistry

Biomedicine

Physical Medicine / Laser

X.MAYR Medicine

Nutritional Medicine

Human-identical hormone replacement therapy (hormone replacement therapy) in old age and cancer
ONCOLOGICAL ADVANCED TRAINING
DGO German Society for Oncology

Professor Grönemeyer Institute Bochum (hyperthermia)

Oncothermia (hyperthermia)
PUBLICATIONS
Scientific study part of a dissertation: The relationship between migraine, leaky gut and food intolerances

"A case report on the highly successful treatment of psoriasis patients" (Published in Cyto-NEWS-Cyto-laboratory Lich – 2007 January; 1: 10-11)

Membership
Gerhard Siebenhüner is an active member of reputable medical societies that include
German Society for Oncology eV.

Society for Biological Cancer Defense e. V.

UBK Union of biological cancer therapists e.V.

German Society for hyperthermia e.V.

European Society for Applied Immunology eV

Society for Information and prevention e. V.

International Society for Homotoxicology

GOS Society for Ozone and Oxygen Therapy e. V.

Society of Mayr physicians e.V.

Medical Society for Experienced healing e. V.

German Society for Intravenous Oxygen Therapy

German Society for Thymus

German Academy for chelation e.V.

Federal Association of Integrative Medicine e.V.

Association of Tumor Immunology e.V.

European Association IPT e.V.
CHARITY AND SOCIAL COMMITMENT
Sponsorship for orphans

Lions Clubs International ("We serve") – 2malige Presidency

Volunteering in various social clubs

President of the Union of biological cancer therapists

GSM Gerhard and Monika Siebenhüner Foundation, founded in 2008

Prices
| Stem Cells Cost in Frankfurt | German International Clinic | Prices | Enquire |
| --- | --- | --- |
| Stem Cell Treatment for Diabetes in Frankfurt, Germany | $1950 | Enquire |
| Stem Cell Treatment for Autism in Frankfurt, Germany | $18600 | Enquire |
| Stem Cell Treatment for ALS in Frankfurt, Germany | $18700 | Enquire |
| Stem Cell Treatment for Cerebral Palsy in Frankfurt, Germany | $18700 | Enquire |
| Anti Aging Stem Cell Treatments in Frankfurt, Germany | $8700 | Enquire |
| Prostate Cancer in Frankfurt, Germany | $1761 | Enquire |
| Radiation in Frankfurt, Germany | $3695 | Enquire |
| Stem Cell Therapy for Joints in Frankfurt, Germany | $18393 | Enquire |
---
German Health Clinic GmbH reviews
Shawna

There were more sessions than we were told at first. In general, we are satisfied with the result and the service. Qualified doctors and staff.


Google

Dec 31 2021

IP

Thank you for saving my life.

I was diagnosed with breast cancer which spread to the lymph nodes and bones. After going through the treatment here (no side effects, no hair loss etc.) I am absolutely healthy.

All the stuff treated me very well, nothing was a problem. Doctor Siebenhuner is very experienced and also such a positive person so that I had never any doubts about overcoming the illness. All the nurses are very friendly and are able to support you when you are scared. Special thanks to Martina and Carolina!! I cant imagine going through all this without you. Thank you.

Google

Jul 31 2022

Belinda

The clinic treated my grandmother for a serious illness. Everthing is well organized, professional approach, care and understanding. Grandma was in good hands. You help us a lot! Thank you veru mush!

Google

Aug 02 2022

Anthony

My father was treated at the clinic, they did not regret that they gave preference to you. Organization of the process from and to at a high level! Competent, qualified and attentive staff. Now all the worst is behind, and this is your merit!

Google

Aug 05 2022

James

Thank you for everything you have done for us. We will always remember you fondly. Friendly and caring staff, the best doctor and clinic. We sincerely wish you all the very best!

Google

Aug 26 2022

Erhard

I have been a patient with Dr. Siebenhüner and specialist in gynecology and obstetrics. I was diagnosed with prostate cancer in November 2020. I chose hyperthermia therapy in combination with infusions from biological anti tumor treatments. For decades I have known and admired Dr. Siebenhüner therapeutic approaches in the form of biological cancer therapy and alternative cancer treatment. At the moment I am fine and I can continue my life without restrictions. I was always treated competently and friendly by the entire team. Above all, it is worth mentioning that the employees have mastered the various forms of therapy. The overall concept of the day clinic is optimally geared to the best for both seriously ill and fully treated patients.


Google

Nov 15 2021
---
Stem-Cell-Therapy Related Packages
Stem-Cell-Therapy Related Experiences
PlacidWay.com provides information and travel related services. We do not provide health care services. We provide information solely for informational purposes and do not endorse any particular health care provider or facility or any particular health care service or treatment. We are not affiliated with any health care provider or service and we are not responsible for any health care service. Please consult with your own domestic licensed health care provider before seeking the services of any health care provider you learn about via our site.
---