Dental Crowns in Antalya
Why get Dental Crown in Antalya?
A broken or decayed tooth can be saved by placing a protective "cap" over it. If you are searching for the best solution for your needs, consider Dental Crowns in Antalya Turkey.
The place is known for its breathtaking scenery, stunning beaches, and the turquoise Mediterranean sea. It also became famous in recent years for dental tourism, where patients from Western countries go to get cheap and quality dental care.
A dental crown is a tooth-shaped cap that covers and strengthens damaged teeth and improves your appearance. Crowns are also placed over surgically inserted dental implants. Whatever your reason for seeking a dental crown abroad, here is useful information we provide:
Clinic: Denart Turkey Dental Centre
Procedure:  Dental Crowns
Package Price: Between $110 and $150
Cost in Antalya: From $145
Cost in Other Countries: From $800
Top Tourist Attractions: Kaleici - The old city of Antalya, Sapadere Kanyonu, Konyaalti Beach, and more.
---
Top-Notch Packages for Dental Crowns in Antalya
A primary benefit of picking dental clinics in Antalya is that they offer packages with main benefits for international patients. It means that for the price listed, you also receive airport pickup, materials used, medical staff fees, and translating services.
Below are the links to our best package deals at $110 and $150 per tooth. Read their inclusions and decide which package suits you best.
Dental Crowns, Dentistry
Get the best Dental Crowns at incredible prices in Antalya, Turkey. The dental clinics in Antalya pr
Dental Crowns, Dentistry
Are you exploring your options for Dental Crowns in Antalya, Turkey? Saluss present you with the hig
---
Dental Crowns Cost in Turkey Antalya
The cost of dental crowns in Antalya varies according to the type of dental crowns, the physician's experience, the quality of the materials used, and the clinic. However, a tooth crown in Antalya cost $200 on average, which is over 70% cheaper than in other European and American countries.
Anyway, the prices of dental crowns for a single tooth are over $800 in Germany and the UK and $1,750 in the United States. You can have four or even more teeth restored with crowns in Antalya at the price of one in Germany and other countries.
The following table presents the prices from other countries compared to Antalya clinics.
Dental Crowns Centers Cost Comparison in Antalya, Turkey
| Provider | Procedure | Price |
| --- | --- | --- |
| Denart Turkey Dental Centre | Dental Crowns, Dentistry | $250 |
| Ozdemir Dental Center | Dental Crowns, Dentistry | $145 |
Dental Crowns Cost Comparison in Turkey

| Country | Procedure | Price |
| --- | --- | --- |
| Germany | Dental Crowns, Dentistry | $800 |
| United Kingdom | Dental Crowns, Dentistry | $850 |
| United States | Dental Crowns, Dentistry | $1750 |
| Turkey | Dental Crowns, Dentistry | $200 |
---
Dental Crowns Clinics in Antalya
Getting your new teeth is a lifetime investment. Therefore, you should choose the clinic and dentist who will be able to meet your needs and do the work according to high standards. Antalya is a summer hub destination but also a place with numerous world-class clinics where highly skilled dentists work.
Today, we will show you some interesting patient-centered clinics where you'll have a pleasant dental experience. See their profiles to meet your clinic in Antalya.
---
Video about High-Quality Crowns in Antalya
Quality dental work is the main reason for choosing a specific clinic for your smile makeover. If prices of dental crowns are low but the quality is poor, it would be money wasted.
Luckily, the clinics in Antalya we recommend work with proven materials and state-of-the-art equipment to provide you with top-quality service. The low cost of living here produces cheaper dental work than overseas, but safety and quality are at high standards.
Watch our video below to discover more.
---
Verified Patient Reviews for Dental Treatment in Antalya
---
Q&A About Dental Crown in Antalya Price
Explore the cost of teeth crowns in Antalya in our well-researched answer below.
How much would I pay for Dental Crowns in Antalya, Turkey?
Show More
If you need Dental Crowns than Antalya, Turkey is an option that you might want to consider. Prices for Dental Crowns start at $173, but the final cost depends on the complexity of the procedure, the clinic and doctor that you choose, the materials and equipment needed and the duration of the treatment. There are many dental clinics in Antalya, Turkey that offer Dental Crowns packages for international patients, which include transportation from the airport to the hotel and clinic, translators (if needed), consultation, second opinion diagnostic and case manager assistance. Dental Crowns will help you restore your oral health, teeth function and smile. Now you have no reason to postpone your dental treatment. With the affordable Dentistry prices in Antalya, Turkey and the expertise of the dentists, you will have your teeth fixed in no time, without spending a fortune. Turkey is renowned for its dental tourism. Many medical tourists actually go for major dental work because of the cost advantages, so it's common to see patients having multiple crowns, implants and other dental cosmetic procedures. Thanks to modern technology some procedures which were done in several days before, can now be performed in just one day. You will go home with a brand new smile and restored confidence. To make sure that you choose the best dentist in Antalya, Turkey, you will have to know exactly what to look for. Here are several questions that will help you make the best choice Are you certified in performing Dental Crowns? Are you a member of any Dentistry association or society? How many years of experience do you have performing Dental Crowns? How often have you performed this procedure? How many years of experience do you have performing Dentistry? What are the advantages and disadvantages of Dental Crowns? What about the risks and complications? What if something goes wrong during Dental Crowns procedure? What if I am not happy with Dental Crowns results? What happens if I arrive in my home country and I realize that something is not right with the Dentistry? Below you can find some of dentist in Antalya, Turkey that offer most affordable price for Dental Crowns.Find out more about the best dentists in Antalya, Turkey! Contact us and choose the best dental specialist!
---
Best Dentists in Antalya Turkey
Antalya dentists are well-trained and members of reputable institutions abroad. They will welcome you in a cozy and friendly environment where you'll feel at home. Dentists in Antalya have years of experience and know how to make you feel stress-free and relaxed during the procedure.
They are specialists in the field of cosmetic and restorative dentistry. Using top-notch equipment like CAD/CAM and digital x-rays is a piece of cake for Antalya dentists.
Another important thing is that you'll talk to your dentist in English as most of them are fluent. PlacidWay team will help you find the right dentist in Antalya, so contact us today for more information.
---
Dental Tourism in Antalya - Places to See
Antalya is a hot tourist destination due to the warm climate, spectacular beaches, and a mix of modern and historic architecture. In the last couple of years, the city has also become known for its world-class dental clinics that offer competitive prices for various procedures.
In addition to money-saving on dental work, you can also have a wonderful time during your stay here for dental crowns. Antalya is the largest Turkish city on the Mediterranean coast and has plenty of things and places for curious tourists.
Here are the 10 best things you can do in Antalya:
Explore Antalya's Old Town Kaleici
Visit Antalya's old harbor in the northwest corner of the old town
Relax on Konyaalti Beach
Take Day Trip to Aspendos
Swim at Lara Beach
Walk around the Ruins of Termessos
Visit the Antalya Museum
Admire the Yivli Minare
Stroll through Hadrian's Gate
Visit the Antalya Region's Karst Springs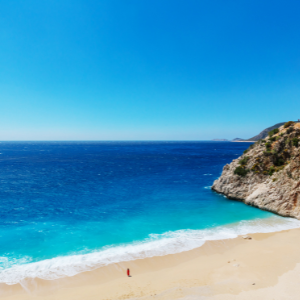 Beach at the Mediterranean Coast - Antalya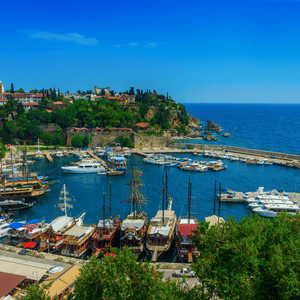 Marina of the old town Kaleici - Antalya
---
Get Dental Crowns in Antalya for Your New, Sparkling Smile!
Choose affordable, safe, high-quality Dental Crowns in Antalya Turkey and relish in the Mediterranean climate.
PlacidWay will help you prepare for your dental trip to Antalya. Contact us to know more and receive a free price estimate!
---