Dental Crowns in Thailand
Why Choose Thailand Crowns?
Dreaming of having Holywood smile? Dental Crowns in Thailand can do a miracle for broken, misshapen, or severely discolored teeth. Thanks to high-end dental services and competitive prices, Thailand has become one of the leading countries for dental tourism.
You can expect to restore your smile and relax on this unique dental trip to Thailand. Thousands of patients from Western countries had a fantastic experience in Thai clinics.
Now you have the opportunity to enhance your smile and improve oral health with Thailand crowns at a low cost. Explore your options in our guide and choose what best suits your dental needs.
Clinic: BFC Dental and Bangkok International Dental Hospital (BIDH)
Procedure: Dental Crowns
Cost in Thailand: $400
Cost in Other Countries: From $850
Savings: Over 50%
Top Tourist Attractions: Wat Arun Temple, Bangkok, Phi Phi and Phuket Island, etc.
---
Affordable Dental Crowns Packages in Thailand
More people find it convenient to travel abroad for cheap dental work clubbed with tropical getaways. These offers come from the clinics that will design a special package deal for your specific needs.
While receiving high-quality dental treatment you'll also take a break from your busy daily life and save thousands of dollars on your dental trip to Thailand. If this offer sounds tempting, contact us to select your all-inclusive dental crowns package at a low cost.
---
Cost of Dental Crowns in Thailand
Dental crown cost Thailand starts from $400 in reputable clinics. Dental crowns in Australia are around $1,450 whereas you can expect to pay $1,750 in America. Tooth crown cost in the UK over $850 and in Canada $1,000.
The price will depend on the number of teeth you need a crown for, the material used, dentist experience, and clinic reputation. However, in Thailand you'll save around 50% or more for tooth crowns and at the same time enjoy a fabulous vacation.
This is a great opportunity to catch, so look at the cost comparison table to know the prices.
Dental Crowns Centers Cost Comparison in Thailand
| Provider | Procedure | Price |
| --- | --- | --- |
| BFC Dental | Dental Crowns, Dentistry | $500 |
| Bangkok International Dental Hospital (BIDH) | Dental Crowns, Dentistry | $398 |
Dental Crowns Cost Comparison in Thailand

| Country | Procedure | Price |
| --- | --- | --- |
| Australia | Dental Crowns, Dentistry | $1450 |
| Canada | Dental Crowns, Dentistry | $1000 |
| United Kingdom | Dental Crowns, Dentistry | $850 |
| United States | Dental Crowns, Dentistry | $1750 |
---
Accredited Dental Clinics in Thailand for Dental Crowns
Wondering what the clinics are like in Thailand and whether they will fulfill your dental needs? Worry not because Thai clinics have excellent results from past work with international patients and adhere to high care standards.
Also, dental clinics in Thailand boast the following services:
JCI Accredited
Professional Certified Dentists
Experienced Medical Team
Sterilization and Patient Safety Focus
State-of-the-art Technologies
Transparent Fees
On-site Dental Lab
PlacidWay team will help you find the right clinic for your dental goals. In the meantime, read more about each clinic in their profiles below:
---
Best Dentists in Thailand Video to Watch
We strive to help you find the perfect dentist in Thailand, so we have created a video that explains this more. Watch the video below to explore your options for Thai dentists.
---
Dental Work in Thailand Reviews
---
Dental Crowns in Thailand FAQs - Discover More
Dental crowns protect severely damaged or teeth weakened by decay, large fillings, or root canal therapy from fracturing. Tooth crowns also cover discolored teeth to improve cosmetic appearance.
They preserve the natural function and position of the teeth and are one of the most sought-after procedures worldwide. They are an excellent investment in smile restoration and will pay off long-term.
If you are considering dental crowns in Thailand, we advice you to read our top Q&A below to learn more.
---
Best Cosmetic Dentist in Thailand
Thai dentists are internationally trained professionals who offer world-class standards of dentistry to local and foreign patients. Their years of experience and hard work promise high-quality dental treatment. Former patients reviews as well as dentist credentials show what you can expect from your specific needs.
We will connect you with the best cosmetic dentist in Thailand who has a proven track record of successful dental crowns procedure. Also, he will provide a follow-up after treatment and a video consultation before your dental trip.
Contact us to meet your Thai dentists today!
---
Dental Vacation in Thailand - Visit the Land of Smiles
Astonishing landscapes, marvelous temples, pristine beaches, and unique Thai culture invites millions of tourists annually. This 'Land of Smiles' has a reputation for dentist expertise, friendly locals, and top-notch dental care.
But not only that, Thailand provides first-class care and hospitality for international dental tourists. You'll find world-class facilities with highly-skilled dentists in the major cities and tourist resorts like Bangkok, Chiang Mai, Phuket, and Pattaya.
During your stay for dental crowns, you can set aside a few days to explore Thailand's beauty and nature wheater before or after the treatment. Here are a few places worth visiting:
Railay Beach in Krabi province
The Phi Phi Islands
The Grand Palace, Bangkok
Chiang Mai's Sunday Night Walking Street, try cheap and delicious food
Pai, in Mae Hong Son province
Khao Yai National Park and watch wild Elephants
Buddha in the ruins of the temple Wat Chana Songkram, Sukhothai Old City
The Historic City of Ayutthaya, the glory of ancient Thailand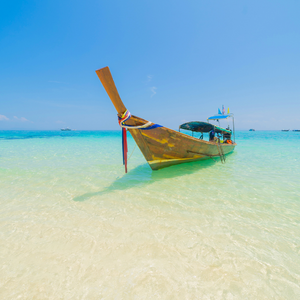 Phi Phi Maya Beach - Phuket Island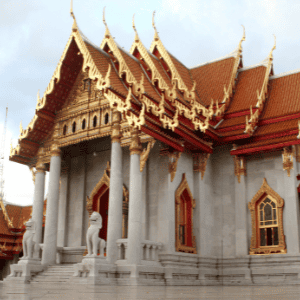 Marble Temple in Wat Benchamobophit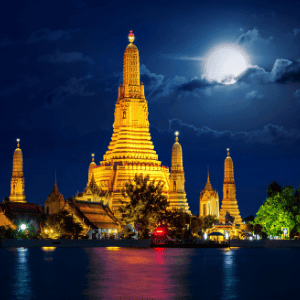 Wat Arun Temple in Bangkok
---
Get Your Dental Crowns in Thailand at Only $400!
Enhance your facial appearance and repair damaged teeth on holiday by booking your dental crowns in Thailand with PlacidWay!
Take a chance to save over 50% on the low prices of dental crowns and other dental work in Thailand compared to expensive back home. Our PlacidWay team will guide you through the whole process.
Contact us and get your dental tourism trip to Thailand today!
---